Chinook Scenic Byway
Over the Chinook Pass into the valley of Naches
Mileage
96 miles (155 km)
Duration

The duration is an estimate of a one-way drive and does not include any stops or side-trips.

1 hour, 49 minutes
Seasons

The seasons listed are the best seasons for this scenic drive. If Winter is not mentioned, the road may be closed during the winter.

Summer, and Fall
Roadways
US Highway 12, and Washington Highway 410
Forest Passes

Some of the adventures on this scenic drive require an admission fee that these passes cover. Please read the drive description for more information.

Pacific Northwest Forest Pass, and America the Beautiful Annual Pass
Services

The cities or towns listed have either Food or Services such as gas, hotels, pharmacies, etc.

Enumclaw, WA

▼

, and Naches, WA

▼

Rating

4.4

average from

21

votes

My Drives

Track your favorite scenic drives by selecting those which you want to take and those that you have taken. Using your free account, simply sign in and select My Drives.
Our free Road Trip Planner will reverse the route and include the places of interests. Click the "Add to Road Trip" above to start planning your next road trip.
Send this link to your phone. Standard text messaging rates apply.
() -
Get directions from your start address to the beginning of and including this scenic drive. Choose either an alternate ending or same as start.
Have more destinations? Use our free Road Trip Planner to completely plan your adventure. Click the "Add to Road Trip" above to start planning your next road trip.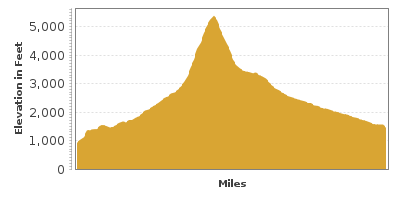 Description
Drive in Mount Rainier's backyard through the Wenatchee National Forest as you travel towards Naches, a very different and drier climate.
Although the drive can be done in either direction, we describe the drive starting in Enumclaw and going to Naches. To reach Enumclaw, it really depends on where you are coming from, but from Seattle, take Exit 149 on I-5 onto WA-516 West. In about three miles, take WA-167/Auburn for about five miles, then take WA-18 for half of a mile, and finally take WA-164/Auburn/Enumclaw until the very end (15 miles) and you will be on WA-410. Once in Enumclaw, you'll want to get out and take some pictures of Mount Rainier, although you will soon be much closer.
The scenic drive follows the White River until just before the Sunrise entrance to Mount Rainier. Federation Forest State Park (H4) is a great place to stop and learn about the Cascades' environment; from here, there are a few trails that traverse the old-growth forest, giving you a great first taste of the Cascades.
Just after Greenwater, you will start seeing views of Mount Rainier. There are several turnouts for opportunities to take pictures and enjoy the fresh air. Mount Rainier is an active volcano and at 14,411 feet, is the tallest mountain in Washington and the Cascade Mountain Range. It also features the most glaciers of any mountain in the United States outside of Alaska.
As you approach the Sunrise entrance to Mount Rainier National Park, consider stopping in the White River Wilderness Information Center (I2) for advice to enhance your experience. Depending on how much time you have, consider driving up to the Sunrise Visitor Center (I1) at 6,400 feet, the highest point in this park that a car can reach.
Just after the Sunrise entrance on WA-410, the drive takes a sharp left where more fantastic views of Mount Rainier and the surrounding park can be enjoyed. Tipsoo Lake (H1) is a great place to stretch your legs and enjoy the views.
As you head lower down the Cascade Range and through the Wenatchee National Forest, you will see basalt columns from Mount Rainier's past eruptions.
Where the highway turns and starts heading south again, keep an eye out for Boulder Cave (H2), a 200-foot long cave formed by lava deposits. A one and half mile hike allows you to walk through this cave.
As you get closer to Naches, you will notice a stark difference from the green and lush Wenatchee National Forest and Mount Rainier areas, as the hills get drier as you head east.
At the end of the drive, you have a few options depending on what you would like to see and where you are going. Head further east towards the Yakima Valley to see more desert-like terrain, or if you want more of the Cascades or are heading back towards Seattle, consider returning via the White Pass Scenic Byway.
Share