Mount Rainier
Drive to the highest mountain of the Cascades
Mileage
100 miles (162 km)
Duration

The duration is an estimate of a one-way drive and does not include any stops or side-trips.

2 hours, 30 minutes
Seasons

The seasons listed are the best seasons for this scenic drive. If Winter is not mentioned, the road may be closed during the winter.

Summer, and Fall
Roadways
US Highway 12, and Washington Highway 123
Forest Passes

Some of the adventures on this scenic drive require an admission fee that these passes cover. Please read the drive description for more information.

America the Beautiful Annual Pass
Services

The cities or towns listed have either Food or Services such as gas, hotels, pharmacies, etc.

Packwood, WA

▼

, and Longmire, WA

▼

Rating

4.9

average from

14

votes

My Drives

Track your favorite scenic drives by selecting those which you want to take and those that you have taken. Using your free account, simply sign in and select My Drives.
NEW! Experience this Scenic Drive right from your web browser now with RoadPreview.
Our free Road Trip Planner will reverse the route and include the places of interests. Click the "Add to Road Trip" above to start planning your next road trip.
Send this link to your phone. Standard text messaging rates apply.
() -
Get directions from your start address to the beginning of and including this scenic drive. Choose either an alternate ending or same as start.
Have more destinations? Use our free Road Trip Planner to completely plan your adventure. Click the "Add to Road Trip" above to start planning your next road trip.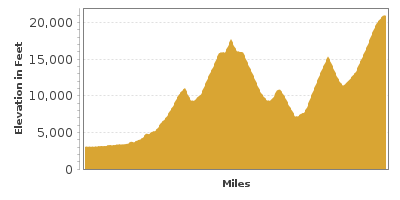 Description
At 14,411 feet of elevation, Mount Rainier is the highest mountain in the state of Washington and of the Cascade Mountains and it is the most glaciated mountain in the continental United States. Mount Rainier National Park has three developed areas and this drive will bring you to both Sunrise and Paradise.
Mount Rainier
Our drive starts in Randle on US-12. You can reach it by taking exit 68 off I-5, however, if you are closer to Seattle or Tacoma, you can take WA-161, which will join WA-7 and at the end, turn onto US-12 East.
On US-12 East, you are now driving through a corridor between Gifford Pinchot National Forests and the drive gets more and more beautiful as you continue. Approximately twenty-three miles from Randle, you will reach a fork in the road where WA-123 and US-12 meet and our drive continues onto WA-123. If you were to continue onto US-12, you would be heading towards White Pass.
In about four miles on WA-123, the Ohanapecosh Visitor Center (A1) focuses on the interesting features of the Northwest forests. To experience it first hand, stop in the Grove of the Patriarchs (H1) in about two miles and is a fantastic trail with trees presumed to be more than one thousand years old.
In about a mile and a half, the Stevens Canyon Road is on the left and you will use this road to head up to the Paradise side of Mount Rainier. Shortly on Stevens Canyon Road, you will see reach the parking lot for the Grove of the Patriarchs (H1). This mountain scenic drive continues on this windy road through periods of dense forests and every once in a while, you get a peak at the magnificent Mount Rainier! There are a few turnouts to stop and enjoy the view.
On the nineteen miles to Paradise (H4), you will pass Box Canyon (H8), Lake Louise, and Reflection Lake. Just after Reflection Lake, the road turns right onto a breath-taking view of Mount Rainier. The Paradise Visitor Center (I1) and Inn are just ahead. The visitor center is a great place to get information on some of the more advanced hikes, but there are plenty of easy hikes that will bring you in what feels like an arm's length away from the peak.
After enjoying Paradise, backtrack back down Stevens Canyon Road to WA-123. If you were so inclined, you could head east on Stevens Canyon road, which will bring you to the Longmire, Nisqually Entrance to the Rainier Park and back towards WA-7.
Once you are down Stevens Canyon Road, turn left onto WA-123. In ten miles, the WA-123 will intersect with the WA-410 and our drive continues North on WA-410. If you head South on WA-410, you would enjoy the Chinook Scenic Byway and more great views of Mount Rainier.
Heading North on WA-410 for about three miles, the road to Sunrise will be on your left. On your way up, there are many opportunities for hiking. The Fryingpan Creek (H10) is a very popular trail that takes you through the Park's dense forest for three miles to a fantastic view of Mount Rainier. Sunrise (H5) will be sixteen miles from the WA-410 turnoff. Stop at the visitor center for more information. Even if you aren't going to a hike, pack a picnic and enjoy it here.
Our drive officially ends here. From here, if you are interested in more mountain scenic drives, continue on either the Chinook Scenic Byway or the White Pass Scenic Byway, which form a nice loop that will bring you back to this location. For a more adventurous drive, head down to Mount Adams.
Share