Mountains to Sound Greenway (I90)
Pass through the Cascades
Mileage
97 miles (157 km)
Duration

The duration is an estimate of a one-way drive and does not include any stops or side-trips.

2 hours
Seasons

The seasons listed are the best seasons for this scenic drive. If Winter is not mentioned, the road may be closed during the winter.

All Seasons
Roadways
I 90
Forest Passes

Some of the adventures on this scenic drive require an admission fee that these passes cover. Please read the drive description for more information.

Pacific Northwest Forest Pass
Services

The cities or towns listed have either Food or Services such as gas, hotels, pharmacies, etc.

Seattle, WA

▼

, North Bend, WA

▼

, and Ellensburg, WA

▼

Rating

4.1

average from

10

votes

My Drives

Track your favorite scenic drives by selecting those which you want to take and those that you have taken. Using your free account, simply sign in and select My Drives.
NEW! Experience this Scenic Drive right from your web browser now with RoadPreview.
Our free Road Trip Planner will reverse the route and include the places of interests. Click the "Add to Road Trip" above to start planning your next road trip.
Send this link to your phone. Standard text messaging rates apply.
() -
Get directions from your start address to the beginning of and including this scenic drive. Choose either an alternate ending or same as start.
Have more destinations? Use our free Road Trip Planner to completely plan your adventure. Click the "Add to Road Trip" above to start planning your next road trip.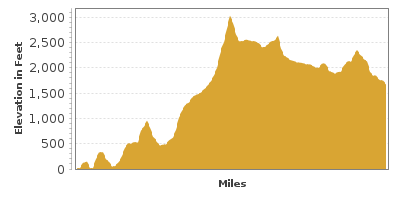 Description
Completed in 1978, I-90 is one of the country's most traveled mountain highways. It connects Puget Sound over Snoqualmie Pass to Central Washington. If you live in Seattle or the surrounding areas, this is usually a great mountain scenic drive back home. The road is typically open all winter, although some portions do require chains.
This drive may be driven in either direction, but we describe it here as starting in Seattle and ending in Ellensburg. The I-90 exit from I-5 is hard to miss.
After crossing Lake Washington, Cougar Mountain Regional Wildland Park (H7) at exit 13 provides a variety of trails, waterfalls, forests, wetlands and more. Soon you arrive in Issaquah where the Issaquah State Salmon Hatchery (A3) raises Salmon. If you are passing here during the fall, the Salmon Days are an event not to miss as the creak is overflowing with salmon. Continuing on I-90 brings you Snoqualmie Falls (H8) a 270-foot waterfall and Olallie State Park (H9) featuring Twin Falls and Weeks Falls.
As you approach Northbend, Rattlesnake Mountain is an interesting hike up a series of switchbacks to Rattlesnake Ledge (H3), where you have a fantastic panorama of the Cascades. Mount Si (H4) is nearby and is Washington's most-climbed mountain.
Ten miles from North Bend, the Alpine Lakes Wilderness (H10) is home to the most glaciated areas of the continental United States and there are many small lakes just north of, but not visible from, the highway. There are also many great hikes here.
For a taste of the road prior to the I-90 highway being completed, take the windy Forest Road 58 (T1) from Exit 47 to 52. For information about the pass, stop at the Snoqualmie Pass Forest Service Visitor Information Center (I1) which is also here.
From this point on, the drive ascends to Snoqualmie Pass at 3,022 feet. The pass is well known for its skiing and hiking opportunities. From Alpental's Ski Area, one popular hike is the Snow Lake Trail (H11), which goes to Snow Lake, the largest of the Alpine Lakes in this area. Don't forget your Pacific Northwest Forest Pass.
The Iron Horse State Park (H12) and the John Wayne Pioneer Trail are trails using an abandoned railroad bed suitable for hiking and biking. This trail runs from North Bend to Vantage, near Ginkgo Petrified Forest State Park (H1).
Lake Easton State Park (H6) provides access to the Yakima River, Lake Easton, and the John Wayne Pioneer Trail. It also has some great views of the Alpine Lake Wilderness, by taking exit 70 and just before entering the town, have a good look around.
In Cle Elum, consider getting off at exit 85 and taking WA-970 (T2). From here, turn South onto WA-10 and follow it to Ellensburg. This will be a bit more scenic. While here, consider stopping at the Cle Elum Historic Telephone Museum (M1), where in 1901, the first phone call in this region was made. The museum features the original equipment from that era.
Thorp started in 1895 as a depot on the Northern Pacific Railroad, but today it is best known for the Thorp Grist Mill (A1), a flour mill that provided jobs for people since the late 1800s until the mid 1900s. It is historically preserved and open for tours.
Our drive ends in Ellensburg. From here, consider driving up to Blewett Pass through our Peshastin to Ellensburg drive (in reverse, of course), to the Yakima Valley, or continue on I-90 and join up with our Coulee Corridor Scenic Byway drive.
Share