White Pass Scenic Byway
A drive through the Gifford Pinchot and Wenatchee National Forests
Mileage
46 miles (74 km)
Duration

The duration is an estimate of a one-way drive and does not include any stops or side-trips.

1 hour
Seasons

The seasons listed are the best seasons for this scenic drive. If Winter is not mentioned, the road may be closed during the winter.

Spring, Summer, and Fall
Roadways
US Highway 12
Forest Passes

Some of the adventures on this scenic drive require an admission fee that these passes cover. Please read the drive description for more information.

Pacific Northwest Forest Pass, and America the Beautiful Annual Pass
Services

The cities or towns listed have either Food or Services such as gas, hotels, pharmacies, etc.

Packwood, WA

▼

, Naches, WA

▼

, and Yakima, WA

▼

Rating
My Drives

Track your favorite scenic drives by selecting those which you want to take and those that you have taken. Using your free account, simply sign in and select My Drives.
NEW! Experience this Scenic Drive right from your web browser now with RoadPreview.
Our free Road Trip Planner will reverse the route and include the places of interests. Click the "Add to Road Trip" above to start planning your next road trip.
Send this link to your phone. Standard text messaging rates apply.
() -
Get directions from your start address to the beginning of and including this scenic drive. Choose either an alternate ending or same as start.
Have more destinations? Use our free Road Trip Planner to completely plan your adventure. Click the "Add to Road Trip" above to start planning your next road trip.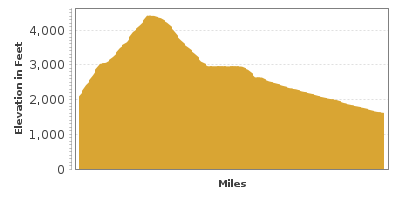 Description
The White Pass Scenic Byway goes through the Cascade Mountains and into central Washington, taking you to an elevation of 4,500 feet.
The drive can be done in either direction, but we describe it starting where WA-123 meets US-12. Depending on where you are, you can either reach this by the WA-410 heading east, merging onto WA-123, and continuing until you merge onto US-12. Or you can take exit 68 from I-5 and head east on US-12 for 72 miles.
Two and half miles on the road, stop at the Palisades Viewpoint (V1) for a fantastic view of Mount Rainier. This stop also has some interesting basalt columns and picnic tables.
As you continue to White Pass, there will be a many opportunities to stop and have a look around. The majestic Mount Rainier is behind you and on a clear day, you may be able to see Mount Adams in the distance. Rocky Mountain Elk, Bighorn Sheep, Bald Eagles and other animals may sometimes also be spotted on the drive.
About ten miles from the start of the drive, Knuppenburg Lake (H6) is just south of US-12. This is a great place to see the Goat Rocks Wilderness area with its snow covered mountains, take a walk or for the more adventurous, do some rock climbing.
Within a mile from the lake, you will be crossing White Pass. While the south side of the pass is primarily used for downhill skiing (White Pass Ski Resort), the northern side has trails suitable for hiking and cross-country skiing. The Pacific Crest National Scenic Trail runs from Mexico through California, Oregon, and Washington up to Canada, also passes here.
There are many places to stop and hike, but be sure to purchase and display your parking permit from one of the local stores. The trails will bring you through many caves and some great views of the wilderness, but during the summer, keep in mind that this area is really hot and rattlesnakes are out there.
Shortly after the Pass, you will approach beautiful Dog Lake and the Dog Lake Trail (H5) starts here and takes you through the forest to Cramer Lake. Spiral Butte is also visible from this stop.
Five miles from Dog Lake, you will start to see glimpses of Clear Lake, and in just over six miles, turn left on Tieton Reservoir Road (NF 1200) to reach it. Although visible from the road, it will take another mile to get to Clear Lake (H3). It features an interpretive trail and swimming opportunities.
Immediately after Clear Lake is Rimrock Lake (W1), home to bull trout and kokanee salmon. On the east side of the lake, there is a visitor center where you can learn about the dam. On the west end of the lake, you will notice Kloochman Rock behind Goose Egg Mountain, a volcanic dike that rises to above 2,000 feet and is almost a mile long. A trail leads to climbable Kloochman Rock.
After leaving the Wenatchee National Forest, the Tieton Nature Trail (H1) is a three mile trail on the left that brings you through some of the volcanic history of the area that created basaltic columns, cactus, pine trees, and more great views.
When the drive connects onto WA-410, our drive is complete. From here, you can take the Chinook Scenic Byway by heading west on WA-410 or head into the Yakima Valley. If you have done the drive in the opposite sense as described here, consider heading up Mount Rainier or heading to Mount Adams.
Share