Yellowstone National Park
The Land of the Geothermics
Mileage
142 miles (228 km)
Duration

The duration is an estimate of a one-way drive and does not include any stops or side-trips.

3 hours, 11 minutes
Seasons

The seasons listed are the best seasons for this scenic drive. If Winter is not mentioned, the road may be closed during the winter.

Spring, Summer, and Fall
Roadways
US Highways 20 and 89, and Grand Loop Road
Passes

Some of the adventures on this scenic drive require an admission fee that these passes cover. Please read the drive description for more information.

America the Beautiful Annual National Parks Pass
Services

The cities or towns listed have either Food or Services such as gas, hotels, pharmacies, etc.

Gardiner, MT

▼

, West Thumb, WY

▼

, Canyon Village, WY

▼

, and Tower Junction, WY

▼

Rating

4.5

average from

53

votes

My Drives

Track your favorite scenic drives by selecting those which you want to take and those that you have taken. Using your free account, simply sign in and select My Drives.

Share
Our free Road Trip Planner will reverse the route and include the places of interests. Click the "Add to Road Trip" above to start planning your next road trip.
Send this link to your phone. Standard text messaging rates apply.
() -
Get directions from your start address to the beginning of and including this scenic drive. Choose either an alternate ending or same as start.
Have more destinations? Use our free Road Trip Planner to completely plan your adventure. Click the "Add to Road Trip" above to start planning your next road trip.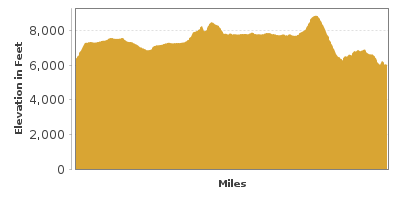 Hotel Finder
Great deals on hotels!
No booking fees.
Safe and secure.
Reserve online.
Get a Park Pass
Natural areas along this route require an entrance fee used to protect and maintain our most scenic treasures. Save time by purchasing your forest passes before you go.
Established in 1872, Yellowstone National Park was the first national park. Encompassing the caldera of the Yellowstone Super Volcano which continues to fuel the area's geothermal vents, geysers, and hot springs, the parks diverse landscape of forest, mountains, rivers and wildlife make it a must-see destination.
Morning Glory Pool
The drive is described as a counter-clockwise loop on the Grand Loop Road that starts and ends in Mammoth near Yellowstone's north entrance from Gardiner. After entering Yellowstone National Park from US-89, make your way to the Grand Loop Road by following the Entrance Road.
Once in the park, stop at the calcium carbonate-formed Mammoth Hot Spring Terraces which glow with colors created by multi-colored bands of algae and cyanobacteria. For a closer look, turn onto Upper Terrace Drive (T1) which loops around more hot springs. Or feel free to park, take your time and stroll the boardwalk trail leading through this fascinating area.
Heading south on Grand Loop Road, take advantage of the many pullouts for spectacular views. In 20-miles from Mammoth, you arrive at the Norris Geyser Basin (H1), home of the hottest geysers on the earth, which steam almost all day long. There are several geysers here, including Dark Cavern which is one of the more active geysers and Steamboat, the tallest geyser in the world.
From here, you could head east on Norris Canyon Road for a shorter loop and short cut to Cody. A scenic side-trip off this road is on Virginia Cascade Drive (T2) will passes the 60-foot Virginia Cascade waterfall.
Continuing south on the Grand Loop, the drive soon joins the US-20 towards Idaho, but be sure to head south on US-89/Grand Loop Road for this drive. Nearby, Firehole Canyon Drive (T3) is an interesting side trip traveling along Firehole River with the rocky walls of the canyon reaching some 800-feet high. The road is a one-way that heads south.
In 5-miles from Firehole Canyon Drive, turn onto Fountain Flats Drive and enjoy a hike to the Midway Geyser Basin (H3). A short walk over the footbridge will bring you to Excelsior Crater, whose volcanic activity sends boiling water into the Yellowstone River. Continuing on the path, you will arrive at Yellowstone National Park's largest hot spring, Grand Prismatic Spring. The contrasting colors surrounding the Grand Prismatic Springs are simply breath-taking.
Firehole Lake Drive (T4) is a 3-mile, one-way drive from the Grand Loop that heads north along many geysers and hot springs until you arrive at the Firehole Lake, a large steamy, bubbly lake.
In 5-miles, be sure to stop at the world-famous Old Faithful Geyser (H4) whose predictable eruptions garner much attention. This area of Yellowstone National Park is home to more than 100 of the park's 200 geysers. Stroll the boardwalk to experience the wide range of geothermal activity, including hot springs, geysers, and bubbling pools. Many erupt all day, and some require patience but are well worth the wait. Check ahead with the Visitor's Center for rough schedules.
In 20-miles from Old Faithful, the Grand Loop Road turns east when you join the South Entrance Road. If you were to continue south, you would reach the Teton National Park.
As you make the turn, the drive follows the shores of West Thumb and Yellowstone Lake, one of the highest and largest lakes in North America. From here, enjoy views of the Teton and Absaroka Mountains. Rental boats are available to explore the lake or enjoy a hike to the Natural Bridge at the north end of the lake.
The Grand Loop Road continues along the Yellowstone River as the drive heads north. The Mud Volcano Trail is a popular, 1-mile boardwalk leading to many fascinating bubbling and steaming sites such as Black Dragon's Caldron, Sour Lake, Mud Caldron, Dragon's Mouth Spring, and Sulfur Caldron.
At the north end of the lake, continue on Grand Loop Road. If you were to turn right onto US-20, you would head to Cody, the Buffalo Bill Country.
In 13-miles from Yellowstone Lake, you will arrive at the Grand Canyon of Yellowstone (H6). You will hear the rushing water for miles before you actually see the canyon and waterfalls. The canyon is 20-miles long and has sections as deep as 1,200 feet. To explore the canyon, head down Uncle Tom's Trail (H2) which leads down to an overlook of the falls and canyon. For a spectacular view (and drive), head east on South Rim Road to Artist Point (V1).
Shortly after the Grand Canyon of Yellowstone, the drive crosses Norris Canyon Road again. Continuing north on Grand Loop Road for 4-miles, you arrive at Dunraven Pass, where you can hike to Mount Washburn (H7), a 50-million year old volcano that rises up to 10,243 feet of elevation. There is a picnic area at Dunraven Pass.
In 11-miles, Tower Falls (H8) is a short hike which brings you to the lookout of the 132-foot Tower Fall. Don't miss the nearby petrified Redwood tree which was buried in volcanic ash several million years ago.
Shortly after Tower Falls, the North Entrance Road will be on your right, which brings you to the Beartooth Highway, one of the most scenic drives in America. This drive continues on the Grand Loop Road for the next 18-miles until you arrive in Mammoth where the drive ends.
From here, consider heading north on US-89 to Glacier National Park or return to Yellowstone Lake and head east on US-20 to Cody and The Bighorn Canyon Loop.

Share