Walk, jog, or bike along the trail at Myrtle Edwards Park. The trail begins at the Olympic Sculpture Park (must explore!) and travels west alongside Puget Sound for 1.25-miles passing pocket beaches, a rose garden, a fishing pier, and lots of really cool trees. Midway, the West Thomas Street Pedestrian Bridge, offers access to/from Lower Queen Anne, making this a semi-long jaunt to/from the Seattle Center area.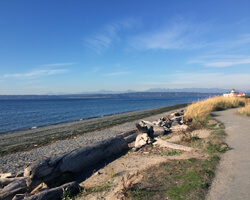 Discovery Park in Magnolia is an urban gem. Boasting 534-acres, hike through forest to bluff views of Puget Sound and the Olympic Mountains. Walk down to the driftwood-strewn beach which is too cold for swimming, but perfect for tide-pooling. Look for basking seals and soaring bald eagles. The lighthouse is not open to the public, but is very photogenic. There is a shuttle to the beach on summer weekends.
Watch yachts, small boats, and kayaks navigate their way through the Hiram M. Chittenden Locks (Ballard Locks). Stroll through the Carl S. English Jr. Botanical Garden, then peer through the windows at the Ballard Fish Ladder to observe salmon on their journey to spawn. At Commodore Park, you'll find Seattle's largest colony of Great Blue Herons nesting from February to August.