Trouble reading this? View online
An Unusual Travel Year (to say the least)
COVID-19 has had a devastating impact on travel. From dream trips, spring breaks, summer vacations, family visits, and upcoming winter getaways put on hold or vastly modified, to the struggle of so many businesses and communities that are reliant on tourism.
Outdoor adventures are more than just a vacation. Exercise and spending time outside has a positive impact on mental and physical health. The scent of a forest, the sound of rolling waves or chirping birds, or that feeling in your heart when you gaze upon an jaw-dropping vista is a great stress reliever. For our 2020 travels, we embraced the "staycation". Walks in our neighborhood, a few day trips to the mountains, bike riding, and kayaking, all made for fun, socially-distanced activities. We hope you found ways to recharge and explore safely close to home.
We're dreaming of the days when we can all travel freely. In the meantime, please recreate responsibly by following these recommendations.
Check the status of where you plan on visiting for open/closed status.
Consult local and state official resources.
Choose lesser known regions, trails, or parks. If it's crowded, have a back-up destination.
Wear a mask to protect others and yourself.
Stay home if you feel unwell.
Stay at least 6-feet from others (stand aside while people pass on narrow pathways).
Travel with a small bubble of cohorts.
Avoid risky behavior to reduce the need for rescue and emergency services.
Looking for the Perfect Gift? (Or something for yourself)
Give a lifetime of memories! America the Beautiful National Park Annual Passes are the perfect gift for outdoor lovers, hikers, and budding adventurers, offering 1-year unlimited access to over 2,000 parks managed by the National Park Service (NPS), USDA Forest Service, U.S. Fish and Wildlife Service (USFWS), Bureau of Land Management (BLM), and the Bureau of Reclamation (USBR).
No name is associated with the pass when it ships. We can mail it to you — or directly to the recipient. We're happy to include a FREE card with your personal greeting. Simply use our "SEND AS GIFT" button, or toggle "Gift" when checking out to type the details.
Exclusive Offer for You
SAVE $3.95! Enjoy $5 First Class USPS shipping when you order an America the Beautiful Annual Pass from Black Friday November 26, 2020 to December 5, 2020 using this link.
Order Now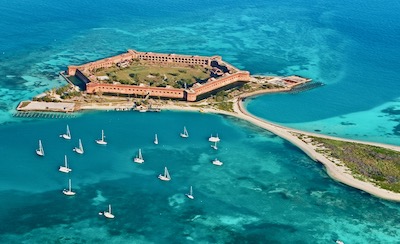 Military Veterans and Gold Star Family Free Access Program
Exciting news! Veterans and Gold Star Families will have free entrance to all Federal Recreational Lands in honor of their dedication and sacrifice. The new program began on Veterans Day, Nov 11, 2020 and will continue in perpetuity.
For Veterans
In National Parks that charge an entrance fee, a veteran will need to present one of the following forms of identification:
Department of Defense Identification Card (CAC Card)
Veteran Health Identification Card (VHIC)
Veteran ID Card
Veterans designation on a state-issued U.S. driver's license or identification card
We are waiting for an update on how entrance will work on federal lands that do not have a gated entrance, such as national forests. More Info
For Gold Star Families
If you are a Gold Star Family member, simply download and print a voucher to present to the ranger where entrance fees are collected, or place on the vehicle dashboard at unstaffed sites. By downloading and signing the voucher, Gold Star Family members are self-certifying that they meet the required criteria as identified in sections 3.2 and 3.3 of Department of Defense Instruction 1348.36. If you qualify, you may download the voucher here.
Like America the Beautiful Interagency passes, these options include all passengers in a personal vehicle at sites that charge a per vehicle fee — or up to four people (aged 16 and up) at sites that charge per person fee. Children 15 and under are always admitted free. Other adventures, such as camping and wilderness use, may require additional fees.
Every Kid Outdoors Annual 4th Grade Free Pass (and 5th Grade extension!)
This free program is designed to encourage 4th graders and their families to get out and explore America's natural, historic, and cultural sites. Learn more and sign up.
Fifth grade students who missed out on making full use of the Every Kid Outdoors Annual 4th Grade Pass during the 2019-2020 academic year due to the COVID-19 pandemic will have free access extended until August 31, 2021! Simply download this voucher.
Giving Thanks
Our very best wishes from our family to yours for a happy holiday season. Cheers to fueling your wanderlust and planning those post-pandemic roadtrip adventures.