Ebbetts Pass Scenic Byway
The Sierra Nevada Route
Mileage
55 miles (89 km)
Duration

The duration is an estimate of a one-way drive and does not include any stops or side-trips.

1 hour, 6 minutes
Seasons

The seasons listed are the best seasons for this scenic drive. If Winter is not mentioned, the road may be closed during the winter.

Spring, Summer, and Fall
Roadways
California Highways 4 and 89
Services

The cities or towns listed have either Food or Services such as gas, hotels, pharmacies, etc.

Arnold, CA

▼

, Murphys, CA

▼

, Markleeville, CA

▼

, Gardnerville, NV

▼

, Mountain House, NV

▼

, Topaz Lake, NV

▼

, and Woodfords, CA

▼

Rating

3.9

average from

51

votes

My Drives

Track your favorite scenic drives by selecting those which you want to take and those that you have taken. Using your free account, simply sign in and select My Drives.
Experience this Scenic Drive right from your web browser now with RoadPreview.
Our free Road Trip Planner will reverse the route and include the places of interests. Click the "Add to Road Trip" above to start planning your next road trip.
Send this link to your phone. Standard text messaging rates apply.
() -
Get directions from your start address to the beginning of and including this scenic drive. Choose either an alternate ending or same as start.
Have more destinations? Use our free Road Trip Planner to completely plan your adventure. Click the "Add to Road Trip" above to start planning your next road trip.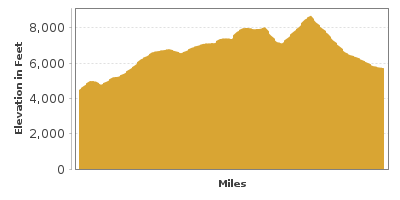 Hotel Finder
Great deals on hotels!
No booking fees.
Safe and secure.
Reserve online or call 1-866-358-9134 anytime.
The Ebbetts Pass Scenic Byway heads through the Sierra Nevada's old-growth Stanislaus National Forest, towering peaks, alpine lakes and valleys as it climbs to 8,730 feet of elevation through this historic trail on the way to Lake Tahoe.
The scenic drive starts in Arnold which can be reached by heading north on CA-4 from Angles. The drive heads north to CA-89 where it ends in Markleeville. During the summer, you will see many species of wildflowers and in the fall, enjoy the changing colors of the trees.
Heading north on CA-4, you will soon arrive in Calaveras Big Tree State Park (H1) which is home to two groves of giant sequoia redwoods reaching over 200 feet tall and a diameter greater than 20 feet. Other attractions in the Park include the Stanislaus River, Beaver Creek, the Lava Bluff Trail and Bradley Trail.
After you pass the Bear Valley Ski Resort, surrounded by mountains and valleys is the scenic Lake Alpine (W1). Rent a kayak or canoe to explore its natural beauty.
A few miles ahead is Cape Horn Vista (V1) where you can get a panoramic perspective of the Sierra Nevada. Continuing north, you will soon pass Mosquito Lakes (W2) on your right. The two reflective shallow alpine lakes with their granite outcroppings offer fishing, boating and hiking, such as on the nearby Pacific Crest Trail or to Marshall Canyon.
Continuing north on CA-4, the drive will climb as you approach the 8,732-foot Ebbetts Pass. The road descends quickly with many hairpin turns after the pass and the surrounding scenery is amazing.
At the bottom of the pass, the road parallels the East Fork of the Carson River, renowned for trout fishing and whitewater rafting. Nearby Grover Hot Springs State Park has hot and cold pools and swimming pool hot springs. Shortly after, the drive ends as you approach CA-89. From here, head northeast on CA-89/US-50 towards Lake Tahoe.
Share