Outback Scenic Byway
From the lush forest to the Oregon desert
Mileage
157 miles (253 km)
Duration

The duration is an estimate of a one-way drive and does not include any stops or side-trips.

3 hours, 4 minutes
Seasons

The seasons listed are the best seasons for this scenic drive. If Winter is not mentioned, the road may be closed during the winter.

All Seasons
Roadways
Oregon Highway 31, and US Highway 395
Passes

Some of the adventures on this scenic drive require an admission fee that these passes cover. Please read the drive description for more information.

Pacific Northwest Forest Passes, and America the Beautiful Annual National Parks Pass
Services

The cities or towns listed have either Food or Services such as gas, hotels, pharmacies, etc.

La Pine, OR

▼

, Lakeview, OR

▼

, and Summer Lake, OR

▼

Rating

4.2

average from

26

votes

My Drives

Track your favorite scenic drives by selecting those which you want to take and those that you have taken. Using your free account, simply sign in and select My Drives.
Our free Road Trip Planner will reverse the route and include the places of interests. Click the "Add to Road Trip" above to start planning your next road trip.
Send this link to your phone. Standard text messaging rates apply.
() -
Get directions from your start address to the beginning of and including this scenic drive. Choose either an alternate ending or same as start.
Have more destinations? Use our free Road Trip Planner to completely plan your adventure. Click the "Add to Road Trip" above to start planning your next road trip.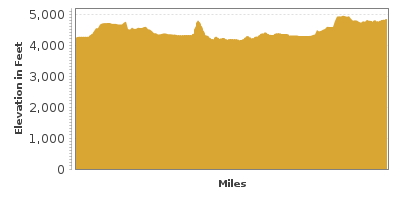 Hotel Finder
Great deals on hotels!
No booking fees.
Safe and secure.
Reserve online or call 1-866-358-9134 anytime.
Get a Park Pass
Natural areas along this route require an entrance fee used to protect and maintain our most scenic treasures. Save time by purchasing your forest passes before you go.
The scars of fiery volcanic activity mark the land as this scenic drive heads through the Oregon desert leading into northern California. Striking geologic features rising from wide expanses of land covered like a quilt with the textures and colors of desert grasses, plants and rocks.
Fort Rock in Oregon's high desert
The drive begins in La Pine at the intersection of US-97 and OR-31 and travels to the California border on US-395. Using US-97, La Pine is about 40 minutes south of Bend and about 2 hours north of Crater Lake.
Leaving the dense, pine trees of Deschutes National Forest behind, head south on OR-31 from La Pine heading into the wide vistas of the Oregon desert.
In 25-miles from US-97, Hole-in-the-Ground (H2) crater is visible on the left. The volcanic crater was created during the Pleistocene period when this area was a lake. As magma approached the bottom of the lake, the steam and boiling water caused a series of explosions, blowing out rocks and debris. This process was repeated, eventually forming the hole. The crater is about a mile across and 390 feet deep. Today you can visit the crater and hike its perimeter.
In another 5-miles, you arrive at the Fort Rock State Natural Area (H3), where another volcanic crater lies. Jutting out of the landscape, Fort Rock is a "tuff ring" volcanic remnant. The ancient lake that surrounded this area collapsed one of the sides of the ring, making it very accessible to explore. There are facilities here, such as interpretive signs, hiking trails and picnic tables. There are 40 tuff rings and maars in the area and in summer, a park host is on site to answer questions.
Within the Fort Rock State Natural Area is the Fort Rock Valley Historical Homestead Museum (M1) which celebrates the early homesteaders that came to this area. While their dreams of riches did not prevail, they left behind many historical buildings which are part of the museum today.
Continuing south on OR-31, keep an eye open for wildlife. In 9 miles, Oatman Flat is an irrigated area where mule deer often gather. There is a turnout to watch from, but the field is private property so do not trespass. The town of Silver Lake, Paulina Marsh (H4) is a popular location to see for eagles, great blue herons, hawks, pintails, and many other birds.
From here the road begins its climb up to Picture Rock Pass, where the Medicine Man Trail (H5) is a short hike that brings you to the Native American petroglyphs for which the pass is named and also provides a lofty view of the desert and on a clear day, you can even see the Three Sisters Mountains to the north.
As you come down the pass, you arrive at the Summer Lake Wildlife Area (T1), one of Oregon's best bird watching areas, with at least 280 species of birds and many aquatic and non-aquatic mammals, reptiles and amphibians. When it is not hunting season, the Wildlife Area features an 8-mile driving tour offering the best views.
The scenic drive continues alongside Summer Lake and in 50-miles as you approach the US-395, the largest geological fault in North America, Abert Rim, dominates the view. Rising more than 2,000 feet and stretching more than 30 miles, the beauty is accented with Lake Abert at its foot.
Heading south on US-395, you arrive at Lakeview which was once the home of the Pacific Northwest's only geyser. Unfortunately, it is no longer active. You can still enjoy the area's hot springs or hang-gliding, as the town refers to itself as the "hang gliding capital of the west."
The route continues until you arrive at the California border. From here, you can continue down the US-395 and join onto our Mount Shasta Loop near Susansville, CA.

Share