Cades Cove Loop
A Scenic Drive through the 1800s
Mileage
9 miles (15 km)
Duration

The duration is an estimate of a one-way drive and does not include any stops or side-trips.

20 minutes
Seasons

The seasons listed are the best seasons for this scenic drive. If Winter is not mentioned, the road may be closed during the winter.

Spring, Summer, and Fall
Roadways
Cades Cove Loop
Services

The cities or towns listed have either Food or Services such as gas, pharmacies, etc.

Townsend, TN

▼

, and Fontana Dam, NC

▼

Rating

3.2

average from

50

votes

My Drives

Track your favorite scenic drives by selecting those which you want to take and those that you have taken. Using your free account, simply sign in and select My Drives.

Share
Our free Road Trip Planner will reverse the route and include the places of interests. Click the "Add to Road Trip" above to start planning your next road trip.
Send this link to your phone. Standard text messaging rates apply.
() -
Get directions from your start address to the beginning of and including this scenic drive. Choose either an alternate ending or same as start.
Have more destinations? Use our free Road Trip Planner to completely plan your adventure. Click the "Add to Road Trip" above to start planning your next road trip.
Cades Cove Drive is a short loop within the Great Smoky Mountains National Park. The 11-mile drive travels a one-lane, one-way road offering spectacular valley views, rich with wildlife and historic buildings of the self-sufficient community that settled here in 1818. Offering so much to explore, at times the road can be busy. Use the turnouts to observe and photograph wildlife and vistas and have a full tank of gas before beginning as there are no services within the park itself.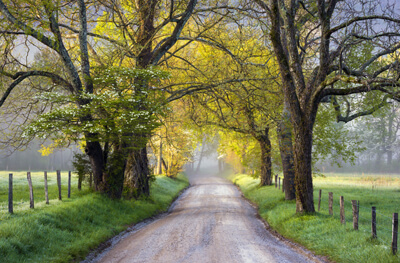 Treelined view along Sparks Lane
This scenic drive makes a great side trip from our Newfound Gap Road drive and can be reached by heading south on Little River and Laurel Creek Road for some 25 miles. The road is closed to cars on Wednesday and Saturday mornings until 10:00 am, but is open to bicycles and walkers.
Surrounded by 5,500 foot mountains, the valley is home to white-tailed deer, black bear, turkey, woodchucks, seven species of turtle including the Eastern box turtle and is an important stop for migrating birds.
Eighteen marked historical sites line the route including the John Oliver Cabin, the Primitive Baptist Church, barns, blacksmith shop, mills and more, each offering a glimpse into the struggle and beauty of pioneer mountain life.
Explore with a moderate 5-mile round trip hike on Abrams Falls Trail (H1) which ends at Abrams Falls. Though only 20-feet high, the large volume of water cascading over the rocks is impressive. Picturesque and refreshing — it is not safe for swimming due to the strong undercurrent. The trailhead is just before the Visitor Center.
Towards the middle of the loop, stop at the Cades Cove Visitor Center (I1) which provides an insightful view into life in the 1800s via exhibits and ranger-led programs.
Every season offers incredible views with different plants at center stage. Wildflowers in spring, fresh, green forest in summer, a screech of color in fall, and the sculptural beauty of trees without leaves in winter.
At the end of the loop, retrace Laurel Creek Road and Little River Road to Newfound Gap Road to continue exploring the Smoky Mountains National Park.

Share