Nebo Loop Byway
Through the Uinta National Forest
Mileage
35 miles (57 km)
Duration

The duration is an estimate of a one-way drive and does not include any stops or side-trips.

1 hour, 3 minutes
Seasons

The seasons listed are the best seasons for this scenic drive. If Winter is not mentioned, the road may be closed during the winter.

Spring, Summer, and Fall
Roadways
Forest Road 015
Services

The cities or towns listed have either Food or Services such as gas, hotels, pharmacies, etc.

Payson, UT

▼

, Spanish Fork, UT

▼

, and Nephi, UT

▼

Rating

4.0

average from

55

votes

My Drives

Track your favorite scenic drives by selecting those which you want to take and those that you have taken. Using your free account, simply sign in and select My Drives.
Our free Road Trip Planner will reverse the route and include the places of interests. Click the "Add to Road Trip" above to start planning your next road trip.
Send this link to your phone. Standard text messaging rates apply.
() -
Get directions from your start address to the beginning of and including this scenic drive. Choose either an alternate ending or same as start.
Have more destinations? Use our free Road Trip Planner to completely plan your adventure. Click the "Add to Road Trip" above to start planning your next road trip.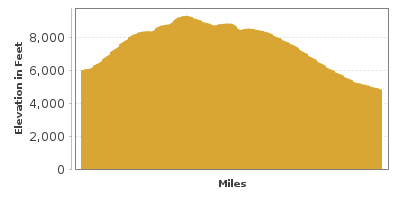 Hotel Finder
Great deals on hotels!
No booking fees.
Safe and secure.
Reserve online or call 1-866-358-9134 anytime.
A perfect Salt Lake City Day Trip. This road, with narrow, winding with sections of hairpin curves affords incredible views of the Wasatch Range and its tallest mountain, 11,929-foot Mt. Nebo. See flat bottom-lands, high-alpine conifers, red rock formations, gray sandstone cliffs and salt flats all in the same day. Sights include Devil's Kitchen, Walker Flat and Mt. Nebo Wilderness.
Mount Nebo
Like many of our drives, this one can be done in either direction, but we are describing it as going north from Nephi. To reach it, take exit 225 from I-15 and head east on UT-132. In 5-miles, Salt Creek Canyon Road will be on your left and the journey begins.
In 3 miles on Salt Creek Canyon Road, you arrive at a fork in the road. Stay to the right to continue on this route, however, continuing to the left will bring you to the Bear Canyon Campground and the Nebo Bench Trailhead. The Nebo Bench Trail (H1) climbs through the Mount Nebo Wilderness culminating at Mount Nebo's summit, 11,928 feet of elevation. The entire trail is 8.5-miles, but a 2-mile hike on this trail is perfect for a day trip.
Back at the fork, the scenic drive climbs up with some switchbacks through aspen and pine forests. In a few miles, you arrive at the Devils Kitchen (H2), where a short, paved 1/4 mile interpretative trail through ponderosa pine, aspen, and fascinating red rock spires details the local vegetation and the area's geology. The stop makes a great picnic spot while gazing at wildflowers, the Wasatch Range and Mount Nebo.
Two miles from here, stop at the Mount Nebo Overlook (V1) where snow-capped rocky peaks jut from the Wasatch Mountains ahead, Mount Nebo being the tallest.
In a few more miles, the Lake Utah Overlook (V2) offers a breath-taking view of the blue-green Utah Lake, which contrasts beautifully with the desert scenery around it. Take advantage of the other overlooks, Bald Mountain, Santaquin and Beaver Dam for other picture worthy views.
As you continue through the forests, you arrive at Payson Lakes (W1), three lakes (McClelland Lake, Box Lake and Big East Lake) in close proximity whose reflective beauty make it ideal for picnics, swimming, and fishing. The lakes are a popular camping area and feature hiking as well as paved nature trails.
When leaving Payson Lakes, the road travels through a canyon and meadows until arriving in town of Payson where the drive ends. From here, Salt Lake City is an hour north on I-15.

Share