Hoquiam to North Beach
Enjoy Washington's Pacific Beaches
Mileage
51 miles (83 km)
Duration

The duration is an estimate of a one-way drive and does not include any stops or side-trips.

1 hour, 30 minutes
Seasons

The seasons listed are the best seasons for this scenic drive. If Winter is not mentioned, the road may be closed during the winter.

All Seasons
Roadways
Washington Highways 109 and 115
Services

The cities or towns listed have either Food or Services such as gas, hotels, pharmacies, etc.

Aberdeen, WA

▼

, Ocean Shores, WA

▼

, and Moclips, WA

▼

Rating

3.0

average from

24

votes

My Drives

Track your favorite scenic drives by selecting those which you want to take and those that you have taken. Using your free account, simply sign in and select My Drives.
Our free Road Trip Planner will reverse the route and include the places of interests. Click the "Add to Road Trip" above to start planning your next road trip.
Send this link to your phone. Standard text messaging rates apply.
() -
Get directions from your start address to the beginning of and including this scenic drive. Choose either an alternate ending or same as start.
Have more destinations? Use our free Road Trip Planner to completely plan your adventure. Click the "Add to Road Trip" above to start planning your next road trip.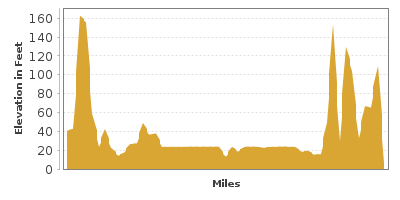 Hotel Finder
Great deals on hotels!
No booking fees.
Safe and secure.
Reserve online or call 1-866-358-9134 anytime.
The Washington Pacific shores have not been tamed and many miles of Washington's coast are not accessible to the public. Traveling along the beaches from Ocean Shores to Moclips, this scenic drive offers you a wide variety of opportunities to experience the spectacular, rugged coast up close.
Pacific Ocean from North Beach
The scenic drive begins in Hoquiam, where you will turn west onto WA-109 off US-101. The first stop is Grays Harbor National Wildlife Refuge (A1). Located within Grays Harbor Estuary at the mouth of the Chehalis River, it is one of four major staging area for migrating birds. Millions of birds stop here during spring, including western sandpiper, dunlin, short-billed and long-billed dowitchers, and the semi-palmated plover. The one-mile trail Sandpiper Trail leads to the tip of the Bowerman Peninsula. Be sure to bring your binoculars and rubber boots as the ground is often wet and muddy.
Continuing west on WA-109, the road will eventually intersect with WA-115. Turn left for Ocean Shores. The beautiful Ocean Shores peninsula is about a mile across with the Pacific Ocean on the western coast and Grays Harbor on the eastern coast.
Just after the Ocean City State Park (W1), the WA-115 ends and the road becomes Point Brown Ave NW. Follow this to the end, turning right onto Discovery Avenue. and taking an immediate left into the marina parking lot. Here you will have access to the beach on Grays Harbor and Damon Point State Park (W2). Take in the spectacular view of Mount Hood to the south, Grays Harbor and the jagged, snow-capped peaks of the Cascades Mountain Range. The park features a one-mile strip of land jutting out into the sea, where you can walk to the end of Damon Point.
Discovery Avenue will turn into Marine View Drive. Continue driving west. You can choose either to meander through the smaller roads or use Ocean Shores Boulevard to get to the southernmost tip. Off Ocean Shores Boulevard are several opportunities to access the beaches. Enjoy the sounds and colors of crashing waves as you beachcomb, sunbathe or stroll amidst the natural beauty. And if you're lucky, you may catch a glimpse of seals, sea lions, and whales.
Heading north on Ocean Shores Boulevard will bring you back to WA-115, and then to WA-109. Turn left (north) on WA-109. Along the road is access to many beaches offering day use and camping opportunities. Ocean City Beach (W4) is open year-round for camping in its 170 acre park. Along with camping, Copalis Beach (W5), Pacific Beach (W6) and Moclips Beach (W7) are all perfect for a family outing — picnic, sand castles and kite flying. Or relax with a romantic stroll hand in hand. Specific dates in fall and winter offer a chance to dig for razor clams on Copalis Beach. Check fishhunt.dfw.wa.gov for permits and schedule.
Just north of Copalis Beach, Griffiths-Priday Ocean State Park (H2) is a 364-acre marine park with 8,316 feet of saltwater shoreline on the Pacific Ocean and 9,950 feet of freshwater shoreline on the Copalis River. Gorgeous views, grassy dunes and a sand-studded treasure trove of shells and rocks await when you walk the 4-mile round trip Copalis Spit Trail.
The scenic drive ends at Moclips, just south of the Quinault Indian Reservation. The beaches on the reservation are not accessible to the public.
To head back home, consider going south on WA-109 and retracing back to the US-101, or using the Moclips Highway. The Moclips Highway is on the right just a few miles north of Moclips and travels through a beautiful forest of white birch trees with peek-a-boo views of the Olympic Mountains. At the end of the Moclips Highway, you will be about 1 hour from Hoquiam or about 1 hour and 45 minutes from Forks. Either of these destinations is perfect to continue on the Olympic Peninsula Loop.

Share