Feather River Scenic Byway
Through the Plumas National Forest
Mileage
344 miles (554 km)
Duration

The duration is an estimate of a one-way drive and does not include any stops or side-trips.

6 hours, 49 minutes
Seasons

The seasons listed are the best seasons for this scenic drive. If Winter is not mentioned, the road may be closed during the winter.

Spring, Summer, and Fall
Roadways
California Highways 20, 36, 49, 70, and 89, Country Road 324, and Gold Lake Highway
Services

The cities or towns listed have either Food or Services such as gas, hotels, pharmacies, etc.

Chester, CA

▼

, Sacramento, CA

▼

, Oroville, CA

▼

, Berry Creek, CA

▼

, Paradise, CA

▼

, Greenville, CA

▼

, Quincy, CA

▼

, Taylorsville, CA

▼

, more...Clio, CA

▼

, Portola, CA

▼

, Sierra City, CA

▼

, Alleghany, CA

▼

, Nevada City, CA

▼

, Grass Valley, CA

▼

, Marysville, CA

▼

, Yuba City, CA

▼

, Live Oak, CA

▼

, Oroville Junction, CA

▼

, Pulga, CA

▼

, Paradise Pines, CA

▼

, Grays Flat, CA

▼

, Blairsden, CA

▼

, Graeagle, CA

▼

, Orleans Flat, CA

▼

, Moores Flat, CA

▼

, Gold Run, CA

▼

, La Paloma, CA

▼

, and Mendota, CA

▼

Rating

3.6

average from

84

votes

My Drives

Track your favorite scenic drives by selecting those which you want to take and those that you have taken. Using your free account, simply sign in and select My Drives.
Our free Road Trip Planner will reverse the route and include the places of interests. Click the "Add to Road Trip" above to start planning your next road trip.
Send this link to your phone. Standard text messaging rates apply.
() -
Get directions from your start address to the beginning of and including this scenic drive. Choose either an alternate ending or same as start.
Have more destinations? Use our free Road Trip Planner to completely plan your adventure. Click the "Add to Road Trip" above to start planning your next road trip.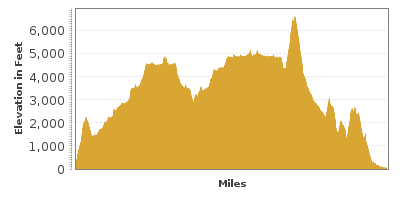 Hotel Finder
Great deals on hotels!
No booking fees.
Safe and secure.
Reserve online or call 1-866-358-9134 anytime.
Beautiful in spring, dazzling in fall color, and in winter, the chance to climb over the only pass in the Sierra Nevada range of mountains that remains open, the Feather River Scenic Byway never disappoints. This road follows the north fork of Feather River through sheer granite cliffs with thousand-foot drop-offs to the river below. Enjoy spectacular scenery as you drive the twists and turns of the road and take advantage of the many scenic turnouts. As well as natural beauty and diverse terrain, this scenic drive offers a glimpse into the timber, mining, and railroad operations integral to this region's history.
Lake Almanor
Historically this route was carved out by James Beckwourth in 1851 and was so named, the Beckwourth Pass. In 1909, the Western Pacific Railroad built their line on the sides of the cliffs along this same route. Even today you will see long snake-like rows of freight cars traveling across the chasm from your roadway.
The route begins just outside of Oroville, home to Feather River, the state's first designated Wild and Scenic River. One of the largest lakes in California, it is host to a community of houseboats and popular for a variety of water-based recreation, such as kayaking, swimming and bass fishing. There is a Visitor Center at the Lake Oroville State Recreation Area (W1) which features displays on the natural and cultural history of area and of the Oroville Dam built in 1967 that created the lake. Take in incredible views by climbing the 47-foot observation tower. Two telescopes allow for close up views of the Sierra Nevada's and the smallest mountain range in the world, the Sutter Buttes. Interested in a hike? Loafer Creek and Roy Rogers Trails are each 2-mile loops and can be combined. If you plan on staying in this area a little longer — consider visiting Feather Falls, especially in spring. The hike is a 7-mile loop trail and when the trail splits take the path that says 4.5 miles. Though it seems longer, most of the hike will be downhill.
Once on SR 70 you begin the drive up the granite gorge of the Byway. Observe the many hydroelectric plants built along the river during the early part of the 20th Century.
The drive climbs in elevation, passing through three tunnels carved out of the mountains and crossing historic bridges spanning the river. The most famous is at Pulga where the highway bridge crosses over the Western Pacific Railroad Bridge (B1). Lumbering is still an active industry, so watch out for heavily laden lumber trucks on the road.
At the Belden Rest Area (I1), there are displays of historical information about the route and the gold mining days. Here too is an access point for hikers to the Pacific Crest National Scenic Trail that extends from Canada to Mexico. Food and camping supplies are available in Belden.
Along the route, keep your eyes out for wildlife. Black tail Colombian deer, Rocky Mountain mule deer, and other forest dwellers can be spotted along the road, particularly at crepuscular time, as well as bald eagles, Canada geese, ducks, and other species of birds.
Just beyond the town of Paxton the drive connects with CA-89. Heading north will bring you to the shores of Lake Almanor (W2). Nicknamed Little Lake Tahoe, with 52 miles of shoreline, Lake Almanor is the largest lake in Plumas County and is a popular recreation area. Anglers will love fly fishing for trout.
Continue to Chester on the north shore of the lake where a road leads to Lassen Volcanic National Park. Route 36 connects to County Road A13 on the east shore of the lake and then connects to CA-147 that leads back to CA-89 for a loop around Lake Almanor.
If you choose to skip the loop around Lake Almanor, a right turn from Paxton onto CA-70/89 will take you to Quincy, the Plumas County Seat. In this quaint town and you will find historic buildings, shops and restaurants in the downtown area. There is a self-guided walking tour beginning at the Plumas County Museum (M2) located behind the County Courthouse on Main Street. The Museum itself is a worthy stop with a collection of baskets woven by the Mountain Maidu Indians, and exhibits about the lives of Plumas pioneers, industrial equipment and history to name a few. Stop at the Quincy Ranger Station (I2) for information on local hikes.
From Quincy proceed east to Portola to visit the Western Pacific Railroad Museum (M1). Here you will see an extensive collection of rolling stock, locomotives, and other railroad memorabilia. You will even have a chance to drive a diesel locomotive.
CA-70 continues on to the Nevada border at Hallelujah Junction, where a trip south on CA-49 and continuing south on CA-89 will bring you to Lake Tahoe. Or for an interesting route home, retrace your miles back to the Gold Lake Highway turnoff for the small town of Graeagle in the Mohawk Valley on the Middle Fork of Feather River.
From Graeagle County Road A-14 extends five miles to Johnsville and into the 4,500 acre Plumas-Eureka State Park (H1) located at the base of Eureka Peak where $25 million in gold was extracted by hard rock mining in the 1800s. There is an indoor-outdoor museum with vintage gold mining equipment and you will be able to see inside the Eureka Tunnel. Explore the impressive Sierra Mountain setting as the park has a picnic area, camping and several hiking opportunities, including the 7.5 mile Little Jamison Creek Trail which leads to four small lakes, great for a refreshing dip and the 1.5 mile Madora Lake Nature Walk.
Back on the highway you will drive through beautiful mountain scenery, ablaze with color in fall. There are numerous lakes formed by glaciers; the largest being Gold Lake where there is a boat landing and horse stables. From the highway you will have an excellent view of the Sierra Buttes and their jagged peaks reminiscent of the Swiss Alps.
Gold Lake Highway connects with CA-49 that follows the North Fork of the Yuba River through a series of gold mining era towns and ends at Grass Valley and CA-20 which will lead you back to CA-70 at Marysville.

Share