Northern Pacific Coast
From the Redwood Forests to San Francisco
Mileage
215 miles (347 km)
Duration

The duration is an estimate of a one-way drive and does not include any stops or side-trips.

4 hours, 29 minutes
Seasons

The seasons listed are the best seasons for this scenic drive. If Winter is not mentioned, the road may be closed during the winter.

All Seasons
Roadways
California Highway 1
Services

The cities or towns listed have either Food or Services such as gas, hotels, pharmacies, etc.

Westport, CA

▼

, Fort Bragg, CA

▼

, Mendocino, CA

▼

, Little River, CA

▼

, Albion, CA

▼

, Elk, CA

▼

, Manchester, CA

▼

, Point Arena, CA

▼

, more...Gualala, CA

▼

, Sea Ranch, CA

▼

, Jenner, CA

▼

, Cazadero, CA

▼

, Guerneville, CA

▼

, Monte Rio, CA

▼

, Bodega Bay, CA

▼

, Occidental, CA

▼

, Bodega, CA

▼

, Valley Ford, CA

▼

, Forestville, CA

▼

, Tomales, CA

▼

, Sebastopol, CA

▼

, Rohnert Park, CA

▼

, Marshall, CA

▼

, Inverness, CA

▼

, Point Reyes Station, CA

▼

, Bolinas, CA

▼

, Stinson Beach, CA

▼

, San Anselmo, CA

▼

, Mill Valley, CA

▼

, Corte Madera, CA

▼

, Larkspur, CA

▼

, San Rafael, CA

▼

, Sausalito, CA

▼

, San Francisco, CA

▼

, Richmond, CA

▼

, San Pablo, CA

▼

, El Sobrante, CA

▼

, El Cerrito, CA

▼

, Leggett, CA

▼

, Santa Margarita Groves, CA

▼

, Anchor Bay, CA

▼

, Montesano, CA

▼

, Freestone, CA

▼

, Cypress Grove, CA

▼

, South Santa Rosa, CA

▼

, Sacramento Landing, CA

▼

, Inverness Park, CA

▼

, Point Reyes, CA

▼

, Sonora Meadows, CA

▼

, Tiburon, CA

▼

, Richmond District, CA

▼

, Point Richmond, CA

▼

, and Stonestown, CA

▼

Rating

3.7

average from

176

votes

My Drives

Track your favorite scenic drives by selecting those which you want to take and those that you have taken. Using your free account, simply sign in and select My Drives.
Our free Road Trip Planner will reverse the route and include the places of interests. Click the "Add to Road Trip" above to start planning your next road trip.
Send this link to your phone. Standard text messaging rates apply.
() -
Get directions from your start address to the beginning of and including this scenic drive. Choose either an alternate ending or same as start.
Have more destinations? Use our free Road Trip Planner to completely plan your adventure. Click the "Add to Road Trip" above to start planning your next road trip.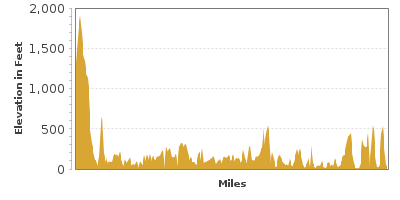 Hotel Finder
Great deals on hotels!
No booking fees.
Safe and secure.
Reserve online or call 1-866-358-9134 anytime.
Following the wild waves of the northern California Pacific Coast from Leggett to San Francisco's Golden Gate Bridge, travel through the Jug Handle State Reserve (H4) where you can walk through over 500,000 years of history, Salt Point State Park (H9) where sandstone has been naturally formed into nearly every geometric shape imaginable, and Muir Woods National Monument (H13), described by John Muir described this as "the best tree-lover's monument in all the forests of the world."
Point Reyes National Seashore
While this drive is suitable for all seasons, we recommend avoiding it when it's foggy or close to dark.
This scenic drive can be done in either direction, but it is described here as starting in Leggett and is easily reached from US-101, continuing from the Redwood Highway. From Leggett, consider stopping at the Standish Hickey State Recreation Area (H1) for a hike through the Grove Trail, featuring coastal redwoods.
Heading South on CA-1, the road continues through the forests. Adventurous explorers may consider a side-trip to Sinkyone Wilderness State Park (H2), often referred to as the "Lost Coast" because highways do not go through it. This no-services park features camping, fishing, hikes, biking, horseback trails, and picnic areas. To reach it, turn right (west) on Usal Road.
21 miles from Leggett, the CA-1 starts to hug the coastline. In 3 miles, the Westport Union-Landing State Beach (W1) offers more than 3 miles of scenic, rugged coastline with the picturesque Coastal Mountain Range as a backdrop.
In 14 miles, the MacKerricher State Park (H3) features dunes and a wonderful bluff, and the nearby forests offer hiking opportunities. The beach's nearby rocks are frequented by seals and the area is home to more than 90 species of birds. The Guest House Museum (M1) in the next town, Fort Bragg, provides information about the area's rich logging history.
In 5 miles, the Jug Handle State Reserve (H4) offers the rare opportunity to walk through history with its unique coastal erosion and land shifts staircase, each step moving 100,000 years older than the one below it.
Mendocino is a Victorian village known for its art scene since the 1950s. Visit the galleries at the Mendocino Art Center (M2). The Kelley House Museum (M3) prides itself of having more than 150 years of the Mendocino history. Wineries, boutiques and restaurants blend seamlessly with the natural beauty of the Redwoods and coastline.
Another gem is the Mendocino Headlands State Park (H6). If you were only to visit one park on your trip, this is the one. The bluffs, grasslands, and tidepools along with the views are unparalleled. Explore the many miles of trails, enjoy a picnic, or watch the migrating whales.
Continuing south on CA-1, the Van Damme State Park (H7) has forests of mature trees whose growth has be stunted by their environment, some of these trees not even reaching your knee. Trails through the park will bring you through Douglas firs, Pacific hemlocks, and coastal redwoods. The park does extend to the ocean where you can explore tidepools, kelp, and if you brought your equipment, you may snorkel here. The Van Damme Visitor Center (I1) is just south of Mendocino.
Along the side of CA-1 are many pullouts that you should take advantage of. As you approach Manchester, consider stopping at Manchester State Park (W4) whose beach and sand dunes are surrounded by grasslands. The coastline from the north creates a catcher's mitt, resulting in a lot of driftwood on the beach.
After Manchester, keep an eye out for Lighthouse Road which will bring you to Point Arena Lighthouse and Museum (M4). The lighthouse features a Fresnel lens from the original 1870 lighthouse and offers a spectacular view onto the ocean. The Arena Rock Marine Natural Preserve is also here and is one of California's Underwater Parks. Snorkelers will enjoy exploring the underwater ecosystem at the submerged Arena Rock.
Continuing south on CA-1, Gualala Point Regional Park (W5) is a beach set on a peninsula offering wonderful views of the ocean and is an ideal picnic spot. The park is also very popular with driftwood hunters.
In 18 miles, the Kruse Rhododendron State Park (H8) has more than 317 acres of rhododendrons. The best time to stop by is in the spring. Further ahead, Salt Point State Park (H9) features sandstone formations meticulously formed over the past 50 million years by the wind and ocean. California's first underwater reserves is also at this park.
Continuing south for 9 miles, Fort Ross State Historic Park (H10) is the home of an Imperial Russian outpost created in the 1800s by Russian fur traders. After the sea otter population was nearly depleted, the land was sold. Although the buildings are mostly reconstructed, the scene and views are amazing.
As you approach Jenner, consider taking the Vista Trail (H14), a beautiful, romantic, 1-mile loop trail along the coast. After the trail, the Sonoma Coast State Beach (W6) is a public beach spanning the 4-miles between Jenner and Bodega Bay.
After Bodega Bay, the CA-1 leaves the coastline. After Valley Ford, the CA-1 turns off to the right. If you were to continue heading straight, you will reach US-101.
Shortly after Tomales, the road will follow the coastline of Tomales Bay. The bay offers warm ocean water popular for swimming, clamming, birding, or having a beachside picnic. To enjoy the bay, head to the Tomales Bay State Park (H15).
The nearby Point Reyes National Seashore (H16) preserves the wilderness and ecosystems in an undeveloped area on the coast. More than half of the bird species in North America have been spotted in this preserve. The Point Reyes Lighthouse also offers a great view of the Pacific Ocean and migrating whales.
Continuing south on CA-1, Stinson Beach (W7) has a sandspit that jolts into Bolinas Lagoon. Bird watchers will enjoy watching the great blue heron and the snowy egrets fish in the lagoon. Just after Stinson Beach, consider a side trip to Mount Tamalpais (H17) by heading up the Panoramic Highway. Mount Tamalpais is very popular for biking and offers an amazing view of the Ocean and San Francisco. On the clearest of days, you might be able to see over the Sierra Nevada's snow-covered mountains 150-miles away.
In 5 miles, stop at the Muir Beach Overlook (V3) to a grand view of the Pacific Coast and the Golden Gate Bridge. In less than a mile from the overlook, consider turning onto Muir Woods Road to access the Muir Woods National Monument, home of old-growth redwood forests that are over one thousand years old.
The CA-1 joins onto the US-101 and crosses the Golden Gate Bridge to San Francisco where this drive is completed. From here, enjoy a day in San Francisco and consider heading south to Big Sur Coast.

Share