Yosemite Valley and Tioga Road
Through Yosemite National Park
Mileage
119 miles (192 km)
Duration

The duration is an estimate of a one-way drive and does not include any stops or side-trips.

2 hours, 24 minutes
Seasons

The seasons listed are the best seasons for this scenic drive. If Winter is not mentioned, the road may be closed during the winter.

Spring, Summer, and Fall
Roadways
California Highways 120 and 41
Passes

Some of the adventures on this scenic drive require an admission fee that these passes cover. Please read the drive description for more information.

America the Beautiful Annual National Parks Pass
Services

The cities or towns listed have either Food or Services such as gas, hotels, pharmacies, etc.

Oakhurst, CA

▼

, Ahwahnee, CA

▼

, Bass Lake, CA

▼

, Bass Lake Annex, CA

▼

, Coarsegold, CA

▼

, Fresno Crossing, CA

▼

, Yosemite Forks, CA

▼

, Fish Camp, CA

▼

, more...Incline Village, CA

▼

, Lee Vining, CA

▼

, Yosemite Village, CA

▼

, Yosemite West, CA

▼

, and June Lake Junction, CA

▼

Rating

4.1

average from

80

votes

My Drives

Track your favorite scenic drives by selecting those which you want to take and those that you have taken. Using your free account, simply sign in and select My Drives.
Our free Road Trip Planner will reverse the route and include the places of interests. Click the "Add to Road Trip" above to start planning your next road trip.
Send this link to your phone. Standard text messaging rates apply.
() -
Get directions from your start address to the beginning of and including this scenic drive. Choose either an alternate ending or same as start.
Have more destinations? Use our free Road Trip Planner to completely plan your adventure. Click the "Add to Road Trip" above to start planning your next road trip.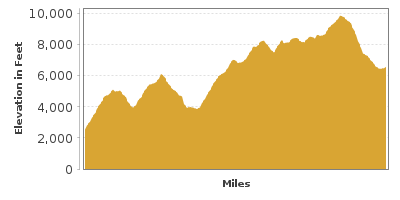 Hotel Finder
Great deals on hotels!
No booking fees.
Safe and secure.
Reserve online or call 1-866-358-9134 anytime.
Get a Park Pass
Natural areas along this route require an entrance fee used to protect and maintain our most scenic treasures. Save time by purchasing your forest passes before you go.
Some of California's most spectacular scenery awaits in Yosemite National Park. Thanks to the foresight of John Muir, today we can enjoy the park's natural beauty. This drive travels from Yosemite National Park's South Entrance, through Yosemite Valley, over Tioga Pass, California's highest drivable pass, ending at the salt water Mono Lake, surrounded by tufa towers and mountain peaks.
Half Dome from Yosemite Valley.
The scenic drive begins in Oakhurst which you can reach by following CA-41 north or CA-49 south. As you continue heading north on CA-41 through the Sierra National Forest, you will enter Yosemite National Park in 15-miles.
After entering the park, the Mariposa Grove (H1) offers an opportunity to walk through giant Sequoia trees. With trunks over 10 feet in diameter and towering over 300 feet above, the grove features trees over 2,700 years old.
Continuing north on CA-41, the drive meanders through the forest. In 17-miles, Glacier Point Road (T1) is on your right and is a worth, 15-mile side-trip. Shortly after turning on the road, you will pass Badger Pass, where during the winter, skiers enjoy the hillside. As you continue east, consider a hike to Taft Point (H2) and Sentinel Dome (H5) or head to the Glacier Point. All of these offer breathtaking, surreal views of Half Dome, Yosemite Valley, several waterfalls, other granite domes, and mountains that surround Yosemite.
Back on CA-41, you will soon reach the Wawona Tunnel View which welcomes you to the Yosemite Valley with its iconic, jaw-dropping views of Sentinel Dome, Half Dome and Bridalveil Fall. Consider a hike to Bridalveil Falls (H3) which plunges more than 600 feet or El Capitan (H4), a giant, granite monolith reaching to a height of 3,593 feet high.
At the end of the Yosemite Valley loop, stop in the Yosemite Visitor Center (I1) for information, a film and fascinating exhibits about the park's history, geology, plants, and wildlife. A 3/4-mile hike from the visitor center will bring you to North America's highest waterfall, Yosemite Falls (H7). The 3-step waterfall drops a total of 2,425 feet into the valley.
From the visitor center, a shuttle brings you to the Happy Isle Nature Center (H11) which teaches about the area's ecology and natural history. From here, there are a few trails that will bring you to Vernal Fall and Nevada Fall.
Heading west along the loop, Ribbon Falls (H6), features a 1,612-foot fall most of the year and dries up during the height of summer.
At the end of the loop, head north on Big Oak Road towards CA-120. If you were to head straight, you would follow the Merced River to Mariposa via the CA-140.
At the CA-120 intersection, both the Merced Grove (H9) and Tuolumne Grove (H8) feature forests of giant Sequoia trees which are less visited than the Mariposa Grove.
For this drive, head east on CA-120/Tioga Road. The road follows the twists and turns of the Sierra Nevada mountains, through the forests and then opens up for mountain views of Mount Clark and Mount Hoffman. You will soon pass Yosemite Creek where an easy to moderate 2.4 mile trail through pine forest leads to a bridge that crosses the creek.
At Olmsted Point (H10), stop for the panoramic view of Tenaya Canyon, Tenaya Lake, and many granite giant domes and mountains, including the back of Half Dome, Polly Dome, and Clouds Rest. This viewpoint is considered by many to be one of California's finest.
Just up the road, Tenaya Lake (W1) is the perfect picnic stop. The lake is surrounded by a sandy beach and the granite domes. If you like rock climbing, the nearby domes here are very inviting.
In 8-miles, you will arrive in Tuolumne Meadows, believed to be one of the largest concentrations of granite in the world. By July, the meadows are filled by colorful wildflowers. The 2.3-mile hike to the jigsaw-puzzle-piece-shaped Elizabeth Lake (W2) at 9,500 feet is a moderately difficult hike that is very rewarding.
Continuing east on Tioga Road, you will have clear views of Lembert Dome, Mount Dana, and Mount Gibbs. Soon, you will reach Tioga Pass at 9,945 feet of elevation, making it California's highest pass for cars, and you will soon leave Yosemite National Park.
Descending down the valley, you will pass Ellery Lake (W5) and head down the Lee Vining Canyon. At the end of Tioga Road, you reach US-395, where this drive continues north. Once in the town of Lee Vining, you can get information at the Lee Vining Forest Ranger Station (I2). Note, Tioga Road is closed in winter, check road conditions before heading out.
Mono Lake Tufa State Natural Reserve (W7) is surrounded by volcanic hills. Unusually-shaped tufa towers loom from the lake shoreline. The formations are created as calcium in the freshwater spring meets carbonates in Mono Lakes' saltwater. The South Tufa Area features the most interesting formations. Walk the mile-long loop trail, or learn more on a free naturalist-guided walk, or on a canoe or kayak tour. Check the website for schedule. Mono Lake attracts several hundred species of birds. Eighty-five percent of the California gull population nests here in the spring. This makes it an ideal location for birding and photography. Don't miss the opportunity for a buoyant swim!
Have a fascination for ghost towns? In Bridgeport, just 45 minutes northeast is Bodie State Historic Park (H12). In the late 1800's, Bodie was a thriving gold mining town. Today, many buildings remain in their state of "arrested decay". Walk through town to see hotels, houses, a church, saloons, mills, machine shops, a jail and much, much more. Peer into interiors and imagine the lives of prior occupants. Learn the decadent storied past when the town boasted over 60 saloons, a red-light district, and opium dens. The town is a photographers dream and easily a whole day can be spent here. A visitor center/museum is open mid-May to mid-October featuring a video presentation and ranger-led programs. Note, the last three miles is rough dirt road - passable for most cars, but washboard bumpy. Services are limited, so have drinking water, food, and a full tank of gas before heading out. Open year round but accessible only by skis, snowshoes or snowmobiles during winter months. There is a fee to enter payable by cash or check only.
Or, consider heading south on US-395 to reach the June Lake Loop.

Share