Colorado River Headwaters Byway
Along the mighty Colorado River
Mileage
67 miles (108 km)
Duration

The duration is an estimate of a one-way drive and does not include any stops or side-trips.

1 hour, 21 minutes
Seasons

The seasons listed are the best seasons for this scenic drive. If Winter is not mentioned, the road may be closed during the winter.

Summer, and Fall
Roadways
Country Road 1, and US Highways 34 and 40

Gravel Roads

Yes
Services

The cities or towns listed have either Food or Services such as gas, hotels, pharmacies, etc.

Grand Lake, CO

▼

, Granby, CO

▼

, Silvercreek, CO

▼

, Tabernash, CO

▼

, Hot Sulphur Springs, CO

▼

, Parshall, CO

▼

, and Kremmling, CO

▼

Rating

3.6

average from

33

votes

My Drives

Track your favorite scenic drives by selecting those which you want to take and those that you have taken. Using your free account, simply sign in and select My Drives.
Our free Road Trip Planner will reverse the route and include the places of interests. Click the "Add to Road Trip" above to start planning your next road trip.
Send this link to your phone. Standard text messaging rates apply.
() -
Get directions from your start address to the beginning of and including this scenic drive. Choose either an alternate ending or same as start.
Have more destinations? Use our free Road Trip Planner to completely plan your adventure. Click the "Add to Road Trip" above to start planning your next road trip.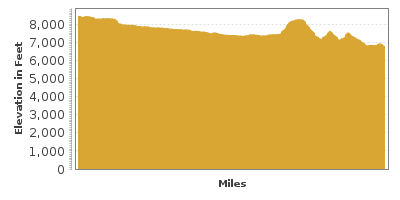 Hotel Finder
Great deals on hotels!
No booking fees.
Safe and secure.
Reserve online or call 1-866-358-9134 anytime.
The Colorado River begins in the Rocky Mountain National Park on the west side of the Continental Divide and flows into the Gulf of California. Best known for carving the Grand Canyon, the Colorado River has carved a number of smaller canyons its path and was known for its unpredictable flash floods or periods of drought prior to portions of the river being dammed.
Lake Granby Tom Potter/Bigstock.com
The scenic route is a perfect continuation of our Rocky Mountain National Park Drive as it begins in the town of Grand Lake, the west entrance to the park and one of Colorado's first resort towns. Before beginning the drive, stroll the historic boardwalk on Grand Avenue exploring the shops, galleries and restaurants. Grand Lake is approximately 20 miles south from the actual source of the Colorado River.
Heading south on US-34, you will pass Colorado's largest natural lake, Grand Lake. Adams Falls on the east side of Grand Lake is easily accessed by a short hike and surrounded by spectacular views of the Rockies. Two larger man-made lakes follow, Shadow Mountain Lake and Lake Granby, with opportunities to swim, fish, boat, camp or enjoy a picnic amid postcard-perfect views. Facilities are provided by the Forest Service, as protected by the Arapaho National Recreation Area which boasts 36,000 acres of scenic beauty. Winter delights with miles of groomed snowmobile trails.
Just after Lake Granby, the road crosses the Colorado River and the US-34 ends as it intersects with US-40 in the town of Granby. From here, our scenic drive heads west, crossing over the Colorado River again and paralleling the river for most of the drive.
In Hot Sulphur Springs, soak in the town's main attraction — hot springs, originally used by the Ute Indians who believed in their healing powers. Then explore Pioneer Park (H1) where you can take in the surrounding beauty while hiking, biking, fishing, or picnicking. Keep your eye out for wildlife such as elk, coyote, fox and array of birds. The Grand County Historical Association operates three museums, Grand County Museum (M1) which is home to the original courthouse, county jail and blacksmith shop and is located in the original Hot Sulphur Schoolhouse built in 1924, Cozens Ranch Museum and Heritage Park Museum in Kremmling, which comprises six historic buildings.
The terrain becomes more desert-like as the road twists with the Colorado River. The small, picturesque town of Kremmling is big on recreation and offers among the usual activities, llama trekking, white-water rafting and exploration of ammonites at Fossil Ridge.
Leaving Kremmling, the US-40 heads north, but for this scenic drive, turn left onto CO-9 and right onto Country Road 1 (Trough Road). This 38-mile gravel road climbs up the rugged Gore Canyon where you can see a deep gorge and Colorado's most intense rapids. Thrill and adventure await experienced white-water rafters as they take on the most difficult Class V river stretch in Colorado. We prefer to watch.
From here the road continues along the dry hills and descends to the Colorado River. Look for remnants of the old State Bridge. State Bridge Lodge, once a haven for stagecoach travelers, is now undergoing a revival and offers lodging, yurts and tee-pee's and vibrant music festivals. Our scenic drive ends at CO-131. From here, head south on CO-131, which will bring you to I-7.

Share