Lamoille Canyon Scenic Byway
Through the Ruby Mountains
Mileage
12 miles (19 km)
Duration

The duration is an estimate of a one-way drive and does not include any stops or side-trips.

44 minutes
Seasons

The seasons listed are the best seasons for this scenic drive. If Winter is not mentioned, the road may be closed during the winter.

Spring, Summer, and Fall
Roadways
Forest Road 660
Services

The cities or towns listed have either Food or Services such as gas, hotels, pharmacies, etc.

Elko, NV

▼

Rating

4.0

average from

17

votes

My Drives

Track your favorite scenic drives by selecting those which you want to take and those that you have taken. Using your free account, simply sign in and select My Drives.
Our free Road Trip Planner will reverse the route and include the places of interests. Click the "Add to Road Trip" above to start planning your next road trip.
Send this link to your phone. Standard text messaging rates apply.
() -
Get directions from your start address to the beginning of and including this scenic drive. Choose either an alternate ending or same as start.
Have more destinations? Use our free Road Trip Planner to completely plan your adventure. Click the "Add to Road Trip" above to start planning your next road trip.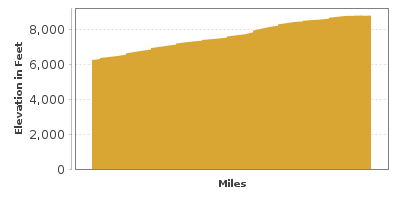 Hotel Finder
Great deals on hotels!
No booking fees.
Safe and secure.
Reserve online or call 1-866-358-9134 anytime.
The Lamoille Canyon is nestled within the Ruby Mountains and was carved during the Ice Age by glaciers. It is often referred to as the Yosemite of Nevada for its U-shaped canyons, valleys, peaks and year-round snowfields. Stunning views, waterfalls, and wildlife round out the pristine wilderness.
To reach the start of the drive, take exit 301 off of I-80 for NV-225 South. At the end of NV-225, turn left onto NV-535 (I-80 Businesses) and then turn right onto 5th Street, which will become NV-227 shortly. In 17-miles, turn right onto Canyon Road/Forest Road 660 where the drive begins.
The Ruby Mountains will dominate the view as you approach the Lamoille Canyon. Canyon Road/Forest Road 660 will soon enter the Humboldt-Toiyabe National Forest. Note that Forest Road 660 is a dead end and you will have to retrace the drive to return.
Shortly after the entrance, stop at the Powerhouse Picnic Area (H1). Surrounded by aspens and the jagged peaks of the Ruby Mountains, this was the site of a hydroelectric plant used between 1911 and 1971. The plant was destroyed by fire and in its place is this well-equipped picnic area with shelters and cooking facilities.
As you continue on Forest Road 660, the highest peak of the Ruby Mountains, Ruby Dome, at 11,387 feet will be visible on the right side of the road. There are 10 peaks above 10,000 feet and dozens of alpine lakes making for picture-perfect vistas.
In 6-miles from the Powerhouse Picnic Area is Glacier Overlook (V1). Interpretive signs tell the story of the glaciers that covered this area and how they helped form canyon.
In 2-miles, Thomas Canyon Campground has a 4-mile Thomas Canyon Trail (H2) round-trip hiking trail that brings you to Thomas Canyon's floor. Though the trail is difficult, you will be rewarded with wildflower meadows, mule deer, bighorn sheep, and forests, all while surrounded by awe-inspiring mountain peaks.
In another 2 miles, Changing Canyon Trail (H3) is a 1.5-mile loop trail that showcases the indigenous plants and animals within the Lamoille Canyon.
You will soon arrive at the Terraces Picnic Area (H4). Picnic in view of sheer granite cliffs, wildflower meadows, willow thickets and mature aspen.
Within 2-miles, at an elevation of 8,784 feet you arrive at the end of the road. From here, there are a few trails that head into the Ruby Mountains, including the 38-mile Ruby Crest National Scenic Trail (H5). While that may be daunting, you can reach Dollar Lakes and Lamoille Lake within a mile, and another half-mile to Liberty Pass which features an overlook of the surrounding lakes and natural splendor.
Experience the canyon from a new angle on your way out. At the end of Canyon Road/Forest Road 660, you can turn left onto NV-227 to bring you back to I-80.

Share