Enchanted Circle
Around Wheeler Peak
Mileage
84 miles (135 km)
Duration

The duration is an estimate of a one-way drive and does not include any stops or side-trips.

2 hours, 6 minutes
Seasons

The seasons listed are the best seasons for this scenic drive. If Winter is not mentioned, the road may be closed during the winter.

All Seasons
Roadways
New Mexico Highways 38 and 522, and US Highway 64
Services

The cities or towns listed have either Food or Services such as gas, hotels, pharmacies, etc.

Arroyo Seco, NM

▼

, Taos, NM

▼

, Angel Fire, NM

▼

, Eagle Nest, NM

▼

, and Red River, NM

▼

Rating

3.8

average from

64

votes

My Drives

Track your favorite scenic drives by selecting those which you want to take and those that you have taken. Using your free account, simply sign in and select My Drives.
Our free Road Trip Planner will reverse the route and include the places of interests. Click the "Add to Road Trip" above to start planning your next road trip.
Send this link to your phone. Standard text messaging rates apply.
() -
Get directions from your start address to the beginning of and including this scenic drive. Choose either an alternate ending or same as start.
Have more destinations? Use our free Road Trip Planner to completely plan your adventure. Click the "Add to Road Trip" above to start planning your next road trip.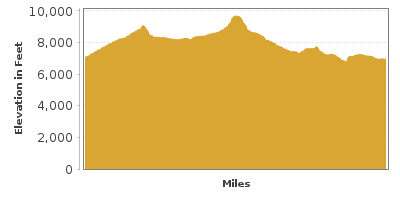 Hotel Finder
Great deals on hotels!
No booking fees.
Safe and secure.
Reserve online or call 1-866-358-9134 anytime.
The Enchanted Circle travels around New Mexico's largest mountain, Wheeler Peak, part of the Sangre de Cristo Mountain Range that spans from southern Colorado to the southern parts of New Mexico. Steeped in history and incredible scenic beauty, this drive features expansive views, a rugged yet pure landscape and remnants of the wild west.
Palisade cliffs of Cimarron Canyon State Park
The scenic drive starts in Taos, which can be reached from Santa Fe by following US-285 north, merging onto NM-68 in Espanola until Taos. Taos was the northernmost town ruled by Spain (and later Mexico after it won its independence) but its history begins around 1350 A.D. when pueblo were built in this region. The downtown Plaza offers a mix of restaurants, shops and is well-known for its art galleries and six museums which feature both historic and contemporary art.
The drive starts by heading east on US-64 out of Taos, counter-clockwise around Wheeler Peak. As the elevation increases, the landscape is lush with evergreen forest. The windy road climbs through Taos Canyon and into the Carson National Forest where there are many opportunities for picnics, hiking and camping.
Once over Palo Flechado Pass at 9,101 feet, you descend out of the forests and into the Moreno Valley arriving in the town of Angel Fire. The distinctive white sail-like structure is the chapel for the Vietnam Veterans National Memorial (A1).
Continuing north on US-64, you arrive in the town of Eagle Nest, nestled between New Mexico's two highest peaks, the 12,441 foot Baldy Mountain and 13,161 foot Wheeler Peak. Though a valley, the 8,000 foot elevation causes the lower temperatures here. Eagle Nest Lake (W1) attracts anglers for its Rainbow Trout and Kokanee Salmon.
The drive continues north on NM-38, but before heading there consider a side trip on US-64 to Cimarron Canyon State Park (H1). The spectacular rugged canyon with 400-foot crenelated granite palisades was carved by the Cimarron River. Part of the Colin Neblett Wildlife Area, enjoy pristine lakes perfect for trout fishing, hiking and camping. Set among the Sangre de Cristo Mountains, known for their reddish glow at sunset, the park is home to mule deer, bear, turkey and grouse.
Back in Eagle Nest, the drive climbs up the valley on NM-38. A few miles up the road, you pass the ghost town, Elizabethtown. In the 1800's, William Kroenig and W. H. Moore paid a Ute Indian to lead them to copper on Mount Baldy. Instead they found gold, and as word got out, the town grew, until the ore was emptied. Today a few buildings remain, including the General Store and the E-town Museum in a former schoolhouse with memorabilia of the period.
The road continues to climb NM-38 until it heads over Bobcat Pass and descends into the Town of Red River, an old mining town. Unlike Elizabethtown, Red River was discovered by tourists and continues to be lively, with its Old West feel, daily staged gun fights, museum, shopping and dining and year-round recreation.
The drive continues west on NM-38 towards Questa, passing between Wheeler Peak Wilderness and Latir Peak Wilderness. Wheeler Peak Wilderness is the top of a geologic uplift created 135 million years ago. The diverse terrain, including rare alpine tundra, make for incredible vistas and outdoor adventure. The Questa Ranger District (I1) is a great location to learn about hiking, fishing, and off-road driving within the wilderness.
From Questa, take a side trip to the Wild Rivers Recreation Area (H2). Along the Rio Grande Gorge, the Wild Rivers Recreation Area offers opportunities for picnicking, hiking, swimming, camping, fishing (license required from Questa) and boating. To reach it, head north on NM-522 for 2.6 miles to NM-378/Cisneros Road, where you will turn left and follow this to the end. Stop by the Visitor Center for more information.
Back in Questa, head south on NM-522 at the foot of the Sangre de Cristo Mountains. In 10-miles, consider stopping at the D. H. Lawrence Ranch and Memorial (A2), where famed author D. H. Lawrence lived in the 1920s. The memorial is housed in a small shed. Peruse and sign the guestbook. The ranch house itself is not open to visitors.
In another 10-miles, the road re-joins the US-64, where you must take a side-trip west to the Rio Grande Gorge Bridge (B1). The 5th highest suspension bridge in the United States rises 650-feet above the Rio Grande Gorge. Stop before or after the bridge to explore the ruggedly beautiful gorge. Expansive views on both sides, snow-capped mountains in the distance, and the twisting ribbon of the Rio Grande below is breathtaking. After much picture-taking, head to the Rio Grande Gorge State Park (H3) to the south for more spectacular views.
Back at the intersection, continue south to Taos. Visit Taos Pueblo (A3), the only living Native American community designated both a World Heritage Site by UNESCO and a National Historic Landmark. Continuously inhabited for over a thousand years, each home is privately owned by Taos Indians. There is a fee to enter. Or visit the Millicent Rogers Museum (M1) to learn more about the arts and culture of northern New Mexico. From here, consider heading south and exploring the High Road between Taos and Santa Fe.

Share