The High Road to Taos
From Santa Fe to Taos
Mileage
52 miles (84 km)
Duration

The duration is an estimate of a one-way drive and does not include any stops or side-trips.

1 hour, 19 minutes
Seasons

The seasons listed are the best seasons for this scenic drive. If Winter is not mentioned, the road may be closed during the winter.

All Seasons
Roadways
New Mexico Highways 518, 75, and 76
Services

The cities or towns listed have either Food or Services such as gas, hotels, pharmacies, etc.

Chimayo, NM

▼

, Espanola, NM

▼

, Ohkay Owingeh, NM

▼

, Santo Nino, NM

▼

, Vadito, NM

▼

, Embudo, NM

▼

, and Taos, NM

▼

Rating

3.3

average from

175

votes

My Drives

Track your favorite scenic drives by selecting those which you want to take and those that you have taken. Using your free account, simply sign in and select My Drives.
Our free Road Trip Planner will reverse the route and include the places of interests. Click the "Add to Road Trip" above to start planning your next road trip.
Send this link to your phone. Standard text messaging rates apply.
() -
Get directions from your start address to the beginning of and including this scenic drive. Choose either an alternate ending or same as start.
Have more destinations? Use our free Road Trip Planner to completely plan your adventure. Click the "Add to Road Trip" above to start planning your next road trip.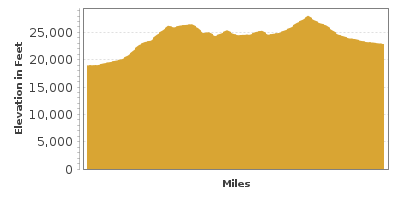 Hotel Finder
Great deals on hotels!
No booking fees.
Safe and secure.
Reserve online or call 1-866-358-9134 anytime.
Rich in history, art, and culture, the High Road to Taos Scenic Byway is a winding route from Santa Fe to Taos through the Sangre de Cristo Mountains where Native Americans and early Spanish settlers lived. The scenic drive begins in Española, easily reached by following US-285 north from Santa Fe for 25 miles.
El Santuario de Chimayo
Heading east on NM-76, travel through high desert terrain to the farming valley town of Chimayó, renowned for its weavers, Plaza del Cerro and the Santuario de Chimayó. At the Plaza Del Cerro (A1), the most intact Spanish Plaza in New Mexico, you can explore a series of walls and rooms built by early Spanish settlers to protect community vegetable gardens from invasions.
The Santuario de Chimayó (A2) was built in the early 1800s. The story told is that a villager named Bernardo de Abeyta saw a light coming from the ground, and when he dug away at it, he found a cross. He carried the cross with a member of the community to a nearby church where it was stowed near the alter. The next morning, the cross was gone and was later found at its original location. Again they brought it to the church, where again the next morning, it was back at its original location. After bringing it back a third time only to find it returned to its original spot, they decided to build the Santuario de Chimayó here in 1814. Word quickly spread of the mystical powers that cured illness and hundreds of thousands of people visit the shrine every year.
Continue on NM-76 with beautiful views of the rocky Sangre de Cristo Mountains. A few miles from Chimayó, consider a side trip to Santa Cruz Lake (W1). The lake is surrounded by rolling desert hills and offers hiking, camping, fishing, and some boating. To reach it, turn right on NM-503 (near Rio Chiquito) and in a few miles, turn onto the windy Rio Chiquito Road/Country Road 98A.
Winding past the Spanish colonial settlements of Córdova, the NM-76 heads to the town of Truchas. From the Truchas Overlook (V2), take in the large expanse of the Rio Grande Valley and a specular view of the 13,102 foot Truchas Peak.
Once in Las Trampas, visit the San José de Gracia de Las Trampas (A5). Declared a National Historic Landmark, the church is one of the most beautiful colonial-era churches in the country. Passing Las Trampas, take a detour on SR-73 to Picuris Pueblo and visit the Picuris Pueblo Museum which displays and sells beadwork, weaving and pottery crafted by local artists. Please get permission before taking photos anywhere on the pueblo.
The road then enters Carson National Forest with ponderosa pine, aspen and cedars groves. Enjoy year-round recreation, fishing, hiking, camping and in winter, skiing, snowshoeing and snowmobiling. Explore the Pecos Wilderness where you can glimpse Rocky Mountain Bighorn, elk and golden eagles. The popular West Fork Trail offers gentle switchbacks and stunning views. Though 12 miles long, you do not need to hike the entire trail to experience the wonders of this area. The wooden bridge at 1.6 miles makes a great turn around spot for those looking for a shorter hike.
After the town of Chamisal, the road begins to descend where you join onto NM-75; turn right (east) where the road joins NM-518 as this drive continues left/west towards Taos. Winding along the forest, take advantage of the many overlooks, including the Carson National Forest Overlook (V3) to see the hillsides, especially in fall, ablaze with color.
The scenic drive comes to an end as you arrive in Ranchos de Taos. From here, head north on NM-68 for the Enchanted Circle.

Share