Wichita Mountains
Through the Wildlife Refuge
Mileage
29 miles (47 km)
Duration

The duration is an estimate of a one-way drive and does not include any stops or side-trips.

42 minutes
Seasons

The seasons listed are the best seasons for this scenic drive. If Winter is not mentioned, the road may be closed during the winter.

All Seasons
Roadways
Oklahoma Highway 49
Services

The cities or towns listed have either Food or Services such as gas, hotels, pharmacies, etc.

Lawton, OK

▼

Rating

3.9

average from

66

votes

My Drives

Track your favorite scenic drives by selecting those which you want to take and those that you have taken. Using your free account, simply sign in and select My Drives.
Our free Road Trip Planner will reverse the route and include the places of interests. Click the "Add to Road Trip" above to start planning your next road trip.
Send this link to your phone. Standard text messaging rates apply.
() -
Get directions from your start address to the beginning of and including this scenic drive. Choose either an alternate ending or same as start.
Have more destinations? Use our free Road Trip Planner to completely plan your adventure. Click the "Add to Road Trip" above to start planning your next road trip.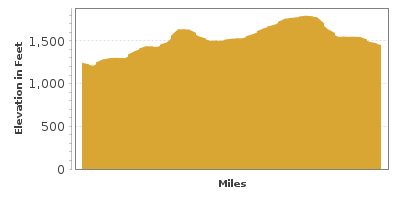 Hotel Finder
Great deals on hotels!
No booking fees.
Safe and secure.
Reserve online or call 1-866-358-9134 anytime.
This scenic drive heads through the Wichita Mountains Wildlife Refuge and its four major habitats; rock lands, aquatic, mixed grass prairies and cross timbers, each offering incredible natural beauty, color and texture as well as diverse range of recreation opportunities.
Mount Scott
The drive begins on OK-49 at exit 45 off I-44, just over an hour south from Oklahoma City. Before departing on this drive, consider a side trip to the nearby Fort Sill Historic Landmark and Museum (M1), a 19th century frontier army post consisting of 50 buildings. Fort Sill is perhaps best known as the home of Geronimo during his later years and the site of the Apache leader's grave after he died in 1909. Currently, Fort Sill is the U.S. Army Field Artillery Center operating the world renowned U.S. Army Field Artillery School. Just south of here is the Museum of the Great Plains which features exhibits about the fascinating past of the Great Plains as well as modern technology with an internet-fed, self-updating exhibit on the Hubble telescope.
Heading west on OK-49, you will pass ranches and farmlands as you arrive in the town of Medicine Park. Consider a side-trip to Medicine Park by turning right onto Rex Leaf Drive. Approaching the downtown, take a moment to read through the somewhat humorous town rules. Medicine Creek runs through the town, creating the exquisite idyllic setting. Enjoy Bath Lake Swimming Area (W1) or stroll the Medicine Park Trail which travels along the creek or visit the small waterfall just before Bath Lake and continue to Gondola Lake and Dam, built in 1918. The creek is well known for its trout fishing, but be sure to purchase a license first. The town itself is known as America's Cobblestone Community as many buildings are made from red granite cobblestones unique to the Wichita Mountains and features shopping and restaurants.
A short, scenic drive in Medicine Creek is to follow East Lake Drive beginning at Bath Lake and continuing through the center of town to Lake Lawtonka, at the base of Mount Scott. Along with beautiful scenery you can enjoy swimming, boating, camping, and of course, a picnic. At the end, head south on OK-58 which will rejoin OK-49.
Back on OK-49, continue west where you will pass Lake Elmer Thomas Recreation Area (W2). This full-service recreation area features year-round camping and a jam-packed array of activities including fishing, hiking, bird watching and scuba diving. Have a blast on the double plume waterslide, rent a paddleboat, kayak or canoe, play mini-golf and if you have kids in tow that aren't exhausted yet, there are playgrounds.
Moments after, you enter the Wichita Mountains Wildlife Refuge (H4). With over 59,000 acres, the Refuge protects habitat for buffalo, longhorn cattle, elk, prairie dog, river otters, white-tailed deer, wild turkeys and other animals which used to call the mid-west home. Bird lovers can observe over 240 species, including the endangered Black-capped Vireo. The refuge terrain is a unique historic treasure, as it has never been disturbed for farming as plows were unable to work the rocky soil. The open grass fields are favorites of the local grazers so proceed with an eye out for bison or longhorn cattle and have your binoculars and camera on hand to capture the stunning scenery and wildlife. Stop in the Visitor Center for information on trails, environmental programs, camping and boating as well as to learn about the region through dioramas and hands-on exhibits. The Refuge is free.
After entering the refuge, the right turn for Mount Scott (T1) is a recommended side-trip. The 2.8-mile windy road travels around Mount Scott on its way to the mountain's peak for spectacular views of the Wichita Mountains, Slick Hills and Lake Lawtonka. Enjoy climbing on the lumpy volcanic rocky outcrops and granite stone, part of the oldest geologic formations in the United States.
Retracing back to OK-49, the scenic drive continues west. In 3-miles, Holy City of the Wichita's is on the right. In a spectacular setting, it is the site of the longest-running Easter passion play in the US, "The Prince of Peace." The Holy City aims to be a replica of Israel during the biblical times with a number of interesting cobblestone structures including a wedding chapel. Admission is free but donations are welcome.
Just up the road, stop at the picturesque Jed Johnson Lake Overlook (V1), the 3rd largest reservoir in the Wichita Mountains. Just beyond are the ruins of an 1800's farm house.
Shortly afterward, stop at the Quanah Parker Visitor Center (I1) on your right. Learn about the geology of the Wichita Mountains and the diverse inhabitants of the wildlife refuge via interactive displays and films.
After the visitor center, turn right to continue onto OK-49, where you will have a number of opportunities for picnics and wildlife viewing. Many lakes offer swimming, boating and fishing. Or get up close with one of the nine hiking trails like the beautiful Kite Trail (H1), a 1.2-mile trail along the West Cache Creek that ends at Lost Lake or into fascinating geologic wonders of the refuge by taking the 2.4-mile Charon's Garden (H2) with its nature-sculpted granite and odd-shaped rock formations. Pick up a trail map at the Visitor Center.
Stop at Turkey Creek Prairie Dog Town (A2) to watch and listen to the adorable black-tailed prairie dogs barking as they scamper in and out of their burrows at the base of Elk Mountain.
Forty Foot Hole is a short detour accessed by turning right at Lost Lake to a small series of waterfalls created by Cache Creek tumbling over the canyon rocks. Nearby is a trail to The Narrows (H3), a rugged red granite canyon that contrasts beautifully with the wildflowers in spring. The cool creek and abundant plant life offers a chance to see river otters, birds and other animals.
Back on OK-49, there are many pullouts to take advantage of the variety of landscape. Our scenic drive comes to an end at the OK-54 junction, shortly after exiting the Wichita Mountains Wildlife Refuge. From here, consider heading west towards the Quartz Mountain State Park to continue exploring more of the incredible Wichita Mountains.

Share