McKenzie-Santiam Scenic Byway
The showcase of Oregon's wonders
Mileage
84 miles (136 km)
Duration

The duration is an estimate of a one-way drive and does not include any stops or side-trips.

1 hour, 38 minutes
Seasons

The seasons listed are the best seasons for this scenic drive. If Winter is not mentioned, the road may be closed during the winter.

Spring, Summer, and Fall
Roadways
Oregon Highways 126 and 242, and US Highway 20
Passes

Some of the adventures on this scenic drive require an admission fee that these passes cover. Please read the drive description for more information.

Pacific Northwest Forest Passes
Services

The cities or towns listed have either Food or Services such as gas, hotels, pharmacies, etc.

Sisters, OR

▼

, Redmond, OR

▼

, Camp Sherman, OR

▼

, and McKenzie Bridge, OR

▼

Rating

4.1

average from

27

votes

My Drives

Track your favorite scenic drives by selecting those which you want to take and those that you have taken. Using your free account, simply sign in and select My Drives.
Our free Road Trip Planner will reverse the route and include the places of interests. Click the "Add to Road Trip" above to start planning your next road trip.
Send this link to your phone. Standard text messaging rates apply.
() -
Get directions from your start address to the beginning of and including this scenic drive. Choose either an alternate ending or same as start.
Have more destinations? Use our free Road Trip Planner to completely plan your adventure. Click the "Add to Road Trip" above to start planning your next road trip.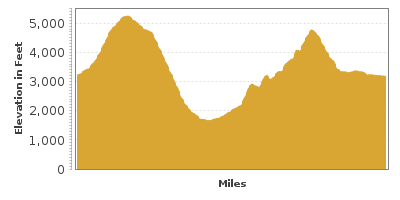 Hotel Finder
Great deals on hotels!
No booking fees.
Safe and secure.
Reserve online or call 1-866-358-9134 anytime.
Get a Park Pass
Natural areas along this route require an entrance fee used to protect and maintain our most scenic treasures. Save time by purchasing your forest passes before you go.
The McKenzie-Santiam Scenic Byway showcases many of Oregon's wonders, including old-growth forests, wild-rivers, waterfalls, lakes, volcanoes, and ancient lava flows.
Lava Field in front of Three Sisters Mountains
This scenic drive is a loop that begins in Sisters, which you can reach from US-20 and OR-126 from US-97, or US-20 from I-5. From Sisters, you can see the peaks of nine Cascade Mountains. The Deschutes Ranger Station (I1) at the corner of OR-126 and OR-242 is an ideal location to get more information and permits.
Heading southwest on OR-242, the drive heads through the Deschutes National Forest and starts climbing up on the way to McKenzie Pass. On the way, stop at Windy Point (V1) or any of the other pullouts which provide incredible views of lava flows and the Cascades, with Mount Washington dominating the view.
In 3-miles, you reach the Dee Wright Observatory (H1) and the 5,234-feet of elevation McKenzie Pass. The Observatory is surrounded by a 65-square-mile lava field, an ancient volcano cone, and lava craters. The peaks of Mount Hood, Mount Jefferson, Three Fingered Jack, Mount Washington, North Sister, and Middle Sister can all be seen from here. The Lava River Interpretive Trail is a half-mile trail that provides an opportunity to explore the volcanic past. The Pacific Crest National Scenic Trail also crosses here.
After the Observatory, the drive heads through the Willamette National Forest alongside an ancient lava flow until reaching the lush forest ahead. On the right, Forest Road 260 will bring you to Scott Lake (W1) which beautifully reflects the Three Sisters Mountains. The Obsidian Trailhead also leaves from here.
In one of the curves, keep an eye open for the trailhead to Proxy Falls (H2). This hike travels through old-growth forest and lava flows on the way to the pair of waterfalls. This area is stunning during the fall when the leaves change color.
Continuing down OR-242, the forest almost engulfs the highway and joins OR-126. This drive heads north on OR-126 towards Sisters. The highway is surrounded by old-growth forests, lava flows, and to the west is McKenzie River. Along the river is the 26-mile McKenzie River National Recreation Trail (H3).
Thirteen miles ahead on OR-126, a short hike will bring you to Koosah and Sahalie Falls (H4). Shortly up the road is Clear Lake (W2) which offers boating, and fishing opportunities.
Continuing on OR-126, you will pass the Sawyer Ice Cave (H5) on the right. A short hike from the parking lot, the cave boasts ice until late summer. Shortly thereafter, you merge onto US-20. Three Fingered Jack Mountain at 7,841 feet of elevation stands before you as you climb the Santiam Pass. In 8-miles, you will reach the Santiam Pass, at 4,817 feet of elevation. As the drive descends back to Sisters, you will be rewarded by impressive views of Mount Washington, lakes and lava-flows as you drive through the old-growth forest. Take advantage of the pullouts to enjoy the views.
Once in Sisters, consider heading east on US-20 to Bend and catch the Cascade Lakes Scenic Byway.

Share