West Cascades Scenic Byway
Estacada to Oakridge
Mileage
198 miles (318 km)
Duration

The duration is an estimate of a one-way drive and does not include any stops or side-trips.

6 hours, 13 minutes
Seasons

The seasons listed are the best seasons for this scenic drive. If Winter is not mentioned, the road may be closed during the winter.

Spring, Summer, and Fall
Roadways
Forest Roads 19 and 46, and Oregon Highways 126, 22, and 224
Passes

Some of the adventures on this scenic drive require an admission fee that these passes cover. Please read the drive description for more information.

Pacific Northwest Forest Passes
Services

The cities or towns listed have either Food or Services such as gas, hotels, pharmacies, etc.

Sandy, OR

▼

, Estacada, OR

▼

, Garfield, OR

▼

, Westfir, OR

▼

, Springwater, OR

▼

, Oakridge, OR

▼

, Detroit, OR

▼

, and McKenzie Bridge, OR

▼

Rating

4.0

average from

53

votes

My Drives

Track your favorite scenic drives by selecting those which you want to take and those that you have taken. Using your free account, simply sign in and select My Drives.
Our free Road Trip Planner will reverse the route and include the places of interests. Click the "Add to Road Trip" above to start planning your next road trip.
Send this link to your phone. Standard text messaging rates apply.
() -
Get directions from your start address to the beginning of and including this scenic drive. Choose either an alternate ending or same as start.
Have more destinations? Use our free Road Trip Planner to completely plan your adventure. Click the "Add to Road Trip" above to start planning your next road trip.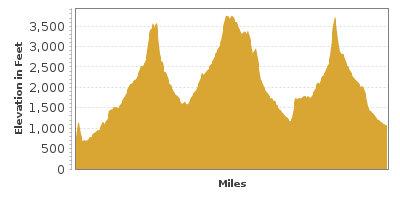 Hotel Finder
Great deals on hotels!
No booking fees.
Safe and secure.
Reserve online or call 1-866-358-9134 anytime.
Get a Park Pass
Natural areas along this route require an entrance fee used to protect and maintain our most scenic treasures. Save time by purchasing your forest passes before you go.
Leaving the Portland city life behind, this scenic drive heads through Oregon's Western Cascades and the Mount Hood National Forest and the Willamette National Forests.
Lush forest along the McKenzie River Hiking Trail
This scenic drive begins in the historic logging city of Estacada and heads to Oakridge. To reach Estacada from Portland, head south on 99E and take the exit for Estacada.
Leaving Estacada, the drive follows the Clackamas River for the next several miles and you will enter the Mount Hood National Forest, where you will find many opportunities for hiking and picnicking.
25 miles into the drive, OR-224 turns right and the road becomes Forest Road 46. Four miles into the trip, consider a detour to Bagby Natural Hot Springs (H1), whose name describes it all. To reach it, turn right onto Forest Road 63 and in 3.5 miles, turn right onto Forest Road 70, where in about 7 miles, you will find the trailhead.
Once you are on Forest Road 46, the Riverside National Recreation Trail (H10) is a 3-mile hike along the Clackamas River. The trailhead is about a mile after the Rainbow Campground. The trail offers exceptional views and river access.
Continuing on Forest Road 46, you will merge onto OR-22 where you will find Detroit Lake State Park (H2) on right. The picturesque, 9-square-mile lake is ideal for water sports and fishing. To the east, Mount Jefferson's snowcapped peak rises.
This drive continues on OR-22 East. The Marion Forks Fish Hatchery (A1) is a state-run fish hatchery which provides you the opportunity to fish being raised for the local rivers and streams. To reach it, turn right and follow Forest Road 2234 about 17 miles from Detroit.
In 13 miles, the OR-22 merges onto US-20. This portion of the drive overlaps with the McKenzie-Santiam Scenic Byway, which makes a nice side-trip. For this drive though, head east (right) and in 3 miles, turn left onto OR-126. The Sawyer Ice Cave (H3) is before the OR-126 turn-off. The cave is the result of a lava flow that cooled faster on the top and sides forming a crust. A sweater and flashlight will be needed.
Heading south on OR-126, the drive parallels the McKenzie River. Also following the river, is the 26-mile McKenzie River National Recreation Trail (H4) which can be accessed by several trailheads along the road. Clear Lake (W1) is on the left and provides fishing and picnicking opportunities. The Koosah and Sahalie Falls (H5) are on the right and a loop trail takes you to the 100 foot and 70 foot waterfall.
Shortly after the OR-242 which leads to McKenzie Pass, the McKenzie River Ranger Station (I1) will be on the left side of the street. This is a great place to stop for more information and required permits.
In 9 miles, Forest Road 19 will be on the left where this drive continues. About a quarter of a mile on Forest Road 19 (Robert Aufderheide Memorial Drive), the Delta Nature Trail (H9) is an easy hike through the dense, old-growth forest.
The road traverses through dense forests which hide the rivers and surrounding scenery. To best experience this portion of the drive, take advantage of one of the many hikes. We mention only a few here.
Keep an eye out for cyclists as this is a popular bike route. Cougar Reservoir (W4) is a 6-mile lake with swimming, fishing and boating and spectacular views. Continuing on, the Terwilliger Hot Springs (W5) are 6 pools that flow down a tiered grade, cooling as they become further from the source. They are a short hike from the parking lot.
The highest point of the drive is in about 15 miles as you approach Box Canyon. Keep an eye out for elk in the meadows. From here, many trails lead into the Three Sisters Wilderness. Experience the dramatic beauty of nature with its snow-capped mountains, glaciers, lava fields, forests, lakes and streams.
The scenic drive continues for the next 28 miles through dense forest until you reach Westfir. Westfir is home to the Office Creek Covered Bridge (B1), Oregon's longest covered bridge. From here, head west on OR-58 to reach I-5 or east to reach US-97, where you can get to Crater Lake (T1).

Share