Globe to Show Low
Salt River Canyon Scenic Drive
Mileage
83 miles (134 km)
Duration

The duration is an estimate of a one-way drive and does not include any stops or side-trips.

1 hour, 51 minutes
Seasons

The seasons listed are the best seasons for this scenic drive. If Winter is not mentioned, the road may be closed during the winter.

All Seasons
Roadways
Arizona Highway 77, and US Highway 60
Forest Passes

Some of the adventures on this scenic drive require an admission fee that these passes cover. Please read the drive description for more information.

Tonto National Forest Passes
Services

The cities or towns listed have either Food or Services such as gas, hotels, pharmacies, etc.

Globe, AZ

▼

, Miami, AZ

▼

, Lakeside, AZ

▼

, Pinetop-Lakeside, AZ

▼

, Show Low, AZ

▼

, and Pinetop, AZ

▼

Rating

3.6

average from

163

votes

My Drives

Track your favorite scenic drives by selecting those which you want to take and those that you have taken. Using your free account, simply sign in and select My Drives.
Experience this Scenic Drive right from your web browser now with RoadPreview.
Our free Road Trip Planner will reverse the route and include the places of interests. Click the "Add to Road Trip" above to start planning your next road trip.
Send this link to your phone. Standard text messaging rates apply.
() -
Get directions from your start address to the beginning of and including this scenic drive. Choose either an alternate ending or same as start.
Have more destinations? Use our free Road Trip Planner to completely plan your adventure. Click the "Add to Road Trip" above to start planning your next road trip.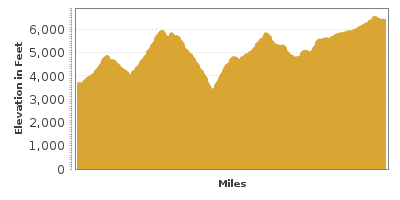 Hotel Finder
Great deals on hotels!
No booking fees.
Safe and secure.
Reserve online or call 1-866-358-9134 anytime.
Get a Forest Pass
Natural areas along this route require an entrance fee used to protect and maintain our most scenic treasures. Save time by purchasing your forest passes before you go.
Experience the diversity — from dry, Arizona desert, up the Mogollon Rim to the Colorado Plateau, through Salt River Canyon, and the Ponderosa pine forests of the White Mountains.
Salt River
The drive begins in Globe, about an hour and a half from Phoenix traveling east on US-60. On the way, consider taking the Apache Trail or stop at the Boyce Thompson Arboretum (H3) and be sure to use the Queen Creek Old Tunnel (T2) through the Queen Creek Canyon. Stop at the Globe Ranger District (I1) for information about hiking, white river rafting or kayaking and current conditions. The elevation gain along this drive results in a huge temperature difference between Globe and Show Low, so be sure to pack warmer clothing.
Before leaving Globe, consider a stop at Besh-Ba-Gowah Archaeological Park (H1) where you can explore a 700 year-old Salado Culture pueblo. One of the most significant finds of Southwest archaeology, an interpretative trail leads through what once had 400 rooms. Inside the Besh-Ba-Gowah Museum, are two models of the ruins and displays of tools, jewelry, woven baskets and pottery.
Heading north on US-60, the drive enters Tonto National Forest. Desert plants and cactus dot the terrain, while the Apache Peaks, Chrome Butte, Jackson Butte, Rockinstraw Mountain, and Timber Camp Mountain loom in the distance where denser forests of pine trees are visible. Take advantage of the many pullouts and picnic areas along the drive to take in the sights.
Experience a slice of the old west with a side trip to the Chrysotile Ghost Town (T1). Established in 1916, asbestos was removed from Ash Creek Canyon and used in the building of Hoover Dam. Take the dirt Chrysotile Mine Road for 3 miles to visit.
30 miles into the drive, you enter the San Carlos Apache Reservation. From here, the road descends to Seneca Lake (W1), popular for fishing largemouth bass, catfish and trout. Visit nearby Seneca Falls for stunning views of the steep basalt canyon walls and waterfall. Permits are required to camp, hike, fish or picnic on the reservation. No permit is required to just drive through.
Continue north on US-60, down 2000 feet into the awe-inspiring Salt River Canyon. Known as "the mini Grand Canyon", stop at the Salt River Canyon Overlook (V1) to marvel at the rainbow of layered sediment, rocks and turbulent water. Nearby Hieroglyphic Point offers the opportunity to see 3000 year-old petroglyphs.
With a cliff-hugging road and hairpin turns, the switchbacks down the Salt River Canyon is one of the most exciting portions of the drive. Park at the rest area at the bottom of the steel arch bridge for trails to the canyon's floor. If you enjoy white-river rafting, Salt River is one of Arizona's best as it drops more than 9,000 feet over 50 miles ending at Theodore Roosevelt Lake.
To experience the spectacular beauty of Cibecue Falls (H2), drive the unpaved, Primitive Road for 4 miles along Salt River until the trailhead. From here, the falls are a one-mile trek. Check out road conditions and grab your permits before heading out! You must obtain a day hiking permit from the White Mountain Apache Indian Reservation. The pristine area is great for climbing, exploring and spending time in the crystal clear water. Surrounded by fascinating striated rock walls, water shoes will come in handy for wading and jumping from the rocky ledges. If you were to continue down Primitive Road, you will eventually reach the sacred Apache Salt Banks. Anglers could try their luck in catching Catfish or smallmouth bass in the Salt River from here.
Back on US-60, the drive leaves Salt River Canyon and cactus covered lands. Stop at the Becker Butte Overlook (V2) for one of the final views of Salt River Canyon and its limestone cliffs.
Climbing the Mogollon Rim, the landscape changes to large forests of Ponderosa pine dominated by the peaks of the White Mountains. Delight in the peaceful nature and awe-inspiring panoramic views.
Our scenic drive ends as you arrive in Show Low. From here, consider heading into the White Mountains and coming down the Coronado Trail.
If you are heading back to Phoenix, consider heading west on AZ-260 through the Tonto National Forest and then south on AZ-87. This will bring you back to Phoenix in three hours without stops.
Share