Scenic 7
From the Ouachitas to the Ozarks
Mileage
157 miles (253 km)
Duration

The duration is an estimate of a one-way drive and does not include any stops or side-trips.

3 hours, 27 minutes
Seasons

The seasons listed are the best seasons for this scenic drive. If Winter is not mentioned, the road may be closed during the winter.

Spring, Summer, and Fall
Roadways
Arkansas Highway 7
Services

The cities or towns listed have either Food or Services such as gas, hotels, pharmacies, etc.

Hot Springs Village, AR

▼

, Dardanelle, AR

▼

, Russellville, AR

▼

, Hot Springs, AR

▼

, Mountain Pine, AR

▼

, Mountain Valley, AR

▼

, Ozark Lithia, AR

▼

, Galla Rock, AR

▼

, more...and Harrison, AR

▼

Rating

3.8

average from

102

votes

My Drives

Track your favorite scenic drives by selecting those which you want to take and those that you have taken. Using your free account, simply sign in and select My Drives.
Our free Road Trip Planner will reverse the route and include the places of interests. Click the "Add to Road Trip" above to start planning your next road trip.
Send this link to your phone. Standard text messaging rates apply.
() -
Get directions from your start address to the beginning of and including this scenic drive. Choose either an alternate ending or same as start.
Have more destinations? Use our free Road Trip Planner to completely plan your adventure. Click the "Add to Road Trip" above to start planning your next road trip.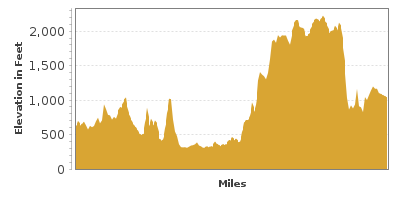 Hotel Finder
Great deals on hotels!
No booking fees.
Safe and secure.
Reserve online or call 1-866-358-9134 anytime.
Highway 7 travels Arkansas's rolling hills, curves through the Ouachita National Forest, Ozark-St. Francis National Forests, Hot Springs National Park, and the first national river, Buffalo National River.
The iconic Hawksbill Crag
The scenic drive is described as beginning in the town of Hot Springs and traveling to Harrison, but it could be done in either direction. Hot Springs can be reached by heading south on I-30 from Little Rock and taking exit 111 for US-70 and following the signs for US-70 Business Route to Hot Springs.
The boyhood town of President Bill Clinton, Hot Springs features splendid Victorian architecture, and a downtown lined with historic buildings. Explore art galleries, antique shops, dining and nightlife.
Hot Springs National Park was created by President Andrew Jackson in 1832 as a National Reservation to protect and preserve the 47 natural thermal springs, making it the oldest park in the National Park System. Tour the Fordyce Bathhouse Visitor Center (I1) where you will not only learn about people who flocked to this area for hundreds of years seeking cures for their illnesses, but take in the extraordinary beauty and design of the bathhouse and its marble and stained glass. One of eight historic buildings that make up Bathhouse Row, The Fordyce was restored in 1989. Head up Zig Zag Mountain to the Hot Springs Mountain Overlook (V1), enjoying hairpin curves before being rewarded with unforgettable views from the Hot Springs Mountain tower. Fall foliage will have the hills ablaze with color.
Before leaving Hot Springs, explore the awarding-winning Garvan Woodland Gardens (A1). The garden contains nearly three miles of trails traversing a diverse mix of botanical landscapes. Enjoy the Hixson Family Woodland Nature Preserve, the Japanese inspired Garden of Pine Wind, or Singing Springs Gorge and Millsap Canopy Bridge, impressive views of Lake Hamilton and more. A birders paradise, over 100 species make their home here. Have a favorite flower? The website features a bloom calendar.
Seven miles from Hot Springs, turn left to remain on AR-7. After passing Mountain Valley (famous for its spring water), consider a side trip on AR-192 to Lake Ouachita State Park (H2). Named one of the cleanest lakes in America, Lake Ouachita is the perfect location for swimming, water skiing, scuba diving and fishing. The park offers full amenities such as boat rentals, cabins and camping. Explore the beauty of the surrounding Ouachita National Forest with a picnic or hike and take in one of the park tours or programs.
Are you a rock hound? After passing Blue Springs on AR-7, consider a side-trip heading west on AR-298 to get dirty and dig for crystals at Arrowhead Crystal Mine. There is a fee but many awesome specimens have been found here. If digging is not your style, they have a fantastic rock shop.
Heading north on AR-7, you soon enter the Ouachita National Forest. 1.8 million acres of stunning landscape spans across central Arkansas and southeastern Oklahoma. Stop at the Jessieville Visitor Information and Ranger Station (I2) where you can learn about the rich history of the Ouachita National Forest and get information on recreation opportunities, such as mountain biking, horseback riding, off-highway driving, fishing and non-motorized boating. Camping and RV hookups are available. Explore mature pine and hardwood forest via the paved accessible 30-minute interpretive Friendship Trail that begins just behind the ranger station. If you're up for a longer hike, try Hunts Loop Trail that begins near the Iron Springs Recreation Area or the Ouachita Trail trailhead. The 4.25-mile moderate trail passes fascinating geologic features on its way up Short Mountain, culminating with panoramic views of the forest.
The road dances along the hills, delighting with amazing views of mountains and valleys. As these forests remain undeveloped, the views are endless — trees, rock cliffs, and rolling hills of the Ouachita Mountains. The Ouachita Mountains are unique in that they are the only mountain range in the United States whose ridges and valleys are oriented west to east.
Crossing the Fourche La Fave River, you exit the Ouachita National Forest. From here, turn left to observe Nimrod Dam and Lake (W1). The dam was built in 1942 to control flooding along the Fourche La Fave River and created Nimrod Lake. Today, the lake is a haven for water-based recreation, especially fishing for largemouth bass, bream, crappie and catfish.
Continuing north on AR-7, the road climbs the hills surrounding Nimrod Lake. Stop and enjoy the picture perfect view. As you continue, the forest changes to pasture and farmland. Indulge in the refreshing flavors of locally-grown fruit and vegetables at the many roadside stands.
As you approach the town of Centerville, consider a side-trip to the Petit Jean State Park (H4) by following the AR-154 east for 16 miles. The park is named for the legend of Petit Jean, a French girl who disguised herself as a boy to secretly accompany her love to the New World and this mountain. Many hikes of varying levels allow the opportunity to explore the incredible and unique geology. The 4.5-mile Seven Hollows Trail passes a natural stone arch, rock shelters, a box canyon and signs of bluff-dwelling Native Americans. The short and easy Rock House Cave Trail leads to a deep rock shelter which features early Native American rock paintings. The trail also passes many "turtle rocks" that look like turtle shells and below the cave is another trail that leads to an overlook of Cedar Falls. The spectacular 95-foot cascade of Cedar Falls can be experienced by hiking the popular Cedar Falls Trail. A 2-mile round trip, this hike is a little more strenuous but well worth the effort. Along with the stunning natural beauty, the work of the Civilian Conservation Corps (CCC) between 1933 and 1938 is outstanding. Structures blend in with the environment such as Mather Lodge, Water Tower and Davies Bridge. The park also features fishing, boating (with rentals), public pool, playground, cabins, camping and visitor center.
On the way back, stop at the Holla Bend National Wildlife Refuge (A2) which protects 7,000 acres of bottomland hardwoods and wetlands. Spring brings thousands of neotropical songbirds that use the refuge as a rest stop during migration. Herons, bald eagles, egrets nest here and American alligators can be found in the small lakes. Wildlife observers and photographers will love the 8-mile Auto Tour which weaves through the refuge offering the chance to spot beavers, bobcats, coyotes, deer as well. Drive slowly and have your binoculars on hand. Or use the observation tower and foot trails. The park has a small fee which is covered by the America the Beautiful Pass.
Heading north on AR-7 from Centerville, hills of soybean and grain create a quilt of color far into the distance. Approaching historic Dardanelle, head west on AR-27 to Mount Nebo State Park (H3), where a drive to the top of Mount Nebo affords dramatic views of the Arkansas River and the Ozark National Forest. A number of trails, bike rentals, lakes, campsites and cabins make this a great stop. Mount Nebo is also one of two launch sites in Arkansas for hang gliders (the other is Mount Magazine which is just ahead). Not that adventurous? Just the sight of the soaring gliders is incredible. On the way, stop at the Riverview Recreation Area (H6) for views of the Arkansas River and Lake Dardanelle Dam, as well as more recreational opportunities.
Back in Dardanelle, head west on AR-22 for a side trip to Mount Magazine State Park (H5) which sits atop Mount Magazine, the highest point in Arkansas at 2,753-feet. In Paris, head south on AR-309 for the park. While the northern portion is moist, the southern half of the mountain includes cacti. The unique habitats create homes for rare and endangered plants like Ozark Chinkapin and the Maple-leaf Oak tree and animals such as the middle-toothed snail. From wildlife watching to the extreme adventure, Mount Magazine is the only place in Arkansas which features rock climbing, rappelling and hang gliding. From the park, continue south on AR-309/AR-10 until you join up to AR-27, where driving east leads back to Dardanelle.
Heading north on AR-7 from Dardanelle, you cross the mighty Arkansas River where you will see the grain elevators which load grains and soybeans onto ships.
In five miles, you enter the Ozark-St. Francis National Forests. Encompassing more than 1 million acres, it is made up of two separate forests, the Ozark National Forest and the smaller St. Francis National Forest, each with distinct topography, geology and wildlife.
Traveling north, the road becomes twisty and steep, revealing magnificent views with every turn. With so much to see, consider another side trip to Long Pool Recreation Area (H7), along Big Piney Creek. Swim in the natural pool or explore the rolling hills and steep rocky bluffs with one of the many hiking trails. To reach it, head west on FR-1801 and then northwest on FR-1804.
The Rotary Ann Overlook (V2) features an endless view of the jagged Ozark Mountains and is an excellent location for a picnic.
In a few miles, consider a side trip on AR-16 to the trailhead for Pedestal Rocks (H8), where a 2.2-mile round trip trail brings you to unique geologic formations — weather-carved rock pedestals.
Continuing north for 10 miles, the forest opens up to grand views. Take advantage of the many pull outs. Explore a portion of the 196-mile long Ozark Highlands Trail (H9) which can be accessed shortly after the Fairview Campground.
A few miles after Cowell, don't miss the Alum Cove Natural Bridge Recreation Area (H10), the highlight of which is a 130-foot natural bridge. The remains of a quartz sandstone cave, the arch can be reached by a short trail, passing rare flowers, including the French's shooting star. To visit, from AR-16, turn right onto the gravel Forest Road 28 for 3 miles.
Hike to the iconic Hawk's Bill Crag. The Whitaker Point Trail, often called the Hawksbill Crag (H11) Trail, is a 3-mile round trip through lush forest, passing waterfalls and large boulders. Beautiful views await, but note some sections of the trail are cliff-hugging, and you must take caution at the top. Not recommended for young children.
Back on AR-7, you soon exit the Ozark National Forest and are welcomed by the Grand Canyon of the Ozarks (V3). Actually a collapsed cave, the Grand Canyon of the Ozarks is a wide-valley carved by the Buffalo River. From the overlook, look 130-feet down the sheer rock walls and take in the views of the surrounding forest and Boston Mountains. Get a closer look via the 119 steps that bring you down 70 feet — just make sure you have the energy to climb back up.
The Buffalo River was the first designated National River in 1972. Under this protection, no dams or other obstacles can be built along it, meaning nature takes its course. Sometimes the river floods and sometimes it dries to a mere trickle. Explore the river by taking a side-trip from Jasper on AR-74, where you can rent a kayak or canoe or hike some of the trails. Wild elk herds can be spotted along AR-74, particularly at dawn and dusk. Learn and see some of the 500 elk that make their home along the Buffalo River and other wildlife at the Hilary Jones Wildlife Museum (M1). The museum is free and kid-friendly with hands-on exhibits. Don't miss hiking Lost Valley Trail. Discover a wondrous world of tumbled moss-covered rock formations, bluffs, a natural bridge, caverns, Cobb Cave, and numerous waterfalls, nestled in lush green forest. Bring a flashlight for the cave. The popular trail is wheelchair accessible for the first half-mile, total round-trip is 2-miles.
AR-7 heads over the Little Buffalo River, traveling by limestone and sandstone walls. After passing the impressive Boston Mountains, you cross the Buffalo National River framed again by massive limestone bluffs. Just before crossing, the Pruitt Ranger Station (I3) is open from March to September for information.
Mystic Caverns (A3) is a geologic wonder featuring incredible rock formations, stalactites and the 28-foot "pipe organ". Crystal Dome cave is just 400 feet away and there is a fee to enter one or both with a guided tour.
Scenic 7 then gradually changes into smooth, green pastures and the scenic drive comes to an end in Harrison. To the west of the town is a field of wild tallgrass prairie, much like the midwest. The Arkansas Tourist Information Center (I4) has information on visiting there.

Share