Anza Borrego Desert
Through the West's Largest State Park
Mileage
89 miles (144 km)
Duration

The duration is an estimate of a one-way drive and does not include any stops or side-trips.

2 hours, 37 minutes
Seasons

The seasons listed are the best seasons for this scenic drive. If Winter is not mentioned, the road may be closed during the winter.

All Seasons
Roadways
Borrego Valley Road, Pegleg Road, Route S22, and Yaqui Pass Road
Services

The cities or towns listed have either Food or Services such as gas, pharmacies, etc.

Desert Shores, CA

▼

, Desert Lodge, CA

▼

, and Borrego Springs, CA

▼

Rating

3.9

average from

114

votes

My Drives

Track your favorite scenic drives by selecting those which you want to take and those that you have taken. Using your free account, simply sign in and select My Drives.

Share
Our free Road Trip Planner will reverse the route and include the places of interests. Click the "Add to Road Trip" above to start planning your next road trip.
Send this link to your phone. Standard text messaging rates apply.
() -
Get directions from your start address to the beginning of and including this scenic drive. Choose either an alternate ending or same as start.
Have more destinations? Use our free Road Trip Planner to completely plan your adventure. Click the "Add to Road Trip" above to start planning your next road trip.
Anza-Borrego Desert State Park is the largest state park in the western United States and features unsurpassed scenery and a fascinating geologic and human history. The name of the park combines the 1774 Spanish explorer Juan Bautista de Anza's name with a Spanish word for bighorn sheep, Borrego.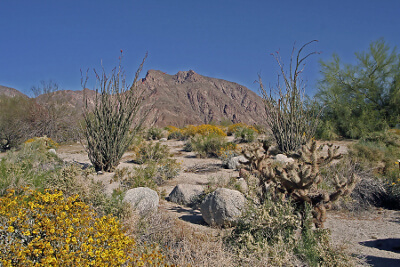 Desert Garden and Indian Head Mountain in Anza Borrego State Park
This scenic drive starts on the Park's east side. To get there from San Diego, head east on I-8, taking exit 40 for CA-79 North. In 27 miles, turn onto CA-78, which divides the Anza Borrego State Park in half. In 45 miles, you join onto CA-86, where after heading north for 12 miles, the start of the drive is on the left. Before beginning our drive, consider a side trip to the Salton Sea (T1). Salton Sea State Recreation Area offers eighteen miles of stunning shoreline and is popular for swimming, fishing, boating and camping. It's unique combination of desert and aquatic environments make it an ideal habitat for over 400 species of migrating birds that stop here along the Pacific Flyway, making this a top bird-watching destination.
Four-wheel drive vehicles can access many of the dirt roads into the wilderness areas and there are numerous hiking trails. Always check with a park ranger for conditions before going into the back country. Summers here are blazing hot. Best times to visit are in late fall, winter, and spring for the wildflower display. No matter the season, bring plenty of water.
Entering Anza-Borrego Desert State Park on County S-22 from the east you arrive at the Calcite Canyon Scenic Area. A stop at the Calcite Canyon Overlook (V2) displays impressive rock formations and expansive views. The old Calcite Mine is deep in these canyons. Calcite crystals were mined here for military use, making gun sights during World War II. Salton Sea can be seen in the distance.
Passing the Borrego Badlands offers the chance to peer into six million years of history. Sunken mesas, fascinating rock formations and layers of sediment reveal a tropical past as this area was once undersea. If you have a 4-wheel drive vehicle get closer look by taking the dirt road, Arroya Salado on the left to Seventeen Palms Oasis (A3), a watering hole for wildlife and early travelers who once relied on jars of water hidden in the palm trees. This custom still continues as people leave water and messages in the prospector's post office. Follow the road to the Five Palms Oasis and then switch to Tule Wash which leads to the surreal Pumpkin Patch. Located within the Ocotillo Wells Off-Highway Vehicle Area, these unusual globular sandstone concretions look like pumpkins and are created by layers of sand and rock that build up over small objects (like a pearl growing from sand in an oyster).
Retrace your way back to S22. Approximately 5 miles ahead is another off-road adventure to Font's Point (V9). A 4-mile drive on Font's Wash ends and a short trail that leads to 360 degree views of unending jagged rocks carved by water, erosion and climates long past.
Back on S22 continuing west is the Santa Rosa Overlook (V3) for incredible views of the rugged Clark Valley and the 8000 foot high Santa Rosa Mountains. This is a fairly young mountain range in geologic time, having risen in the past three to four million years. Vegetation is sparse and rainwater washing down the sides produces large alluvial fans at the base of the mountains. From here the road leads into the town of Borrego Springs, known for its pink grapefruits.
From Christmas Circle in the middle of town take Palm Canyon drive out to the Anza Borrego Visitor Center (I1) at Borrego Palm Canyon. Enjoy the grove of large California Fan Palms at the picnic area. The Visitor Center is built into the hillside and trails run over and around it. Inside there are exhibits on desert plant and animal life and history of the area. Park Rangers offer a wide variety of programs such as guided hikes, walks, lectures, campfires and junior ranger programs. Take advantage of them to learn more while exploring. Easy, nearby walking trails take you through gardens of cacti, shrubs, trees and in spring — a wildflower display. Hummingbirds, desert cottontails or other wildlife can be seen here. Not far from the Visitor Center are two sanctuary ponds filled with rare Salton Sea Pupfish.
About one mile west from the visitor center is the trailhead to Hellhole Canyon/Maidenhair Falls Trail (H7). This six-mile round trip hike is not for beginners as it requires climbing over boulders. A variety of desert plants escort you along the path, indigo bush, creosote bush, and buckhorn cholla and as you gain elevation, ocotillo and teddybear cholla. Maidenhair Falls plunge 25 feet into a shallow pool — a refreshing way to end the hike. Watershoes come in handy and as with all hikes, do not travel alone, carry and drink a lot of water.
Route S22 continues west on the wonderfully windy Montezuma Valley Road, where you will find many campgrounds, overlooks and trails. If you want to cut the trip short, eventually a left onto Route S2 leads to CA-79 towards San Diego.
We continue back at Christmas Circle. Taking Borrego Springs Road south will lead to Route S3 (Yaqui Pass Road) which brings you to the Tamarisk Grove Campground. This is a nice stop where you can walk the one-mile Cactus Loop Trail (H1). In spring, wildflowers poke out from the rocks and barrel, fishhook, hedgehog, and beavertail cactus are in bloom. At the top of the trail are hundreds of teddy-bear cholla.
Another trail just south of Tamarisk Grove is the Yaqui Wells Nature Trail (H2). This easy two-mile walk with interpretive signs heads through cacti, blooming ocotillo, desert shrubs, and mesquite trees. The trees attract birds such as Costas Hummingbirds, Phainopepla, owls and doves making this area popular for birdwatching.
From Tamarisk Grove, head west on CA-78 for 7 miles and then Route S2 heading south to Box Canyon Monument (A1). Wagon wheel ruts are visible here, remnants of the first wagon road in Southern California. The nearby Blaire Valley Campground (H3) has a number of trails that explore the Southern Emigrant Trail and the Blair and Earthquake Valleys.
Much to do and see lies ahead. Shortly after the Monument, stop at Mason Valley Cactus Gardens (A2) which has the most extensive growths of native cacti in the park.
Continuing south, the Agua Caliente County Park (H4) features hot springs in two naturally-fed pools. From the campground, enjoy a 1-5-mile hike into the Moonlight Canyon.
Nestled between the Tierra Blanca Mountains, a few hikes head into the Mountain Palm Springs (H5) area. The North Fork Trail is a 2.5-mile round-trip hike that brings you to the rare elephant trees, or take the 3-mile loop South Fork Trail to palm trees within Pygmy Grove.
The road now climbs up Sweeney Pass. Enjoy the spectacular, breathtaking views of the surrounding desert from the many overlooks. The Carrizo Badlands Overlook (V7) offers amazing views into the rainbow of rock layers of the dry, rugged badlands and the patch of green mesquite around Carrizo Creek . Off-road vehicles can explore the heart of the badlands from the Canyon sin Nombre jeep trail.
The road descends to the end of our scenic drive in the town of Ocotillo. From here, head to Fossil Canyon (H6) via Shell Canyon Road. One of the largest fossil collections of the Pliocene and Pleistocene eras, gaze upon 50-million-year-old coral and oyster fossils and shell beds from when this area was once ocean. The canyon is part of the Yuca Desert Recreation Area.
From here, you can head west on I-8 towards San Diego or head east on I-8 and then north on CA-86 to explore the Salton Sea (T1) and Joshua Tree National Park.

Share