Joshua Tree Journey
A Desert Journey to the Past
Mileage
89 miles (143 km)
Duration

The duration is an estimate of a one-way drive and does not include any stops or side-trips.

3 hours, 37 minutes
Seasons

The seasons listed are the best seasons for this scenic drive. If Winter is not mentioned, the road may be closed during the winter.

All Seasons
Roadways
California Highway 62, Cottonwood Springs Road, Park Boulevard, and Pinto Basin Road
Passes

Some of the adventures on this scenic drive require an admission fee that these passes cover. Please read the drive description for more information.

America the Beautiful Annual National Parks Pass
Services

The cities or towns listed have either Food or Services such as gas, hotels, pharmacies, etc.

Palm Springs, CA

▼

, Yucca Valley, CA

▼

, Twentynine Palms, CA

▼

, Joshua Tree, CA

▼

, Indio, CA

▼

, Morongo Valley, CA

▼

, Desert Hot Springs, CA

▼

, Desert View, CA

▼

, more...and Garnet, CA

▼

Rating

4.0

average from

107

votes

My Drives

Track your favorite scenic drives by selecting those which you want to take and those that you have taken. Using your free account, simply sign in and select My Drives.
Our free Road Trip Planner will reverse the route and include the places of interests. Click the "Add to Road Trip" above to start planning your next road trip.
Send this link to your phone. Standard text messaging rates apply.
() -
Get directions from your start address to the beginning of and including this scenic drive. Choose either an alternate ending or same as start.
Have more destinations? Use our free Road Trip Planner to completely plan your adventure. Click the "Add to Road Trip" above to start planning your next road trip.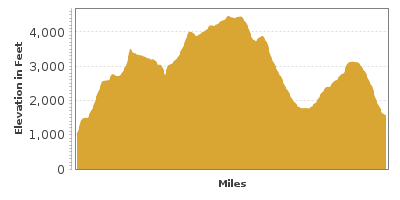 Hotel Finder
Great deals on hotels!
No booking fees.
Safe and secure.
Reserve online or call 1-866-358-9134 anytime.
Get a Park Pass
Natural areas along this route require an entrance fee used to protect and maintain our most scenic treasures. Save time by purchasing your forest passes before you go.
Surviving the extreme heat and wind in an environment that gets 7.5 inches of rain per year, the Joshua tree stands tall an icon of the Mojave Desert. A member of the Yucca family, the spike-leafed evergreen grows only within Joshua Tree National Park, the oldest tree estimated at more than 800 years. This scenic drive begins in the Mojave Desert, with its twisted, spiky Joshua trees and heads into the creosote bush and cactus-filled Colorado Desert.
Joshua Tree
Start just outside of Palm Springs at exit 117 off I-10 on CA-68, better known as Twentynine Palms Highway. Heading east in this desert environment with the Hexie Mountains before you, the road travels through Big Morongo Canyon Preserve (H1). A stark contrast to the desert environment, this verdant oasis features lush vegetation, mammals such as bighorn sheep, bobcats, coyotes, several species of reptiles and amphibians as well as more than 240 species of birds. There are several short 1-mile hikes to explore this area.
In 17-miles, you arrive in the town of Joshua Tree. Before heading south on Park Boulevard, consider continuing east to visit the park's head-quarters at the Oasis of Mara Visitor Center (I2) or enjoy the Fortynine Palms Oasis Trail (H2). The 3-mile round trip Fortynine Palms Oasis Trail brings you up a ridge to barrel cacti, craggy canyon walls, and surprisingly, a palm grove. Ancient petroglyphs and the opportunity to spot a bighorn sheep or spiny lizard round out the wonders. All the oases in Joshua Tree National Park are formed by the San Andreas Fault which allows water to escape from the inner Earth.
Stop at the Joshua Tree Visitor Center (I1) for information about the park and hikes. Continue south on Park Boulevard Road for 5-miles where you will enter Joshua Tree National Park. The park fee is covered by the America the Beautiful Annual Pass. From here, the road travels into the high desert studded with yucca and Joshua trees striving to survive and opens up to a region known as Hidden Valley, where peculiarly-formed granite rocks shape the hills. This is a great picnic area, and the start of the 1-mile loop Hidden Valley Trail (H3), once used by cattle rustlers.
In a few miles, keep an eye out for Salton View Road on the right. A 5-mile side-trip on this road will bring you to Keys View (V1). Stunning panoramic views await from the crest of the Little San Bernardino Mountains, the Coachella Valley to the Salton Sea, the San Jacinto Peak and San Gorgonio Mountain, as well as the infamous San Andreas Fault. On the way there, consider a hike on the Lost Horse Loop Trail (H9), a 4-mile round trip exploring the area's gold mining history.
Back on Park Boulevard, the road squeezes between the spectacular Queen Valley and Lost Horse Valley. Hike the 3-mile round trip Ryan Mountain Trail (H4). Sweeping views and the entire geology of Joshua Tree National Park lies before you. Near the Ryan Mountain Trail parking lot is Indian Cave, a rock-based shelter for early Native Americans.
If you're driving an off-road vehicle, the 18-mile Geology Tour Road (T1) provides an opportunity to see more of the fascinating landscape, including an unborn volcano. Pick up a brochure at the road start that describes the sixteen stops.
Five miles from the Ryan Mountain turn off is Jumbo Rocks (H5), a collection of interesting boulders and buttes. From the campground amphitheater is 1.75-mile trail with interpretive signs leading to the unusual Skull Rock. Water, time and erosion have worked together on the granite to create two hollowed-out eye sockets that resemble a skull.
In 3-miles, turn right, heading south onto Pinto Basin Road. If you were to continue on Park Boulevard, you will return to Twentynine Palms.
A few miles down the road, park at White Tank Campground, where the short Arch Rock Nature Trail winds through a maze of boulders to a granite arch meticulously carved by wind and water. Interpretative signs explain the geologic history.
Heading south on Pinto Basin Road, the road descends into the Pinto Basin with breathtaking views in all directions. As the Mojave and Colorado deserts merge, the plant scape changes from Joshua trees to cacti and creosote bushes as few other plants can stand the daytime temperatures. Cholla Cactus Garden (H7) is a short trail to explore a forest of Bigelow cholla (commonly known as teddy bear cholla), buckhorn cholla, pencil cholla, cico cactus, and jojoba. Not as cuddly as their namesake, be careful not to get too close — what look like soft bristles are actually hardened spines.
The drive crosses the Pinto Basin for another 20-miles. The basin is surrounded by the Pinto Mountains to the north, Coxcomb Mountains to the east, Eagle Mountains to the south, and the Hexie Mountains to the west. As you drive through this barren land, it is hard to imagine that this area used to be lush forest after the glaciers receded and that early humans thrived here.
Towards the end of the Pinto Basin, you arrive at the Joshua Tree Cottonwood Visitor Center (I3). Cottonwoods, palms, and other plants thrive in Cottonwood Spring (H8), a short 1-mile hike from here. Hundreds of years ago, the spring was gushing, but today only a trickle remains.
After the visitor center, the scenic drive descends through the Cottonwood Canyon, leaving Joshua Tree National Park and rejoining the I-10 in 6-miles. From here, consider a side-trip to the Palms to Pines Highway (T2) through the San Bernardino National Forest.

Share