Frontier Pathways Scenic Byway
A blend of many cultures and experiences
Mileage
67 miles (108 km)
Duration

The duration is an estimate of a one-way drive and does not include any stops or side-trips.

37 minutes
Seasons

The seasons listed are the best seasons for this scenic drive. If Winter is not mentioned, the road may be closed during the winter.

All Seasons
Roadways
Colorado Highways 165 and 96
Services

The cities or towns listed have either Food or Services such as gas, hotels, pharmacies, etc.

Pueblo, CO

▼

, Pueblo West, CO

▼

, Colorado City, CO

▼

, and Florence, CO

▼

Rating

3.2

average from

36

votes

My Drives

Track your favorite scenic drives by selecting those which you want to take and those that you have taken. Using your free account, simply sign in and select My Drives.
Experience this Scenic Drive right from your web browser now with RoadPreview.
Our free Road Trip Planner will reverse the route and include the places of interests. Click the "Add to Road Trip" above to start planning your next road trip.
Send this link to your phone. Standard text messaging rates apply.
() -
Get directions from your start address to the beginning of and including this scenic drive. Choose either an alternate ending or same as start.
Have more destinations? Use our free Road Trip Planner to completely plan your adventure. Click the "Add to Road Trip" above to start planning your next road trip.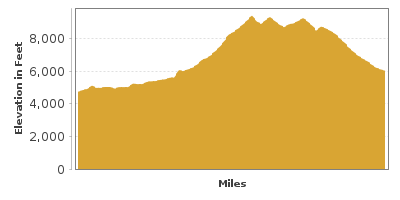 Hotel Finder
Great deals on hotels!
No booking fees.
Safe and secure.
Reserve online or call 1-866-358-9134 anytime.
The Frontier Pathways Scenic Byway celebrates the historic trail early pioneers used heading west over the Wet Mountains. Named for the amount of snow they receive in winter, the Wet Mountains presented a dream-like blue hue which gave hope to early prospectors.
The scenic drive begins in the city of Pueblo, home of the confluence of the Arkansas River and Fountain Creek. The city is just under 40 minutes south on I-25 of Colorado Springs and 2 hours south of Denver. This drive makes a great extension to the Gold Belt Tour.
Before leaving Pueblo, consider a stop at the El Pueblo History Museum (M1) which examines the culture and history of the Plains Native Americans, Mexican settlers, Europeans and miners. Visit a re-created 1840s adobe trading post and plaza and the excavation site of the original El Pueblo trading post abandoned after inhabitants were attacked by Utes and Jicarilla Apache. Or explore a splendid 37-room mansion built in 1893. The Rosemount Victoria House Museum features original Victorian furniture, an Egyptian mummy and more. The city of Pueblo itself is steeped in history. The Union Avenue Historic District is listed on the National Register of Historic Places, or stroll the Historic Arkansas Riverwalk in the center of town, replete with art galleries, shops and restaurants. If you happen to be here late-September, don't miss the annual Chile and Frijoles Festival where Pueblo's best loved crops are celebrated. The 3-day event features food, cooking competitions, music and art and a lot of chiles.
Leaving the city behind, head west on CO-96 where you will soon arrive at Lake Pueblo State Park (W1). Surrounded by the Sangre de Christo, Pikes Peak and Greenhorn mountain ranges, the lake is a year-round haven for water recreation including swimming, a 5-story waterslide, fishing and boating. There are many hiking and biking trails and camping opportunities.
Continuing west, the road climbs as you pass Jackson Hill Stage Stop (V1) where stagecoaches and miners would get rested horses to continue their trips. Today the stop is on private property and can be viewed from the road.
Moments after, the road climbs through pine forest and into Hardscrabble Canyon as it enters the San Isabel National Forest. Marvel at the jagged peaks of the Wet Mountains, rocky cliffs and delicate wildflowers. If you're lucky, bighorn sheep and mule deer will welcome you.
In a half mile after entering the San Isabel National Forest, Forest Road 306 is on your left. Here you will find a rock with Kit Carson's name and his wife's initials carved into it.
Heading west, Rattlesnake Gulch is on your left and a steep trail, strewn with boulders and crags leads to a beautiful picnic spot above the canyon.
In a few miles, consider a side-trip on the twisty and scenic CO-165 on your left. Along the way, you will pass Bishop's Castle (A1), an incredible, quirky structure built completely by one man — Jim Bishop. Construction began in 1969 and is still ongoing. The Castle features a grand ballroom, stained glass windows and a dragon made from recycled metal hospital trays that shoots fire. The Castle is free but donations are requested.
Further up on CO-165 is the picturesque Lake Isabel (W2). Boats without motors are permitted and the lake is well-stocked for fishing. Enjoy the many hiking trails, picnic area and camping. In winter, there is ice fishing, skiing and tubing. Lake Isabel is contained within the Pike and San Isabel National Forests which requires an entrance fee covered by the America the Beautiful Pass. Continuing on CO-165 descends to the town of Rye and its northern Sonoran environment and ascends again to Colorado City, 27 miles south of Pueblo on I-25.
This scenic drive, however, continues west on CO-96 where you will soon be rewarded with superb panoramic views of the Sangre de Cristo Mountains. To the southwest is Sangre de Cristo's Crestone Peak, at 14,294 feet it is the tallest of 22 peaks over 13,000 feet.
The road continues west until you arrive in the historic town of Westcliff where the scenic drive comes to an end. From here, consider retracing your way back to CO-165 or head north on CO-69 towards US-50 which heading east leads to I-25 towards Colorado City and Denver and passes the Gold Belt Tour Scenic Byway.
Share