Gold Belt Tour Scenic Byway
Literally rich in history
Mileage
125 miles (201 km)
Duration

The duration is an estimate of a one-way drive and does not include any stops or side-trips.

4 hours, 15 minutes
Seasons

The seasons listed are the best seasons for this scenic drive. If Winter is not mentioned, the road may be closed during the winter.

Spring, Summer, and Fall
Roadways
Colorado Highways 120, 67, and 9, Teller Country Road 1, US Highway 50, High Park Road, and Phantom Canyon Road

Gravel Roads

Yes
Forest Passes

Some of the adventures on this scenic drive require an admission fee that these passes cover. Please read the drive description for more information.

America the Beautiful Annual Pass
Services

The cities or towns listed have either Food or Services such as gas, hotels, pharmacies, etc.

Divide, CO

▼

, Florissant, CO

▼

, Cripple Creek, CO

▼

, Victor, CO

▼

, and Florence, CO

▼

Rating

4.0

average from

35

votes

My Drives

Track your favorite scenic drives by selecting those which you want to take and those that you have taken. Using your free account, simply sign in and select My Drives.
Experience this Scenic Drive right from your web browser now with RoadPreview.
Our free Road Trip Planner will reverse the route and include the places of interests. Click the "Add to Road Trip" above to start planning your next road trip.
Send this link to your phone. Standard text messaging rates apply.
() -
Get directions from your start address to the beginning of and including this scenic drive. Choose either an alternate ending or same as start.
Have more destinations? Use our free Road Trip Planner to completely plan your adventure. Click the "Add to Road Trip" above to start planning your next road trip.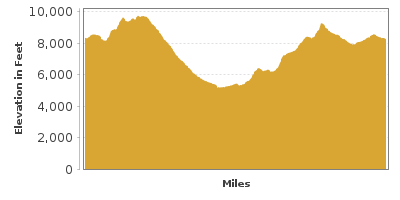 The Gold Belt Tour Scenic Byway travels through the prehistoric past of dinosaurs and follows historic railroad and stagecoach routes to gold mining towns. Stunning scenery and abundant recreation opportunities await in this "Road to Riches" drive through five fascinating byway communities.
Gigantic petrified tree trunks in Florissant Fossil Beds National Monument
The scenic loop drive begins in Florissant, travels down to the mining towns of Cripple Creek and Victor, to Florence, Cañon City and back to Florissant. If you are coming from Denver, head south on I-25 for 68 miles, then east on US-24 for 33 miles. This route is not recommended for wide vehicles or trailers.
In Florissant, drive south onto Teller Country Road 1, where you will soon enter Florissant Fossil Beds National Monument (A1). The fossils here were created by the constant eruption of volcanoes which created mudflows and ash storms, which in turn petrified plants and animals. Among the most diverse and rich fossil beds in the world, they tell the story of a warmer Colorado than we know today. For example, redwood and avocado trees thrived here, as did the tsetse fly, now found only in Africa. Begin your adventure at the Visitor Center for exhibits, fossil displays and short film and then head outside. Two short, easy self-guided trails, Ponderosa Loop (wheelchair accessible) and the Petrified Forest Loop, provide an opportunity to experience the forest and wildflowers of today as well as petrified redwood tree stumps. The Petrified Forest Loop passes Scudder Excavation Pit where you can learn from rangers and paleontologists how excavations are conducted and how fossils are found. The 2.3-mile Sawmill Trail explores the wondrous forests of pine, spruce and fir, peaceful streams and offers the chance to spot elk, Richardson's ground squirrels and rabbits. The Monument has an active archaeology program with demonstrations and classes to learn more about the fascinating geology and prehistoric past.
Continuing south on Teller Country Road 1, you soon arrive in the town of Cripple Creek, where you can ride the narrow-gauge Cripple Creek and Victor Railroad (A2). Climb aboard this restored steam locomotive and step back in time passing abandoned mines and the incredible views. These mines were responsible for making Cripple Creek an important financial center during the boom, extracting more gold than California and Alaska combined. Stop at the Cripple Creek Heritage Center (M2) for information about the area and hiking opportunities. Don't miss the American Eagles Overlook for unsurpassed views of the Collegiate and Sangre de Cristo Mountains, the Continental Divide, Cripple Creek and Victor. Or experience the life of a "Hard Rock Miner" at the Mollie Kathleen Gold Mine (M1), descending 1,000 feet into a gold mine. Mining still continues in the region, focusing on gold that was not able to be processed with historic mining methods.
In Cripple Creek, turn right onto CO-67 towards Victor. Along the road are remnants from the mining past and views of the beautiful Sangre de Cristo Mountains. Founded in 1891, downtown Victor is a National Historic District and many buildings are on the National Register of Historic Places. The Victor Lowell Thomas Museum features exhibits, books and photographs depicting life in Victor as well as memorabilia from the famous journalist and author Lowell Thomas. Here you can also pan for gold and tour a working gold mine. Victor enjoyed its share of success and at one point, had streets literally paved with gold.
Eventually the road becomes the unpaved, narrow Phantom Canyon Road. Interpretative signs and displays dot the scenic route as bridges and tunnels reveal the area's history. The road gains 4,000 feet in elevation, affording expansive views of mountain ranges, Pikes Peak as well as a variety of wildlife. Approaching US-50, you pass the Arkansas River and arrive in Florence where the CO-67 comes to an end. Turn right onto CO-115, paying close attention to the signs as the CO-115 quickly turns to the north in a couple blocks.
The road meanders to Cañon City, known as the gateway to the Royal Gorge Bridge and Park (B1). To get there, head west on US-50 for 8-miles, and turn left onto Country Road 3A. The Royal Gorge Bridge stands 955 feet above the Arkansas River, which made it the highest bridge in the world between 1929 and 2003. You can walk or drive across the bridge. Or experience it by taking the Incline Railway. Built in 1931, it features a 45-degree angle as it travels to the bottom of the granite gorge. Or if a bird's eye view is more your style, take the Aerial Tram which glides more than 1,100 feet above the canyon floor with stunning panoramic 360-degree views. The adjoining Park is open year round and features a variety of attractions including amusement rides, a petting zoo, Wapiti Western Wildlife Park and more.
From Cañon, you have two choices to return to Florissant. You can either take the unpaved Shelf Road (T2) or High Park Road. Our drive continues back on High Park Road. Shelf Road is the official road of the Gold Belt Tour, but being unpaved, it's not for everyone. The adventurous with a 4-wheel drive vehicle, will love the challenging road and steep drop-offs. Explore Garden Park Fossil Area where the first stegosaurus was excavated in 1876 and granite rocks preserving traces of the Agnathid fish, the oldest vertebrate known to the world. Behold spectacular rock formations, spires and monoliths that soar 100-feet high in Red Canyon Park, making this area very popular with rock climbers and photographers alike.
Heading west on US-50, take the turn for CO-9 in 9-miles. After 8.5 miles on CO-9, turn right onto Country Road 11 which shortly becomes High Park Road and continues passing longhorn cattle ranches until rejoining Teller Country Road 1.
On Teller Country Road 1, head north towards Florissant where our drive comes to an end.
Share