Mohawk Trail
The Native American Trail
Mileage
40 miles (64 km)
Duration

The duration is an estimate of a one-way drive and does not include any stops or side-trips.

1 hour, 17 minutes
Seasons

The seasons listed are the best seasons for this scenic drive. If Winter is not mentioned, the road may be closed during the winter.

Spring, Summer, and Fall
Roadways
Massachusetts Highway 2
Services

The cities or towns listed have either Food or Services such as gas, hotels, pharmacies, etc.

Colrain, MA

▼

, Adamsville, MA

▼

, Deerfield, MA

▼

, Greenfield, MA

▼

, Northfield, MA

▼

, Charlemont, MA

▼

, Rowe, MA

▼

, Adams, MA

▼

, more...Berlin, NY

▼

, Williamstown, MA

▼

, Sunderland, MA

▼

, and New Ashford, MA

▼

Rating

3.2

average from

73

votes

My Drives

Track your favorite scenic drives by selecting those which you want to take and those that you have taken. Using your free account, simply sign in and select My Drives.
Our free Road Trip Planner will reverse the route and include the places of interests. Click the "Add to Road Trip" above to start planning your next road trip.
Send this link to your phone. Standard text messaging rates apply.
() -
Get directions from your start address to the beginning of and including this scenic drive. Choose either an alternate ending or same as start.
Have more destinations? Use our free Road Trip Planner to completely plan your adventure. Click the "Add to Road Trip" above to start planning your next road trip.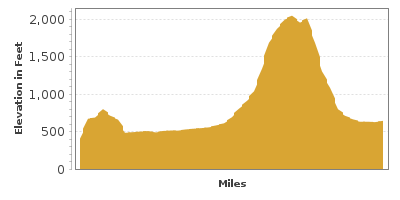 Hotel Finder
Great deals on hotels!
No booking fees.
Safe and secure.
Reserve online or call 1-866-358-9134 anytime.
Once a Mohawk Native American footpath, the trail has altered over time to accommodate new modes of transportation. As cars gained in popularity, in 1914 the Mohawk Trail was declared the first scenic auto route in the United States.
Bridge of Flowers
The scenic drive begins in the town of Greenfield and travels to Williamstown, but can be done in either direction. Take exit 26 off I-91 to reach Greenfield and head west on MA-2 to Greenfield.
Before beginning the drive, consider exploring a few sites in nearby towns. The Northfield Mountain Recreation and Environmental Center (H1) features 25 miles of trails including a hike to the 1,100-foot summit of Northfield Mountain, and a portion of the Metacomet-Monadnock Trail which travels from the Connecticut state line to Mount Monadnock in New Hampshire. In winter, trails are groomed for cross-county skiing and snowshoeing and along with fresh, crisp air; you can warm up by an outdoor fire and snack bar. Rock climbers will love the thrilling variety of routes and cliffs at Rose Ledge, or just relax with a picnic or enjoy a seasonal riverboat cruise. The land is owned by First Light which operates a hydroelectricity facility and offers environmental and recreation programs at the Visitor Center.
In the town of Gill, visit Barton Cove Recreation Area (H4) which features camping and is popular for canoe and kayaking, offering rentals and shuttles for long trips. A one-mile nature trail explores the river and an abandoned dinosaur footprint quarry.
In Turners Falls, tour the Great Falls Discovery Center (M1) to learn about the Connecticut River Watershed's natural, cultural and industrial history. Look for wildlife, enjoy butterfly gardens and views while strolling through the four-acre park. Admission is free.
Historic Deerfield (A2) is dedicated to the preservation and heritage of Deerfield and the Connecticut River Valley. Along a one-mile street, experience eleven museums, each an old home with original furnishings. Peruse antiques, American and English silver and metalware, early American furniture, engraved powderhorns, and textiles. Visit the cook house and gardens and participate in hands-on activities and guided tours. An entrance fee is charged.
History buffs will want to visit the Calvin Coolidge Presidential Library and Museum (M6). Housed within the Forbes Library, it is the largest source of material on Calvin Coolidge and the only public library in the United States to hold a presidential collection — as Coolidge donated his personal library from the White house at the end of his administration. Admission is free.
Our drive officially begins by heading west on MA-2 from Greenfield. Visit Poet's Seat Tower for magnificent views of Greenfield, the Connecticut River and Turners Falls. Constructed in 1912 from sandstone, the observation tower is named in honor of Greenfield poet Frederick Goddard Tuckerman. Along with a great vantage point, many come here to ponder and reflect. Located within Rocky Mountain Park, enjoy recreational trails for walking, bike riding. The site is free.
Old Greenfield Village (A5) takes you back in time to New England as it appeared in 1895. A passion for collecting led to the creation of this museum of Americana which features a General Store, 19th-century fire engine, doctor's office, ice cream parlor, blacksmith and more, all filled with original products, signage, dolls, and folk art. An entrance fee is charged.
High Ledges Wildlife Sanctuary (A6) is owned by the Massachusetts Audubon Society. Five miles of trails traverse a range of habitats and head up to the ledges where panoramic views of Deefield valley and Mount Greylock await. Spring delights with colorful wildflowers in bloom, including 20 orchid species. Take the 1.25-mile Fire Tower Trail (one way) to the Massaemett Mountain summit and climb the tower for a view into three states.
Along the route you will pass a few maple sugar houses. If you traveling in early spring, don't miss the chance to watch how the sap is tapped and boiled into delicious maple syrup at one of the many sugar houses open for tours. Or stop any season to purchase a taste of local flavor.
The town of Shelburne Falls is renowned for its Bridge of Flowers (B1). Built in 1908, the trolley bridge was a vital link at the time, but the advent of the automobile and trucking industry led to its demise only 19 years later. Overgrowing with weeds, the bridge was transformed by the Shelburne Falls Woman's Club in 1929 and planted with an incredible array of flowers, trees, shrubs and vines. Admire the beauty with a walk across the 400-foot span, enjoy views of the Shelburne River and explore the quaint town of Buckland on the other side.
The Shelburne Falls Trolley Museum (M3) preserves the history of the Shelburne Falls and Colrain Street Railway with photos, railroad equipment and a ride on Trolley Car #10 which is back on track. The museum is closed in winter, reopening Memorial Day weekend. Check website before heading out. Shelburne Falls' downtown is quintessential New England, lined with historic buildings, local shops and restaurants. It is also home to a unique geologic feature — glacial potholes. As glaciers receded millions of years ago, they left approximately fifty separate pools ranging from 6 inches to 39 feet in diameter created by the incessant swirling of rocks trapped in cracks in the riverbed. An observation deck overlooks Salmon Falls and the potholes. Access to the river here is limited due to hazardous conditions.
The road travels along the Deerfield River, and in Charlemont, you can explore the river by fishing, white-water rafting, kayaking and tubing. There are a few outfitters in town offering guided tours, equipment and maps.
Immediately after MA-2 crosses the Deerfield River, stop at Hail to the Sunrise Park (H6) on the left. Commemorating the Five Indian Nations of the Mohawk Trail, the park features an eight foot tall bronze statue of a Mohawk Indian with his arms outstretched to the sky welcoming the Great Spirit of the East.
The Berkshire East Mountain Resort (A4) is open year-round. Spring, summer and fall offer hiking, mountain biking, thrilling zip line experiences, and at 5,450 feet, the longest mountain coaster in North America where you are encouraged to hold on tight through a series of dips, turns, and screwdriver 360's. In winter, enjoy skiing and snowboarding. Equipment rentals and lessons available.
Continuing west along MA-2, you soon arrive at the Mohawk Trail State Forest (H2). Over 6,000-acres offer hiking trails for all abilities, fishing, wildlife watching, camping, cabin rentals, and of course, a great picnic spot. The park also features a few waterfalls located close to each other. Tannery Falls is a spectacular 80-foot cascade and nearby Parker Brook Falls is a unique multi-tiered falls. There are smaller unnamed falls here as well which you can discover by walking the trails. In winter, the trails are popular for cross-country skiing. The forest is known for its exceptionally tall trees, including the Jake Swamp Pine at 171 feet tall in 2012. There is a small per vehicle fee to enter.
Exiting the state forest, you arrive in the town of Florida, known for the Hoosac Tunnel (A1). The 4.75-mile railroad tunnel through solid granite began construction in 1847 and took over 25 years to complete, unfortunately taking the lives of 200 people. It was also the first practical use for a newly discovered explosive — nitroglycerine.
Snaking its way up and over the mountains, enjoy thrilling curves and steep climb. Continuing northwest on MA-2, you arrive at the highest point of the drive at 2,173 feet of elevation at Whitcomb Summit (V2). Enjoy extraordinary views, especially during the fall foliage of the surrounding hills, the Green Mountains of Vermont, Moadnock Mountain in New Hampshire, and Mount Greylock to the west. Elk on the Trail is an impressive bronze sculpture commissioned in 1923 to represent the Elk Club and its members who died in WW1.
Want to see some of the inner workings of the Hoosac Tunnel? Take Central Shaft Road to view the ventilation shaft which plunges down almost 1200-feet into the Hoosac Tunnel. The shaft is covered by a building, but you can observe the giant wind turbines that extract exhaust fumes from the tunnel. This is also where the most tragic of the tunnel construction accidents occurred, killing 13 miners in 1867 when a fire broke out above.
Hairpin Turn (V3) is one of the exhilarating driving features on this road. When the route first opened in 1914, many cars had to stop here, waiting for their engines to cool. Today, drivers stop here to take in the sweeping views 1,700 feet above sea level into four states.
Consider a detour in North Adams to the Natural Bridge State Park (H5) which features a naturally-formed white marble arch that spans Hudson Brook, as it tumbles through a rugged 60-foot gorge. A short walkway above and through the chasm fascinates, and provides a great vantage point for pictures. Open Memorial Day to Columbus Day and has a small parking fee.
Or head to the Western Gateway Heritage State Park (H3) and learn about the region's railroad and industrial history, as well as the construction of the Hoosac Tunnel. Admission and parking are free. Consider a side-trip by heading north on Notch Road to Mount Greylock (T1). The narrow, cliff-hugging two-lane road winds up Notch Road to the 3,491 foot summit of Mount Greylock, the tallest mountain in Massachusetts. Gaze upon expansive views of the Catskills and Adirondacks in New York, the Green Mountains of Vermont, and the White Mountains of New Hampshire and marvel at the hang gliders as they take off from this lofty perch. Many trails leave from here offering an opportunity to explore the unique sub-alpine forest. There is a small parking fee at the summit.
Back in downtown North Adams, the Massachusetts Museum of Contemporary Art (M4), or Mass MoCA, is the largest center for contemporary arts in the United States and features a range of artistic expression through art, performances, film and more.
Continuing on MA-2, the scenic drive comes to an end in the town of Williamstown which also offers much to do. Home to the prestigious Williams College which was established when the town was formed in 1793, the city features an eclectic mix of architecture, culture, dining and shopping. Located on the campus of Williams College is the fascinating Williams College Museum of Art (M5) which houses over 13,000 works and is well-known for its collection of American art from the late 18th-century to present and the largest collection of works by Charles and Maurice Prendergast. The museum is free and open to the public. On display at the Chapin Library of Rare Books (A3) are famous documents of the United States, including the Declaration of Independence, The Bill of Rights and more. Or visit the Sterling and Francine Clark Art Institute (M2) and its large collection of French Impressionist and American paintings, including works by Renoir, Homer and Sargent.

Share