Kancamagus Scenic Byway
The Highest Road in the Northeast
Mileage
35 miles (56 km)
Duration

The duration is an estimate of a one-way drive and does not include any stops or side-trips.

52 minutes
Seasons

The seasons listed are the best seasons for this scenic drive. If Winter is not mentioned, the road may be closed during the winter.

All Seasons
Roadways
New Hampshire Highway 112
Passes

Some of the adventures on this scenic drive require an admission fee that these passes cover. Please read the drive description for more information.

White Mountain National Forest Passes
Services

The cities or towns listed have either Food or Services such as gas, hotels, pharmacies, etc.

Bartlett, NH

▼

, Conway, NH

▼

, Glen, NH

▼

, and Lincoln, NH

▼

Rating

4.2

average from

43

votes

My Drives

Track your favorite scenic drives by selecting those which you want to take and those that you have taken. Using your free account, simply sign in and select My Drives.
Our free Road Trip Planner will reverse the route and include the places of interests. Click the "Add to Road Trip" above to start planning your next road trip.
Send this link to your phone. Standard text messaging rates apply.
() -
Get directions from your start address to the beginning of and including this scenic drive. Choose either an alternate ending or same as start.
Have more destinations? Use our free Road Trip Planner to completely plan your adventure. Click the "Add to Road Trip" above to start planning your next road trip.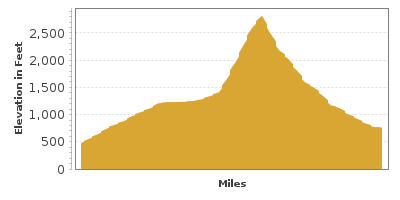 Hotel Finder
Great deals on hotels!
No booking fees.
Safe and secure.
Reserve online or call 1-866-358-9134 anytime.
Get a Park Pass
Natural areas along this route require an entrance fee used to protect and maintain our most scenic treasures. Save time by purchasing your forest passes before you go.
Kancamagus Scenic Byway cuts through the heart of the White Mountain National Forest and is the highest roadway in the northeast, peaking at 2,900 feet on Mount Kancamagus. Revel in spectacular views of mountains, valleys, waterfalls and wild and scenic rivers. The "Kanc" is renowned for its fall foliage — when the hillsides light up with yellow birches, purple beeches, red maples in contrast with green spruce and hemlock trees, drawing thousands of leaf-peepers who crave the vivid display. Named for Chief Kancamagus, "The Fearless One", who was the last leader of the Passaconaway Tribe in the late 1600s, the byway is also rich in Native American Indian history. Add in rustic covered bridges, waterfalls, recreation and the country charm of New England and you have the perfect adventure.
Sabbaday Falls
This scenic drive begins in Conway, known for its historic buildings, cozy inns and shopping in quaint local shops and outlet stores and heads west to Lincoln. It can be done in either direction, and makes a great companion to the White Mountain Trail. Note that parking, trailheads and some day-use activities along this road require a White Mountain National Forest Pass. And be sure to have a full tank of gas. Maintaining the pristine forest means that towns lie of either side of this drive. There are no services at all along this stretch of Kancamagus.
Just before heading out, stop at the Saco Ranger District (I1) for more information on walking, hiking and biking trails or in winter for cross-country-skiing, snow-shoeing and snowmobiling. There are hundreds of trails along this drive each offering its own glimpse into the natural beauty of the region. Keep an eye out for moose, deer, fox, black bear and almost 200 species of birds, including the green heron.
Heading west, the Kancamagus Highway follows the curves of Swift River through the Saco River Valley and you will soon arrive at the Albany Covered Bridge (B1). This paddleford truss with arches style bridge was built in 1858, replacing a bridge built a year earlier that was destroyed in a windstorm. Explore this picture-worthy bridge by taking the path from the parking area. Great photos can also be had from the north side of the river. Leaving from the Covered Bridge Campground is the very popular Boulder Loop Trail (H1). The 3.1-mile loop divulges evidence of glaciers from the last Ice Age dragging across the granite. The trail passes it namesake — huge boulders and 18 interpretive signs along the path reveal the geology, history and culture of the region. Standing 1000-feet above the Passaconaway Valley, you will be rewarded with amazing views of Mount Passaconaway, Mount Chocorua, and Mount Middle Sister. Take caution and stay back from the fragile cliff ledges. When you get down, cool your toes in Swift River.
Champney Falls Trail (H11) is an easy 3.6-mile round trip on a logging road, through dense forest. At 1.4-miles take the spur loop trail which passes the beautiful Champney Falls and Pitcher Falls. Spring is best for impressive water flows as it tends to dry up by summer. In winter, you can watch climbers scale the frozen icy chutes — or if you're experienced, climb it yourself. Trailhead begins at Champney Falls parking area.
This region is chock full of swimming holes and Lower Falls Swimming Hole (W2) is one of the best. Surrounded by dense lush forest, the beautiful cascade and the still pools make a refreshing spot to swim or lounge on the surrounding rocky outcrops. It is a full-service area with changing rooms, restrooms and picnic tables — which also means it can be busy on hot summer days. Arrive early if you plan on spending the day here.
Explore the dramatic Rocky Gorge Scenic Area (H2). The glacier-formed Rocky Gorge and Lower Falls is a short walk from the parking area. The nearby Lovequist Loop Trail (H10) is an easy walk, less than 1-mile around Falls Pond, crossing the foot bridge over Rocky Gorge.
In three miles, Bear Notch Road (T1) is on the right (north) side of the road. Connecting the Kancamagus Highway and the White Mountain Trail (NH-302), this is a great ride, with a lot of twisty curves and fabulous scenery through the resplendent White Mountain National Forest. Take it as a scenic side trip to Bartlett and retrace the road to come back. The road is closed in winter, except for the first mile to access the Upper Nanamocomuck Trail, a popular 9-mile trail for cross-country skiing. The Lower Nanamocomuck Trail is 7-miles long and heads from Bear Notch Road to the Albany Covered Bridge. Both are known as four-season ski, run, bike trails. While in Bartlett, consider a few other nearby scenic detours, including the White Mountain Trail. Bear Notch Road is also home to the 2,600-acre Bartlett Experimental Forest which studies northern hardwood forests. You will also find great mountain biking trails here.
Back on Kancamagus, in a mile, you arrive at the Russell-Colbath House (A1). Built in 1832, it is said that one day in 1891, Mr. Colbath went out, telling his wife that he would return soon. His wife hung a lantern outside each night to help him find his way, and 39 years later, he did return, his wife having died three years earlier. The 19th-century farmhouse with period furnishings is open to visitors and features an on-site historic interpreter and programs that explores the life of a homesteader and the history of the Passaconaway Valley. Beside the house, is an old cemetery with tombstones dating back to the Civil War. Learn more about the forest, railroad and Swift River on the short, accessible half-mile Rail N' River Trail.
A few miles west, is Sabbaday Falls (H3) one of the most visited falls in New Hampshire. The strikingly beautiful three-tiered flume can be accessed by a short half-mile trail from the parking area where you will also find picnic tables. No swimming is allowed, but if you continue on the lush, mossy Sabbaday Brook Trail, those with a license can fish in Sabbaday Brook.
The road ascends, until arriving at Kancamagus Pass. Stop at the pullout to enjoy a panorama of the surrounding forest and to learn about the watersheds east of the Kancamagus Pass flowing into the Saco River and those west flowing into the Pemigewasset River.
Hancock Campground is among many first-come, first-serve campgrounds. It's a short walk from there to another swimming hole, Upper Lady's Bath Swimming Hole (W3) to enjoy the cool Pemigewasset River.
The 5.6-mile round trip Lincoln Woods Trail (H5) is popular year-round and begins by crossing the 180-foot long Pemigewasset River Suspension Bridge. Many other trails leave from here and you can get more information about the myriad of recreation opportunities at the nearby White Mountain Visitor Center (I2). The visitor center features an interpretive display on the history and evolution of White Mountain Forest.
Back on Kancamagus, don't miss the Sugar Hill Scenic Overlook or the C. L. Graham Wangan Ground Picnic Area (H4), which affords one of the best views of the Presidential Range. The road descends with twists and turns from Kancamagus Pass, following the Permigewasset River as you pass the final few mountains.
Our scenic drive comes to an end as you arrive in Lincoln. From here, consider exploring the White Mountain Trail.

Share