White Mountain Trail
Gorges, Waterfalls and Rugged Mountains
Mileage
61 miles (99 km)
Duration

The duration is an estimate of a one-way drive and does not include any stops or side-trips.

1 hour, 10 minutes
Seasons

The seasons listed are the best seasons for this scenic drive. If Winter is not mentioned, the road may be closed during the winter.

Spring, Summer, and Fall
Roadways
Interstate 93, and US Highways 16, 3, and 302
Passes

Some of the adventures on this scenic drive require an admission fee that these passes cover. Please read the drive description for more information.

White Mountain National Forest Passes
Services

The cities or towns listed have either Food or Services such as gas, hotels, pharmacies, etc.

Lincoln, NH

▼

, Franconia, NH

▼

, Bethlehem, NH

▼

, Littleton, NH

▼

, Bartlett, NH

▼

, Glen, NH

▼

, North Conway, NH

▼

, and Conway, NH

▼

Rating

4.0

average from

59

votes

My Drives

Track your favorite scenic drives by selecting those which you want to take and those that you have taken. Using your free account, simply sign in and select My Drives.
Our free Road Trip Planner will reverse the route and include the places of interests. Click the "Add to Road Trip" above to start planning your next road trip.
Send this link to your phone. Standard text messaging rates apply.
() -
Get directions from your start address to the beginning of and including this scenic drive. Choose either an alternate ending or same as start.
Have more destinations? Use our free Road Trip Planner to completely plan your adventure. Click the "Add to Road Trip" above to start planning your next road trip.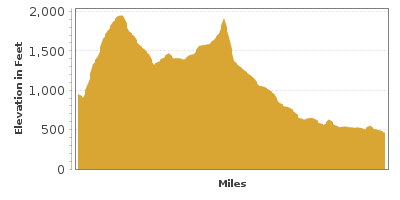 Hotel Finder
Great deals on hotels!
No booking fees.
Safe and secure.
Reserve online.
Get a Park Pass
Natural areas along this route require an entrance fee used to protect and maintain our most scenic treasures. Save time by purchasing your forest passes before you go.
The White Mountain region is one of the most spectacular and beloved in New Hampshire. Less than 1/10th of the state's population live here and much has been left untouched.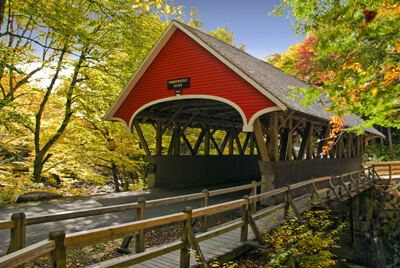 The Flume Bridge
This scenic drive begins on I-93 heading north from Woodstock, which is about 60 miles north from Concord, and continues to Conway via US-302. It can be done in reverse and it's a perfect extension to the Kancamagus Scenic Byway. Note that parking, trailheads and some day-use activities along this road require a White Mountain National Forest Pass. Save time by ordering online before heading out.
A typical interstate this is not. Heading north, you enter Franconia Notch State Park. Undulating hills, pristine lakes and miles of all-season trails offer much to see and do including hiking and ski trails, boating, wildlife watching, fishing and biking. The Franconia Notch Bike Path is a 20 mile round trip winding through some challenging steep ascents and descents, passing all the high points of the notch. It is also open to hikers.
With Mt. Liberty in the background, Flume Bridge is a picturesque sight. The covered bridge built in 1886 crosses the Pemigewasset River and is open for vehicle traffic. Pedestrians can take the footbridge.
Sitting at the foot of Mount Liberty is The Flume Gorge (H1), an incredible glacier-carved gorge. Start at the Visitor Center for entrance tickets to the gorge and learn about the area through interactive displays, interpretive programs and a 20 minute film presentation. (If you plan on experiencing both the Flume Gorge and Cannon Mountain Aerial Tramway, purchase a Discovery Pass which offers a discount. Except for access to the Flume Gorge, or other attractions, there is no charge to travel through Franconia Notch State Park.) The Flume is a natural gorge 800 feet long with granite walls looming more than 80 feet. To the loud sound of rushing water, get close up on the wooden bridge that travels along the flume. You'll want to explore the few hiking trails that traverse the lush, mossy environment. Once through the gorge don't miss the two trails on your left, passing glacial boulders, small waterfalls and majestic trees or the impressive Avalanche Falls. Continuing the hike is a delight for all senses with the sounds of birds chirping, the Pemigewasset River, more glacial boulders and other wonders such as Liberty Gorge, a mountain cascade through narrow rock. Look for Liberty Gorge Trail just off Ridge Path to get there. Spanning the "The Pool" is Sentinel Pine Bridge. This covered bridge was built in 1939 over a giant pine tree thought to be 100 years old when it fell during a hurricane. If you get a chance to look underneath, you will see the trunk.
Various trails circumnavigate the area and a stop in the Visitors Center will help you find one just right. Hiking the Indian Head Trail offers amazing views of Franconia Notch, the Franconia Range, valley and the "Indian Head" which are the rocky ledges of Mt. Pemigewasset. Instead of returning the same way, the trail merges with the Mount Pemigewasset Trail, creating a 3.6-mile round trip loop.
Heading north on I-93, stop at The Basin (H2), a smooth water-sculpted granite basin at the base of a waterfall. There are picnic tables and you can swim further up in the brook. If you love waterfalls you should follow the Basin-Cascades Trail which passes the 20-foot drop of Kinsman Falls, the multi-tiered Rocky Glen Falls and many unnamed cascades. The mile-long trail features rock slides, pools and ledges. Here you can also see Baby Flume Falls.
Spending more time in the area? Lafayette Campground is located in the middle of this drive making it a great hub for activities. Near Echo Lake is the Cannon Mountain RV Park.
Don't miss the Notch Viewpoint near Profile Lake. The stunning Profile Lake (W3) is open for fly-fishing only.
The Old Man of the Mountain Overlook (V1), now gazes upon the broken ledge where until May 3, 2003, the prominent profile once stood. Naturally-formed from five separate granite ledges, the profile was an icon and appears on license plates, state quarters and state route signage.
Shortly after the overlook is the Cannon Mountain Aerial Tramway (A1), an 80-passenger cable car that brings you to the 4,100 foot summit of Cannon Mountain, offering incredible 360 degree panoramic views into Vermont, Maine, and Canada. There is a fee to ride up. In winter, Cannon Mountain is among the top ski resorts in the region. While here, visit the Old Man of the Mountain Museum (M1) at the base of Cannon Mountain which immortalizes the much-beloved stone profile or the New England Ski Museum featuring items related to the history of skiing since 1977 such as ski equipment, scrapbooks, films and library.
Fabulous views of Cannon Mountain and Franconia Notch await by hiking Bald Mountain and Artists' Bluff Trail, a 1.5-mile loop which begins across Route 18 from the Peabody Base Lodge.
Shortly afterwards, take exit 35 for US-3 (or exit 36 if you are coming from the North). In a few miles, you arrive in Twin Mountain where you should head east on US-302. To the west lies Mount Agassiz (H3) which has long been an escape for people suffering from hay fever, as the trees in this region drop their pollen earlier than the rest of the season. Drive to the top of the mountain and enjoy it's refreshing hills by heading west on US-302 to Bethlehem and turning south (left) onto Agassiz Road. The area is extremely popular for snow-mobiling.
In Twin Mountain, explore evidence of a logging railroad on the mile-long Trestle Trail (H4) passing boulder strewn rivers, a massive glacial erratic and the birch, balsam and sarsaparillas of the White Mountain National Forest. There are other hikes here as well, if you want to extend the adventure.
The Pondicherry National Wildlife Refuge (H12) supports a diverse ecosystem in its ponds, bogs, marshes, swamps, wetlands and forests. The Little Cherry Pond trail through lowland spruce-fir forest culminates at the trails namesake, Little Cherry Pond. Along the way look for over 200 species of birds, moose, otters, beavers, snapping turtles, snowshoe hare, butterflies and more. Exploring is best by bike via the 20-mile Rail Trail which ends in Gorham. From the junction of Rte. 3 and Rte. 115 in Twin Mountain, drive 4 miles east on Rte. 115. Turn left (west) on Airport Rd for 1.5 miles to parking lot on the right.
Continuing east on US-302, the Presidential Range comes into view, and Mount Washington, its tallest peak stands proud at 6,288-feet, making it the third tallest mountain east of the Mississippi. People have always craved the challenge of getting to its summit, and today you can hike, drive or take The Mount Washington Cog Railway (A2). On July 3, 1869, a feat of engineering, logistics and sheer determination, the "Old Peppersass" became the first cog-driven train to climb Mount Washington. Today, experience the incredible views with efficient biodiesel locomotives or the classic steam engine. Take 302E to Bretton Woods, left onto Base Road until the Cog Base Station.
Back on US-302, stop at Crawford Notch State Park (H5), featuring over 5,700 acres of hiking, fishing, wildlife viewing, camping and many waterfalls. Explore the incredibly elegant cascade of Arethusa Falls (H13), the second highest falls in New Hampshire. The hike is somewhat difficult in places due to loose rocks, mud and steep areas but very much worth the effort. It also passes Fawn Pool, Coliseum Falls, Bernis Brook Falls and the sheer rock walls of Frankenstein Cliff. A spur trail leads to the dramatic 100-foot Ripley Falls. The Willey House Historic Site marks the spot where there is an entrance fee to the park.
Lower Ammonoosuc Falls are a small but powerful. Head a little further down from the strong current for great swimming, sliding rocks and basking in the sunshine. Get there by heading east on 302 and turning left onto Old Cherry Mountain Road and an immediate left onto Lower Falls Road.
Sawyer Rock Swimming Hole (W4) features wonderful deep pools, a sandy area for wading, cascades and cliffs for jumping. Off of 302, park on the north side just before crossing the bridge marked E2.
Continuing eastward, you arrive in the town of Bartlett, where you can visit the Bartlett Covered Bridge (B1). Built in 1851, it was abandoned and closed to traffic in 1939. In 1966, the bridge was repaired and opened as the Covered Bridge Shoppe featuring gifts and antiques. Or you can head straight to Kancamagus Highway via Bear Notch Road (T1) a great twisty ride that connects with the Kancamagus Highway, offering a lot of curves and fabulous scenery through the heart of the White Mountain National Forest. The road is closed in winter, except for the first mile to access the Upper Nanamocomuck Trail, a popular 9-mile trail for cross-country skiing.
Heading east, the road follows the Saco River and you soon arrive in Glen, and the beginning of the Three Rivers Scenic Byway. If you would like to drive or hike to the top of Mount Washington, Glen House and Mount Washington Auto Road (T2) are a few miles north on NH-16.
The road heads down to the quaint town of Conway where our scenic drive comes to an end. Conway is renowned for its historic buildings, cozy inns and shopping both in quaint local shops and outlet stores. Visit Echo Lake State Park (H10) and its jewel, Cathedral Ledge, a 700-foot high rock formation. For the adventurous, it is a rock climber's utopia. For others, it is a stunning backdrop as you watch. A mile-long auto drive brings you the easy way to the top for exhilarating panoramic views of the Saco River Valley and the White Mountains. Up for a hike? Try the 1-mile Around the Lake Trail, the 1.2-mile Bryce Path to the top of Cathedral or the 4.2 mile White Horse Ledge Loop. Enjoy swimming, boating, fishing, and biking. There is a fee to enter the park and NH residents over 65 and children under 5 are free. Step back in time and revel in the scenery from a different perspective on the Conway Scenic Railroad (A5). Take the Notch Train or year-round Valley Train through a majestic landscape with live commentary covering history, folklore and points of interest. Trips are of varying distance and price.
From here, either head west along the Kancamagus Highway or head south along New Hampshire 153.

Share