Hells Canyon Scenic Byway
The deepest canyon in North America
Mileage
193 miles (311 km)
Duration

The duration is an estimate of a one-way drive and does not include any stops or side-trips.

5 hours, 25 minutes
Seasons

The seasons listed are the best seasons for this scenic drive. If Winter is not mentioned, the road may be closed during the winter.

Spring, Summer, and Fall
Roadways
Forest Road 3965, and Oregon Highways 82 and 86
Passes

Some of the adventures on this scenic drive require an admission fee that these passes cover. Please read the drive description for more information.

Pacific Northwest Forest Passes (Washington, Oregon)
Services

The cities or towns listed have either Food or Services such as gas, pharmacies, etc.

La Grande, OR

▼

, Enterprise, OR

▼

, Joseph, OR

▼

, Halfway, OR

▼

, Wallowa, OR

▼

, Baker City, OR

▼

, and Richland, OR

▼

Rating

3.6

average from

62

votes

My Drives

Track your favorite scenic drives by selecting those which you want to take and those that you have taken. Using your free account, simply sign in and select My Drives.

Share
Our free Road Trip Planner will reverse the route and include the places of interests. Click the "Add to Road Trip" above to start planning your next road trip.
Send this link to your phone. Standard text messaging rates apply.
() -
Get directions from your start address to the beginning of and including this scenic drive. Choose either an alternate ending or same as start.
Have more destinations? Use our free Road Trip Planner to completely plan your adventure. Click the "Add to Road Trip" above to start planning your next road trip.
Get a Park Pass
Natural areas along this route require an entrance fee used to protect and maintain our most scenic treasures. Save time by purchasing your forest passes before you go.
Hells Canyon is the deepest, river-carved canyon in North America. Located in Oregon's untamed northeast corner, this scenic byway explores the breathtaking beauty of rugged mountains, the mighty Snake River, alpine terrain and evergreen forest. The remote region takes you on a trip back in time, along Native American Indian and Pioneer history. There are only a few roads through and around the canyon and most are closed from late October through early June.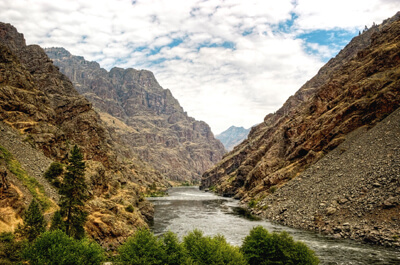 Hells Canyon
Our scenic drive begins in La Grande and travels a clockwise loop ending in Baker City, but can be done in either direction. La Grande was a popular stop on the Oregon Trail and can be reached by exit 261 off of I-84. Before departing La Grande, stop at La Grande Ranger District (I1) for road conditions and information. Those who love vintage fire trucks won't want to miss the Eastern Oregon Fire Museum and Learning Center (M1). The museum is free but accepts donations.
The drive heads east on OR-82. Be sure you have a full gas tank before heading out as services on the byway are far apart. Nestled within the Blue and Wallowa Mountains, the Grande Ronde Valley is flat and primarily used for agriculture, particularly until you reach the town of Elgin. The beautifully-restored 1912 Elgin Opera House is well-known for its performances and training classes. The town is also a hub for year-round outdoor recreation of all types.
Mountains loom and the terrain becomes much drier as you enter the Minam River Canyon. A small road on the left will bring you to Minam Campground, where you can fish for rainbow and steelhead trout, take a raft down the river, explore the many walking trails, and of course camp. The Minam State Recreation Area is situated on the steep, forested banks of the Wallowa River, and is a haven for wildlife such as deer, elk and mountain sheep and bald eagles.
The road parallels the Minam River through rolling hills and once again farmland as you approach the town of Wallowa. The Nez Perce Native Americans have a long history in the hills and canyons of the Wallowas. The Nez Perce Interpretive Center (M2) tells the story of the Wallowa Band Nez Perce Trail, and teaches the history and culture through art, photographs and exhibits. The Tamkaliks Powwow and Friendship Feast is held each year in July.
Traveling east by farmland and mills, you pass the picturesque farming town of Lostine. Lostine River Road (T1) leads to Eagle Cap Wilderness, known as the "Switzerland of America." Taking this scenic detour leads to the heart of the Wallowa Mountains and is Oregon's largest continuous alpine area. More than 50 alpine lakes, beautiful wildflower-strewn meadows, granite cliffs and mountains create a stunning setting and habitat for a diverse variety of plants and animals. Enjoy the peaceful solitude of nature or adventurous hikes, kayaking and fishing.
Back on OR-82 continuing east, you arrive in the town of Enterprise. Visit the Wallowa Mountains Visitor Center (I2) for information on recreation within the Wallowa-Whitman National Forest, Hells Canyon and the Eagle Cap Wilderness. In the Imnaha River that passes through Enterprise, you may see Chinook Salmon on their journey from Snake River to the Pacific Ocean.
Before leaving Enterprise, consider a side trip on Hurricane Creek Road (T2) which leads to the Hurricane Creek Trailhead, an easy hike into the Eagle Cap Wilderness with spectacular views of the surrounding mountains. The total hike is over 10 miles but you don't need to do the entire trail to absorb the natural beauty.
Continuing on OR-82, you arrive in the town of Joseph, named after the Nez Perce Chief Joseph. While the town is small, its art community is not. Main Street features seven bronze sculptures on permanent display and there are many art galleries featuring work of every medium by local artists. From here, consider a side trip on Wallowa Lake Highway by continuing straight on OR-82 and merging onto OR-351. The wonderful landscape before you was created during the Ice Age by the 2,000-foot thick Bennett Glacier which carved and then melted, creating Wallowa Lake. Now a haven for outdoor enthusiasts, it offers swimming, boating, hiking, horseback riding, camping, go-carts and mini-golf! Take the tram to the top of Mount Howard and marvel at the view deep into three states from 8150 feet up. Wildlife abounds, including bighorn sheep, black bear, ferruginous hawk and western spotted frog. Surrounded on three sides by 9,000-foot snowcapped peaks, nearby Wallowa Lake State Park (H1) offers a huge range of outdoor activities. Take the opportunity to gas up in Joseph as there are no service stations for the next 80 miles.
Our scenic drive continues by turning left onto OR-350 heading east for 9-miles then turning right onto Wallowa Mountain Loop Road (Forest Road 39). This road climbs and twists through the Wallowa-Whitman National Forest to Idaho's Seven Devil Mountains. Rising nearly 9,400 feet, the mountains separate Hells Canyon and the Salmon River drainage. Take advantage of the turnouts to enjoy the scenery and trails along the road. Aptly named Heaven's Gate Viewpoint, take the half-mile trail to the fire lookout for breathtaking panoramic views.
About 20 miles from entering the Wallowa-Whitman National Forest, turn left onto Forest Road 3965 and in 3-miles, you will be rewarded by the Hells Canyon Overlook (V1). Ten miles wide and at 8,043 feet, Hells Canyon is the deepest canyon in North America. Interpretive signs explain the geology while you gaze upon the incredible views below, and of McGraw Creek and the Seven Devils Mountains.
Forest Road 39 continues for another 22-miles, exits the National Forest and ends at OR-86. At this junction, continue on OR-86 towards Oxbow for fascinating views of Hells Canyon, Hells Canyon Dam and the stunning backdrop of rocky mountains from the river's edge. Fishing, boating, and hikes are available here. Those wanting to get up close and personal should experience the canyon with a boat tour. There are a few operators in both Oregon and Idaho. Visit the Hells Canyon Visitor Center (I4) for more information.
Heading south on OR-86, the road climbs to the former mining town of Halfway, which is halfway between the towns of Pine and Cornucopia. The road curves to the west, along sagebrush covered hills and farmlands until the scenic byway comes to an end in Baker City.
In Baker City, visit the National Historic Oregon Trail Interpretive Center (A2) with exhibits on natural history, Native American Indian and Pioneer life, and an actual section of the Oregon Trail with etched with wagon wheel ruts. The city itself is an historic treasure, where you can explore the gold mining, logging and ranching life of days gone by.
From here, follow I-84 north to La Grande or head southwest on OR-7 from Baker City to Enjoy the Elkhorn Scenic Byway.

Share