Columbia River Mouth and Long Beach Peninsula
Along the northern shore of the Columbia River to Long Beach Peninsula
Mileage
99 miles (160 km)
Duration

The duration is an estimate of a one-way drive and does not include any stops or side-trips.

2 hours, 30 minutes
Seasons

The seasons listed are the best seasons for this scenic drive. If Winter is not mentioned, the road may be closed during the winter.

All Seasons
Roadways
US Highway 101, and Washington Highways 103, 4, and 401
Services

The cities or towns listed have either Food or Services such as gas, pharmacies, etc.

Kelso, WA

▼

, Longview, WA

▼

, Cathlamet, WA

▼

, Long Beach, WA

▼

, and Castle Rock, WA

▼

Rating

2.9

average from

72

votes

My Drives

Track your favorite scenic drives by selecting those which you want to take and those that you have taken. Using your free account, simply sign in and select My Drives.

Share
Our free Road Trip Planner will reverse the route and include the places of interests. Click the "Add to Road Trip" above to start planning your next road trip.
Send this link to your phone. Standard text messaging rates apply.
() -
Get directions from your start address to the beginning of and including this scenic drive. Choose either an alternate ending or same as start.
Have more destinations? Use our free Road Trip Planner to completely plan your adventure. Click the "Add to Road Trip" above to start planning your next road trip.
This scenic drive travels from Kelso along beautiful country roads to mouth of the Columbia River and Leadbetter Point State Park. To reach Kelso, take exit 39 off I-5 and head turn west onto WA-4.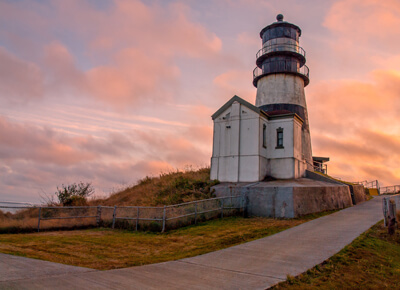 Cape Disappointment Lighthouse at sunset.
Shortly after Longview, you will see snippets of Mount Solo and the highway will start to hug the Columbia River coast as its name becomes Ocean Beach Highway. In Stella, County Line Park (W1) is a sandy beach which makes a great picnic spot.
Just north of Cathlamet is Julia Butler Hansen National Wildlife Refuge for the Columbian White-tailed Deer (A1). Here cattle and deer co-exist in a symbiotic relationship. In addition, discover elk and more than sixty bird species. There is a three-mile trail here, but the best viewing area is from the road as wildlife tends to scatter when they hear people approach.
In fourteen miles, you will arrive in Grays River, home of Washington's only covered bridge that can still be crossed. To reach Grays River Covered Bridge (B1), turn left onto Loop Road and follow the signs for the Bridge onto Barr Road.
In Rosburg, the Hudson Bay Company used the Altoona site for trading. From here, a 10-mile side trip can bring you to the site that Lewis and Clark first reported seeing the Pacific Ocean in 1805. For this side trip, turn left onto Altoona Pillar Rock Road (T1) and travel this road with all its twists and turns for about ten miles to the very end, where Pillar Rock lies to the south.
Continuing westward for about 8 miles, you will reach Megler Rest Area and Information Center (I1). This is not only a good place to stretch your legs and get some area information, but you can also see the beautiful Astoria-Megler Bridge (B2), the longest continuous truss bridge in North America. When crossing over, you may see Mount Saint Helens on the east side of the bridge.
After the bridge, the drive continues as US-101 and the road follows the Columbia River until Ilwaco on the Long Beach Peninsula. On the way there, the Fort Columbia State Park (H2) is a nice park to stop and see the original 1898 gun emplacements and museum. As you approach Ilwaco, the mouth of the Columbia River is the widest, and the wildest, being part of the Graveyard of the Pacific. The sand dunes under the Columbia Bar cause rough waters, resulting in the sinking of more than 2,000 large ships since the late 1700s and making the Columbia Bar one of the roughest bars in the world.
Two and a half miles south of Ilwaco is Cape Disappointment State Park (H3). This is one stop you should not pass up. One of the most beautiful parks on the peninsula, it is home to the two of the oldest lighthouses on the Pacific Northwest Coast, Cape Disappointment Lighthouse (A6), constructed in 1856 and North Head Lighthouse (A7), completed in 1898. There are trails to both lighthouses, but only the North Head Lighthouse is open for tours. Located at the confluence of the Columbia River and the Pacific Ocean you'll find diverse landscapes, birds, and wildlife. Enjoy opportunities for salt-water and fresh-water fishing, build sand castles, and watch the waves. In winter, keep your eyes open for migrating whales. The Lewis and Clark Interpretive Center (A3) examines the arduous journey of Lewis and Clark through exhibits and films, as well as regional history. There is a small fee to enter. This park was formerly known as Fort Canby State Park, and you can still explore remnants of the fort and artillery batteries. Five installments by artist Maya Lin that are part of the Confluence Project are also located within the park near Waikiki Beach and Baker Bay.
Returning to Ilwaco, continue North on US 101 towards Seaview. Seaview features 28 miles of hard-packed sand and promotes itself as "the world's longest beach drive." Alternatively, continue on WA-103.
Long Beach is known for its beaches and is very popular with kite enthusiasts. The Long Beach Boardwalk (W2) has ramp access and makes for a romantic walk with sublime ocean views.
Just after Long Beach, the Pacific Coast Cranberry Research Foundation Museum (M2) is on Pioneer Road. More than half of the Washington Cranberries are grown on this peninsula.
Oysters were very popular in this area during the 1800s, but due to over harvesting, native oysters disappeared by 1900. After a few unsuccessful attempts to reintroduce oysters into this region, Pacific oysters from Japan were successfully introduced in the 1930s. Today, this region is responsible for about twenty percent of American oysters. The Willapa Bay Interpretive Center (A2) is a great place to learn more about oysters and the history of the area.
The drive ends in Leadbetter Point State Park (H1), where there are plenty of foot trails to explore the woods, sand dunes, and beaches. The 1,732-acre natural area is a haven for resident and migrating birds including eagles, brown pelicans, warblers, snowy plovers, and kinglets. Relax and enjoy beachcombing, clamming, fishing or do some kayaking, canoeing or paddle-boarding in Willapa Bay.
To head back home, you can follow the same road again. If you wish to explore the Columbia River further, you may follow it by driving on the parallel Lewis and Clark Memorial Highway and the Columbia Gorge. Or if you would like to drive adjacent to the Pacific Ocean, head south on US-101 for the Oregon Coast.

Share