Coulee Corridor Scenic Byway
Drive through coulees and dry canyons
Mileage
151 miles (243 km)
Duration

The duration is an estimate of a one-way drive and does not include any stops or side-trips.

3 hours, 30 minutes
Seasons

The seasons listed are the best seasons for this scenic drive. If Winter is not mentioned, the road may be closed during the winter.

All Seasons
Roadways
US Highway 2, and Washington Highways 155 and 17
Services

The cities or towns listed have either Food or Services such as gas, pharmacies, etc.

Coulee Dam, WA

▼

Rating

3.8

average from

40

votes

My Drives

Track your favorite scenic drives by selecting those which you want to take and those that you have taken. Using your free account, simply sign in and select My Drives.

Share
Our free Road Trip Planner will reverse the route and include the places of interests. Click the "Add to Road Trip" above to start planning your next road trip.
Send this link to your phone. Standard text messaging rates apply.
() -
Get directions from your start address to the beginning of and including this scenic drive. Choose either an alternate ending or same as start.
Have more destinations? Use our free Road Trip Planner to completely plan your adventure. Click the "Add to Road Trip" above to start planning your next road trip.
While this area of Washington averages about 8 inches of rain per year, its landscape was influenced by glaciers and runoffs in its long history, carving out spectacular coulees.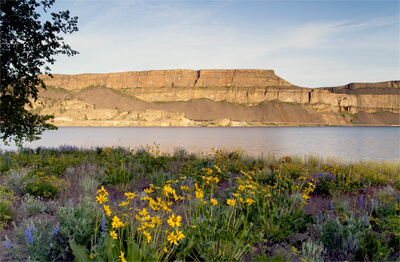 Grand Coulee Dam
This scenic drive is begins in Omak and travels to Othello, but of course, you can do it in either direction.
The byway heads east on WA-155, through the Colville Indian Reservation. There is a memorial to the 19th century leader of the Nez Perce tribe, Chief Joseph. Please respect the Nez Perce wishes and do not visit his gravesite.
Visit the Colville Confederated Tribes Museum (M1) which depicts the history of the 12 tribes that are part of the Colville Confederated Tribes, through exhibits and a fascinating collection of beadwork, baskets, artifacts, and photos.
For a picture-perfect view of the Coulee Dam, and great picnic area, cross the Grand Coulee Bridge and turn right to Crown Point State Park (H3). Aside from the viewpoint and shade cover, there are no other amenities here.
The byway continues by turning left after the bridge to Grand Coulee Dam (A1). At 550 feet high, it is the largest concrete structure, and the largest hydroelectric facility in the United States. In summer, free guided tours are offered, and in the evenings, there is a free 35 minute laser light show. Stop at the Visitor Center for exhibits on how the dam facilitates irrigation and flood control, as well as how electricity is generated, Native American history and more.
Approximately 15 miles from the Grand Coulee Dam is Steamboat Rock State Park (H1). The park sits along Banks Lake offering sandy beaches, swimming, boating, and fishing, including an ADA accessible fishing pier. Named for the iconic-shaped columnar basaltic rock, explore along miles of hiking, biking, and horseback riding trails. Open year-round, in winter enjoy Nordic skiing, snowshoeing, and ice fishing. Stay overnight in one of three campgrounds. A Discover Pass is required for vehicle entrance to all WA State Parks.
Continuing south for about 28 miles, Sun Lakes-Dry Falls State Park (H2) is on the right. Once a waterfall four-times the size of Niagara Falls, Dry Falls is now a cliff, an astounding 400-feet high and 3.5 miles long. Learn more about this unique landscape carved by Ice Age floods 15,000 years ago at the Dry Falls Visitor Center. Enjoy swimming, fishing, and boating (rentals available on site), trails, a nine-hole golf course, mini golf, and camping round out the amenities.
In another 14 miles south, Lake Lenore Caves State Park (H4) is on the right and has a trail to a series of caves used for shelter by Native Americans.
In three miles, Soap Lake is known for its mineral-rich water and mud and it marks the end of the Grand Coulee canyon.
When WA-155 ends, you will join onto US-2 for a four miles, at which point head South on WA-17.
Continuing south through the semi-desert terrain, Moses Lake is just before I-90 and features Moses Lake Museum and Art Center (M2), exhibiting shrub-steppe habitats and history of the local Native Americans in the area.
The Columbia National Wildlife Refuge (H5) is a short trip west to a less populated and more natural area where you can watch birds, beavers, yellow-bellied marmots, and deer.
The drive officially ends in Othello. From here, consider getting onto the I-90 and heading to Mountains to Sound Greenway or one of its connecting drives.

Share