Grand Teton Loop
The Mountains of Wyoming
Mileage
44 miles (71 km)
Duration

The duration is an estimate of a one-way drive and does not include any stops or side-trips.

1 hour, 22 minutes
Seasons

The seasons listed are the best seasons for this scenic drive. If Winter is not mentioned, the road may be closed during the winter.

Spring, Summer, and Fall
Roadways
US Highway 89, Jenny Lake Loop Road, and Teton Park Road
Passes

Some of the adventures on this scenic drive require an admission fee that these passes cover. Please read the drive description for more information.

America the Beautiful Annual National Parks Pass 2023-2024
Services

The cities or towns listed have either Food or Services such as gas, pharmacies, etc.

Jackson Hole, WY

▼

, Moose, WY

▼

, Teton Village, WY

▼

, and Moran, WY

▼

Rating

3.8

average from

152

votes

My Drives

Track your favorite scenic drives by selecting those which you want to take and those that you have taken. Using your free account, simply sign in and select My Drives.

Share
Our free Road Trip Planner will reverse the route and include the places of interests. Click the "Add to Road Trip" above to start planning your next road trip.
Send this link to your phone. Standard text messaging rates apply.
() -
Get directions from your start address to the beginning of and including this scenic drive. Choose either an alternate ending or same as start.
Have more destinations? Use our free Road Trip Planner to completely plan your adventure. Click the "Add to Road Trip" above to start planning your next road trip.
Get a Park Pass
Natural areas along this route require an entrance fee used to protect and maintain our most scenic treasures. Save time by purchasing your forest passes before you go.
Amidst the spectacular beauty of the Teton Mountains, experience the passion and hardships of Native Americans, homesteaders, ranchers and miners. The Teton Range dominates the landscape, growing over the last 9 million years from rocks that are over 2.5-billion years old. Glaciers and ice ages left many lakes which create an ideal habitat for beavers, muskrats, otters, American white pelicans and larger mammals like elk and moose.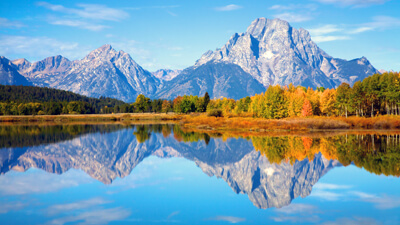 Wyoming's Tetons
Our scenic drive begins in the town of Moose, where you will find a variety of services and restaurants and travels north along US-89, passing through Teton National Park, to Jackson Lake and back to Moose.
Before heading out, consider the half-mile detour west of Moose Junction to the beautifully-designed Craig Thomas Discovery and Visitor Center (I1) for exhibits and interpretative displays on the geology of the area, glacial activity, animal migration and the history of people who called this area home.
Teton National Park is a year-round gem. Majestic mountains, pristine lakes, dynamic views, and peaceful retreat. Recreation opportunities abound. Enjoy wild and scenic rafting trips, fishing, swimming, hiking and horseback riding, camping and more. In autumn, the hills are ablaze with color. In winter, cross-country ski or snowshoe. There is a fee to enter the park covered by the America the Beautiful Pass. Or, a permit can be purchased at the Park that is valid for 7 days for both Grand Teton and Yellowstone National Park.
Heading north on US-89 from Moose, the road parallels Snake River, framed by the jagged peaks of the Teton Mountains clearly visible to the west. Stop at Teton Point Overlook (V1) for expansive views of the snow-capped Teton Mountains, big open skies and flat, sagebrush-dotted terrain. Take advantage of the many turnouts along this route and have your camera ready for the first of fabulous picture-perfect views.
A few miles ahead, stop at the Snake River Overlook (V2) to enjoy the awe-inspiring view made famous by photographer Ansel Adams of Jackson Hole and Snake River as it winds in the foreground before the Teton Mountains.
Continuing north, you will pass the Cunningham Cabin Historic Site (A1) where from 1890 to 1928, homesteaders Pierce and Margaret Cunningham lived, making do with the short growing season and the rough climate of Jackson Hole before having to sell. The cabin is open to visitors.
Shortly after this stop, is the town of Moran where our scenic drive continues north on US-89. The Oxbow Bend Overlook (V3) offers a chance to see beavers, moose, mule deer, otters and birds. Snake River is popular with kayakers and canoeists to observe wildlife and relax in the serene setting. Picturesque Mount Moran looms in the distance reflecting in the still water. At 12,605 feet high it is characterized by a distinctive basalt intrusion known as the Black Dike and Skillet Glacier. Take the next unpaved road on your left shortly after this stop for another viewpoint.
About a mile up the road, turn left onto Teton Park Road, close to Jackson Lake where you can enjoy fishing, boating, hiking and camping. If you were to continue north on US-89, you would enter Yellowstone National Park's South Entrance. Breathtaking views await when you turn left (east) onto Signal Mountain Road (T2) which heads to the summit of Signal Mountain. At 1,000 feet above the valley, it affords a most spectacular panoramic view of the Tetons, Jackson Hole and deep into Yellowstone National Park.
Continuing south on Teton Park Road, you will reach the north portion of the Jenny Lake Loop. For this scenic drive, turn right and continue to the Cathedral Group Overlook (V4). This very photogenic grouping of mountain peaks consists of Grand Teton (13,770 feet), Mount Owen (12,928 feet), and Teewinot (12,325 feet).
Continue south to the Jenny Lake Trailhead and stretch your legs on the String and Jenny Lake Trails (H1). The Jenny Lake Loop Trail is a 6.5-mile round-trip easy hike that circumnavigates the lake, offering beautiful views. No need to walk the entire loop to immerse yourself in the natural beauty. Take the Jenny Lake Boat Shuttle to cut the trip in half. From here you can access the trails for Hidden Falls and Inspiration Point, one of the most popular trails in the Park. The 3.3 round trip String Lake Trail is an easy hike around String Lake featuring beautiful wildflowers. These trails are very popular so we recommend you get an early start to avoid the crowds.
When Jenny Lake Road rejoins Grand Teton Road, turn right to continue the drive. Shortly afterwards, stop at Teton Glacier Overlook (V5) to view one of many glaciers that atop the Teton Mountains.
As you continue south, you will pass the Menor-Noble Historic District (A2) where you can get a sense of pioneer life by visiting Bill Menor's cabin and country store. Ride the replica of the ferry originally built to transport settlers across Snake River to Jackson Hole. The nearby Chapel of the Transfiguration was built in 1925 so early settlers would not have to travel far for Sunday services. The chapel is currently an Episcopalian Church and is very popular for weddings with the majestic Tetons as a backdrop.
The scenic drive comes to an end as you arrive in the town of Moose. Head over to the National Elk Refuge (A4) established in 1912 to provide winter habitat for the Jackson elk herd. Between November and April are the best times to see wildlife but the refuge is open year-round. Take Refuge Road to Miller Butte, a prime spot to observe elk and bighorn sheep.
From here, consider heading south towards Utah's Logan Canyon Scenic Byway or head north and enjoy Yellowstone National Park.
In winter, Jackson Hole Mountain Resort offers more than 2,500-acres of top-notch skiing and riding on wide variety of terrain. Hit the slopes and then kick back and enjoy restaurants, nightclubs and family-friendly activities in Teton Village or the town of Jackson which is only 20 minutes away. Resort amenities include equipment rentals, lessons, lodging options and spa facilities. Visiting nearby Yellowstone and Grand Teton National Parks, and the National Elk Refuge makes a magical winter day trip. Bring cross-country skis or snowshoes.

Share