Kings Canyon and Sequoia National Park
Through California's Deepest Canyon
Mileage
49 miles (80 km)
Duration

The duration is an estimate of a one-way drive and does not include any stops or side-trips.

1 hour, 3 minutes
Seasons

The seasons listed are the best seasons for this scenic drive. If Winter is not mentioned, the road may be closed during the winter.

Spring, Summer, and Fall
Roadways
California Highway 180
Passes

Some of the adventures on this scenic drive require an admission fee that these passes cover. Please read the drive description for more information.

America the Beautiful Annual National Parks Pass
Services

The cities or towns listed have either Food or Services such as gas, hotels, pharmacies, etc.

Fresno, CA

▼

, and Three Rivers, CA

▼

Rating

3.8

average from

37

votes

My Drives

Track your favorite scenic drives by selecting those which you want to take and those that you have taken. Using your free account, simply sign in and select My Drives.
Our free Road Trip Planner will reverse the route and include the places of interests. Click the "Add to Road Trip" above to start planning your next road trip.
Send this link to your phone. Standard text messaging rates apply.
() -
Get directions from your start address to the beginning of and including this scenic drive. Choose either an alternate ending or same as start.
Have more destinations? Use our free Road Trip Planner to completely plan your adventure. Click the "Add to Road Trip" above to start planning your next road trip.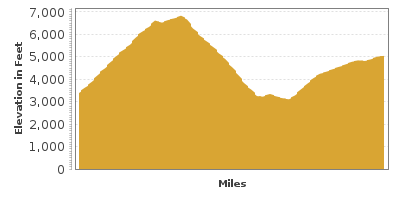 Hotel Finder
Great deals on hotels!
No booking fees.
Safe and secure.
Reserve online or call 1-866-358-9134 anytime.
Get a Park Pass
Natural areas along this route require an entrance fee used to protect and maintain our most scenic treasures. Save time by purchasing your forest passes before you go.
Deeper than the Grand Canyon, Kings Canyon is situated between Sequoia and Yosemite National Parks, and offers a unique blend of elevations, giant Sequoias, granite ridges and more.
Sequoia National Park
The scenic drive begins in Dunlap, a few miles east of Fresno, on CA-180. As you continue east on CA-180, you soon enter Sequoia National Forest, named for the giant sequoia, the world's largest tree.
In 14 miles, you arrive at Big Stump Trail (H1) where a 2-mile loop winds through huge stumps of logged sequoias interspersed with young sequoias, serving as a reminder of how long it takes to grow these giant trees and how logging affected them.
The road joins with CA-198 for a short while and you will need to eventually veer left to continue on CA-180. You are now leaving Sequoia National Forest and traveling through Kings Canyon. Note that the CA-180 is a dead end, and you will have to retrace the drive to return.
You will soon arrive at the Grant Grove Village (A1), where a short hike will bring you to the third largest sequoia in the world, the General Grant Tree. The tree is estimated to be over 3000 years old. The visitor center features exhibits and a short film about the history of the park, the Sequoias and the fascinating area.
Just after the village, turn right onto Forest Road 528B for a short scenic drive to Panoramic Point (V1), where spectacular views of the Sierra Nevada's and Kings Canyon await. A 2.5 mile trail leads to Park Ridge Fire Lookout, an active lookout tower that you can climb to the top of. The views will take your breath away.
Following CA-180, you will arrive at the McGee Burn Overlook (V2) which provides an impressive view of the valley where a 1955 fire raged and whose damage is still visible today. Shortly after this is Cherry Gap where many hikes are accessible.
CA-180 now begins to descend into the canyon. On the descent, stop at the Converse Basin (H2) where more than 8,000 sequoias were logged in the 1800s. Many stumps remain of the giants that lived here before, but new trees are growing, allowing the opportunity to learn about their growth habits. Visit the 8th tallest tree in existence, the Boole Tree. At 269 feet tall, it was spared from being logged due to its enormous size. The two-mile round trip trail to the tree is moderately difficult.
In a few miles, consider a side trip to Hume Lake (W1) on Forest Road 13S09. The lake was man-made to transport the logged sequoias, although very little profit was ever made from them. Today, Hume Lake provides recreational swimming, boating, fishing, and sandy beaches.
Shortly up the road, stop at the Junction Overlook (V3), one of the best viewpoints in all of Kings Canyon. Under the sheer drop of 7,891 feet is where the Middle and South Fork of the Kings River collide, surrounded by mountain peaks. To get a closer look of the canyon, a 2.5-mile trail from Yucca Point Trailhead (H3) heads down to where the rivers fork more than 1,000 feet below.
In about 3 miles, you arrive at Boyden Cavern (H4) where for a fee, you can have a guided tour of its marbled walls and stalactites created by the river.
In another 5 miles, stop at the 70-foot Grizzly Falls (H5), particularly if you are visiting early on in the season when the flow is powerful. In late summer, as the water diminishes, many people enjoy wading at the falls' edge.
You will soon cross over the South Fork Kings River and enter the Cedar Grove (H6) area where you can hike through a forest of cedars. Shortly up the road, stop at Canyon Viewpoint (V4). From here, notice the dramatic difference in the shape of Kings Canyon. While most canyons have a V-shape, Kings Canyon takes on a U-shape which is common with passing glaciers. Later up the road, stop for a .25-mile hike to the Roaring River Falls (H9) which plunge 80-feet off granite rocks.
Continuing on CA-180, the drive is nearing the end. Stop at Zumwalt Meadows, where a 1.5-mile hike loops through glacier-formed grasslands. Along the trail, enjoy conifers, wildflowers, Venus flytraps, and awe-inspiring views of North Dome.
Just a few miles ahead, the end of the road signals the end of this scenic drive. From this location, consider a 4-mile hike to Mist Falls, the tallest waterfalls in Kings Canyon.
To get back, retrace and enjoy the same road all over again. If you do not mind gravel roads, the 3-mile Motor Nature Trail in the Cedar Grove area provides incredible views of Kings River and a different perspective of the canyon.
Once you arrive at the junction with CA-198, we recommend heading east on CA-198 to continue this scenic adventure. The stretch of road until CA-99 which brings you back to Fresno is incredibly beautiful. The CA-99 which will bring you back to Fresno.

Share