Ohio River Scenic Byway
Historic Link of Past and Present
Mileage
443 miles (714 km)
Duration

The duration is an estimate of a one-way drive and does not include any stops or side-trips.

9 hours, 8 minutes
Seasons

The seasons listed are the best seasons for this scenic drive. If Winter is not mentioned, the road may be closed during the winter.

Spring, Summer, and Fall
Roadways
Kentucky Highway 9, Ohio Highways 124, 39, and 7, and US Highways 22, 60, and 68
Services

The cities or towns listed have either Food or Services such as gas, hotels, pharmacies, etc.

Chester, WV

▼

, Clarkson, OH

▼

, Newell, WV

▼

, Marietta, OH

▼

, Pomeroy, OH

▼

, South Point, OH

▼

, Friendship, OH

▼

, Siloam, OH

▼

, more...Saundersville, OH

▼

, Crescent Lake, OH

▼

, Portsmouth, OH

▼

, Cincinnati, OH

▼

, Concord, OH

▼

, and Silverton, OH

▼

Rating

4.0

average from

12

votes

My Drives

Track your favorite scenic drives by selecting those which you want to take and those that you have taken. Using your free account, simply sign in and select My Drives.
Our free Road Trip Planner will reverse the route and include the places of interests. Click the "Add to Road Trip" above to start planning your next road trip.
Send this link to your phone. Standard text messaging rates apply.
() -
Get directions from your start address to the beginning of and including this scenic drive. Choose either an alternate ending or same as start.
Have more destinations? Use our free Road Trip Planner to completely plan your adventure. Click the "Add to Road Trip" above to start planning your next road trip.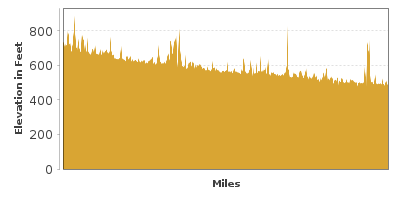 Hotel Finder
Great deals on hotels!
No booking fees.
Safe and secure.
Reserve online or call 1-866-358-9134 anytime.
Travel along the Ohio River through Southern Ohio and discover the lifeline vital to the past ancient peoples, early pioneers, industry, and the underground railroad. Along the way, encounter fascinating historic and cultural sites, natural areas for recreation, and a mix of vibrant and quaint communities.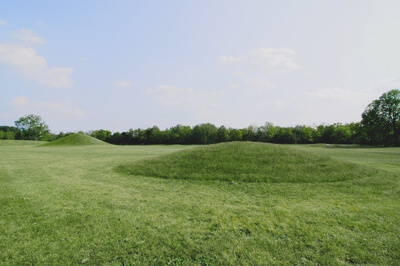 Mound City at Hopewell Cultural National Park
We describe the drive traveling east to west, from East Liverpool (near the Pennsylvania border) to Cincinnati, ending at the Indiana border of Indiana. This drive is close to many major cities such as Cleveland, OH, Indianapolis, IN, Louisville, KY and Pittsburgh, PA, making this an easy get-away.
The drive begins on OH-7 South in East Liverpool. The Museum of Ceramics (M1) is home to an impressive collection of local pottery that spans three centuries. During it's heyday between 1840 and 1940, East Liverpool was known as "The Pottery Capital of the World" crafting more than 50% of the nation's ceramics. Examine the history of American pottery and styles, such as the renowned Lotus Ware made by Knowles, Taylor and Knowles, and Fiesta Ware made by Homer Laughhlin. The building itself is a former post office built in 1909, and on the National Register of historic Places.
The Wellsville River Museum (M2) overlooks the Ohio River and delves into its history and importance to transportation, commercial industry, and the production of pottery, as the river bed contained a bounty of clay. The museum is located in a stunning home built in 1870, and is open to the public on Sundays from June to the end of September.
In Steubenville, do not miss the 25 incredible Steunbenville Murals (A2) along both sides of the Ohio River. Painted by different artists, vast concrete flood walls are transformed into artistic representations of local historic and cultural highlights, including one of entertainer Dean Martin who was born in Steubenville. Murals can also be found in the Ohio cities of Wellsville, Ironton, and Portsmouth, as well as in Kentucky and Indiana.
Historic Fort Steuben (A1) was originally built in 1786 to protect mapping surveyors from Indians. It is now fully-reconstructed featuring eight buildings, including quarters for enlisted men and officers, a guardshop, and hospital, which combine to tell the story of frontier life. Special events are held throughout the year. The beginning of June is host to the Ohio Valley Frontier Days, when the fort is bustling with re-enactors, musket shooting, music, crafts, and more. Or enjoy summer concerts, Constitution and Civil War commemorations, and quilt shows. Check website for schedule. There is a fee to enter.
The Ohio River has been a vital transportation route since pre-colonial days. The visitor center at the Hannibal Locks and Dam (A3) features informative exhibits. Then, watch boats from the observation deck as they travel through the locks, and relax with a picnic in the day use area complete with tables and grills. Admission is free.
In Matamoras, at the junction of OH-260, consider a side trip on the Wayne National Forest Covered Bridge Scenic Byway (T1). This 47-mile route parallels the Little Muskingum River along SR-26, through bucolic countryside, void of gas stations despite views of oil wells in the fields. Make sure you have a full tank before heading out. This route passes four covered bridges: the Knowlton Covered Bridge, Rinard Covered Bridge, Hune Covered Bridge, and Hill Covered Bridge. Tour markers highlight ten points of interest along the way. You will also find hiking trails and rustic campgrounds.
If you take this side trip, you can rejoin the Ohio River Scenic Byway in Marietta. Otherwise our route continues on OH-7.
In Marietta, visit the Campus Martius Museum of the Northwest Territory (M3). Campus Martius was a Civilian Fortification built in 1788 by the Ohio Company of Associates. Now a museum, step back in time to discover Ohio's First Peoples and the first Pioneer settlement through artifacts, photos, furniture, and a tour of the Rufus Putnam House, a restored blockhouse. Nearby is the Ohio River Museum (M4) where you can revel in the golden age of the steamboat, explore the W.P. Snyder Sternwheeler, America's only surviving steam powered, sternwheeler towboat, and immerse yourself in a series of rotating exhibits. There is an entrance fee and combined pricing to visit both museums. Closed Tuesdays.
Forked Run State Park (H1) makes for a great day or overnight stop. Easy to moderate trails meander through forested hill country providing ample opportunities for observing flora and fauna. Or relax along the 120-acre Forked Run Lake, swimming, fishing and boating (rentals available on-site). Enjoy tent and RV camping, or reserve one of 3 cabins.
In Portland, Buffington Island State Memorial (A4) is the only significant Civil War site in Ohio. It commemorates a battle fought in July 1863, which contributed to the capture of the famed Confederate cavalry raider, Brigadier General John Hunt Morgan. It is also the furthest north reached by the Confederate Army. Every July, features a reenactment of the battle.
At the junction of OH-35 you'll find access to the Welsh Scenic Byway (T2) which explores the area settled by Welsh immigrants. The byway highlights 65-miles of beautiful scenery, expansive rolling countryside, farms, churches, and cemeteries. The University of Rio Grande is home to the Madog Center for Welsh Studies which preserves the Welsh language, history and culture. At Bob Evans Farm and Homestead Museum (M6) learn about the company's history in a preserved farmhouse, once a stagecoach stop and now on the National Register of Historic Places. The region is host to many agricultural and Welsh-themed events, performances and festivals.
Continue on the byway to Gallipolis. Many buildings are on the National Register of Historic Places and they best explored on a self-guided walking tour. Brochures are available online or at the Gallia County Convention and Visitors Bureau (I1). Or take a scenic drive along the Quilt Barn Trail which features large quilt patterns painted on the sides of farm buildings and barns to showcase the importance of this folk art to the region.
In Portsmouth, art looms large on the concrete flood walls of the Ohio River. Painted by Robert Dafford, and titled 2,000 Years of History — 2,000+ Feet of Art, the Portsmouth Murals (A5) is a series of hyper-realistic murals with more than a 3-dimensional feel, portraying the history and significant events of Portsmouth. The nearby Scioto County Welcome Center (I2) offers a wealth of local information. Explore a blend of old and new with unique shops, restaurants, galleries and antiquing in the historic Bonneyfiddle District.
Nestled within the Shawnee State Forest is Shawnee State Park (H2). Just over 1,000-acres offers the gamut of outdoor recreation and stellar views. Known as the "Little Smokies of Ohio", discover rugged beauty, hardwood forest, and the rolling hills of the Appalachian Plateau. Enjoy swimming, fishing, and boating on Roosevelt and Turkey Lakes, (rowboats, canoes and kayaks available for rent) and a myriad of trails for hiking, biking, and horseback riding. A great base destination with camping for tents, RV's, cabin or cottage rentals, and a full amenities lodge.
If you're interested in ancient Native American mounds, there are two not-to-be-missed sites off the byway. Head north to Bratton, to see Serpent Mound (A9), an earthen work in the shape of a snake that spirals gracefully through the landscape for a 1/4-mile. The effigy mound is believed to be built by the Fort Ancient culture in A.D.1000. Climb the tower for a picture-perfect vantage point. The park is fully accessible and features a short walking trail and picnic area. There is a parking fee which supports park maintenance. Serpent Mound and Mound City are among sites on the U.S. Tentative List for inscription on the UNESCO World Heritage List.
A little further north in Chillicothe, is the Hopewell Culture National Historical Park (A10). The park preserves six separate sites of monumental earthenworks built by the Hopewell Indians that thrived here. Four are open to the public. Mound City Group is fully-restored and consists of a 13-acre earth enclosure in a curved rectangle shape. Nestled inside are more than 20 mounds. The visitor center offers a wealth of information on the history of the Hopewell Culture, artifacts that were found here and how the mounds may have been constructed and used. Walk through the sacred site and on a paved path along the Scioto River to marvel and wonder how these monumental earthenworks were built to such a large scale without modern machines. The park is free to enter.
The byway continues. In Ripley, visit the Rankin House (A11), an important stopping point on the Underground Railroad. Built in 1828 by Rev. John Rankin, the home affords spectacular views of the Ohio River. His strong opposition to slavery led to his home being one of the most active underground stations. Over 2,000 slaves stayed here on their way to freedom. There is a small entrance fee.
In Chilo, spend some time at Chilo Lock #34 Park and Visitor Center (H3). The Chilo Lock #34 Park Visitor Center and Museum features hands-on displays about the Ohio River, and Lock and Dam #34 which are no longer in use. Stroll along river and let the kids enjoy the playground. Adjacent is the Crooked Run Nature Preserve. Over 1-mile of trails and three wildlife blinds offer a chance to observe more than 200 species of birds.
The Birthplace of Ulysses S. Grant (A7) is in Point Pleasant. The humble home features furnishings, artifacts, and memorabilia. Open April-October. There is a small entrance fee.
Our drive officially ends in Cincinnati, at the border of Indiana. While in Cincinnati, learn more about the Underground Railroad and the women's rights movement at the Harriet Beecher Stowe House (A12). She is the author of Uncle Tom's Cabin which is based on the story of Rev. John Rankin. Continuing the theme, the National Underground Railroad Freedom Center (A8) inspires with stories, exhibits on the Underground Railroad, and struggles for freedom that continue in the world today. A must for baseball fans, the Cincinnati Reds Hall of Fame and Museum (M5) celebrates the history of the team though exciting exhibits, multimedia presentations, and special events. Then take in a game.
Love the name, love the views. Cross the Purple People Bridge (B1) (a.k.a. the Newport Southbank Bridge) to Newport, Kentucky. The pedestrian bridge, with a separate lane for cyclists, etc. is the perfect place for photos of the city skyline and sunsets.

Share