Vermont 100
Vermont's Main Street
Mileage
186 miles (300 km)
Duration

The duration is an estimate of a one-way drive and does not include any stops or side-trips.

4 hours, 44 minutes
Seasons

The seasons listed are the best seasons for this scenic drive. If Winter is not mentioned, the road may be closed during the winter.

All Seasons
Roadways
Vermont Highway 100
Services

The cities or towns listed have either Food or Services such as gas, pharmacies, etc.

Wilmington, VT

▼

, Jamaica, VT

▼

, Bondville, VT

▼

, Grafton, VT

▼

, Cavendish, VT

▼

, Chester, VT

▼

, Plymouth, VT

▼

, Killington, VT

▼

, more...Barnard, VT

▼

, Chittenden, VT

▼

, Pittsfield, VT

▼

, Rutland, VT

▼

, Pittsford, VT

▼

, Rochester, VT

▼

, Warren, VT

▼

, Northfield, VT

▼

, Waitsfield, VT

▼

, Moretown, VT

▼

, Waterbury, VT

▼

, Huntington, VT

▼

, Montpelier, VT

▼

, Stowe, VT

▼

, Irasburg, VT

▼

, Troy, VT

▼

, Newport, VT

▼

, Dover, VT

▼

, Marlboro, VT

▼

, East Jamaica, VT

▼

, Brookline, VT

▼

, Cambridgeport, VT

▼

, Thompsonburg, VT

▼

, Reedville, VT

▼

, Andover, VT

▼

, Whitesville, VT

▼

, Belmont, VT

▼

, Grahamsville, VT

▼

, Tarbellville, VT

▼

, Greenbush, VT

▼

, Shrewsbury, VT

▼

, Bridgewater, VT

▼

, Cold River, VT

▼

, Mendon, VT

▼

, Stockbridge, VT

▼

, Hancock, VT

▼

, and Jay, VT

▼

Rating

3.5

average from

112

votes

My Drives

Track your favorite scenic drives by selecting those which you want to take and those that you have taken. Using your free account, simply sign in and select My Drives.

Share
Our free Road Trip Planner will reverse the route and include the places of interests. Click the "Add to Road Trip" above to start planning your next road trip.
Send this link to your phone. Standard text messaging rates apply.
() -
Get directions from your start address to the beginning of and including this scenic drive. Choose either an alternate ending or same as start.
Have more destinations? Use our free Road Trip Planner to completely plan your adventure. Click the "Add to Road Trip" above to start planning your next road trip.
Traversing the Green Mountains from Massachusetts to Quebec, Vermont Highway 100 is known as Vermont's Main Street. Classic New England towns are a blend of history, white-steepled churches, dairy farms, ski resorts and outstanding scenery. The Green Mountains were formed 45-million years ago by Continental drift and are an extension of the Appalachian Mountains. Once as tall as the Alps, erosion and Ice Age glaciers have shaped them to their current beauty of gentle rolling green peaks. With so much to see and do — take your time and consider making this an overnight adventure.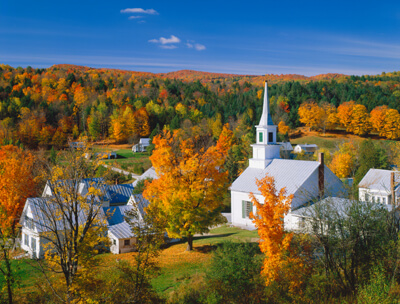 Autumn Waitsfield
Our scenic drive starts in Wilmington and travels to Newport, however, you can do the drive in either direction. To reach Wilmington, travel west on VT-9 from I-91's exit 2. VT-100 tends to meander, so keep a clear look out for signs along the way.
Before heading out from Wilmington, visit Molly Stark State Park (H1), named after the wife of Revolutionary War General John Stark. The park encompasses the 2,415-foot Mount Olga, and a hike to the fire tower at its summit affords stunning 360-degree views deep into the Berkshires, New Hampshire and Massachusetts. You will find other hikes and camping here.
We begin by heading north on VT-100, paralleling the Deerfield River. Shortly, views of Haystack Mountain appear, the southern-most member of the Green Mountains. The road climbs to West Dover. Ski and snowboarders will love the Mount Snow Ski Area, which is actually named after Reuben Snow who owned the land. Or visit the Southern Vermont Natural History Museum (M1). The small museum features over 600 native birds and mammals set in dioramas. Live raptors are also on display. There is an admission fee.
The road travels into the Green Mountain National Forest, descending to West Wardsboro and Stratton Mountain. In summer, take the gondola to the top of Stratton for panoramic views of the White Mountains, Adirondacks, Berkshires and the Green Mountains. Miles of hiking trails for every level trace the mountain, including a section of Vermont's 265-mile Long Trail which travels from the Massachusetts line to the Canadian border, and 103.6 miles of the Appalachian Trail. Winter is a veritable wonderland of activities including alpine and cross-county skiing, snowshoeing, tubing, ice skating and snowmobiling. Just past the turn for Stratton, is Grout Pond (W1), popular for swimming, canoeing or kayaking. Surrounded by forest, enjoy a picnic, fishing, wildlife watching and remote camping.
As you approach East Jamaica, consider a side trip east on VT-30 to Townshend, and the longest wooden span in Vermont, the Scott Covered Bridge (B1). Built in 1870, the charming 276-foot town lattice with arch and modified kingpost style bridge is closed to vehicle traffic. Park at the pulloff and get your camera ready for magnificent photography opportunities. Townshend State Park (H2) lies at the base of the 1,680-foot Bald Mountain and a strenuous 3.4-mile round trip hike to the summit offers outstanding vistas. A lot less strenuous, but equally rewarding, is to relax with a picnic and stroll by the beautifully-designed park structures built by the Civilian Conservation Corps in 1930s. The park features camping for tents and trailers and lean-to sites. As for most Vermont State Parks, there is a day use fee to enter. The nearby Townshend Dam and Recreation Area (A1) features sandy beaches, fishing, and shaded picnic areas with BBQs that can be reserved.
Back on VT-100, the road turns sharply to Jamaica. Jamaica State Park (H3) offers an alternative to the peaceful serene landscape and winding rivers — with raging white-water. Here, controlled water releases from Ball Mountain Dam produce class II and IV rapids, drawing kayakers, canoeists and river rafters. There are outfitters at the park with everything you need or bring your own. The park is also popular for camping. Take it easy and cool off in one of the calmer pools, hike to Cobb Brook's 125-foot Hamilton Falls, or just enjoy the sights.
In 5-miles, you reach Rowsonville, where you should bear right to continue on VT-100. After Londonderry, merge onto VT-11 by turning right for a short while and then continue on VT-100 by turning left.
In the picturesque town of Weston, enjoy classic Vermont hospitality, unique shops, antiques and galleries. From June to September, take in a production at the Weston Playhouse Theatre Company (A9) which has been performing since 1937, making it Vermont's oldest professional theatre company.
Shortly after Weston, bear right to continue on VT-100. If you are visiting during summer or fall, take Okemo Mountain Road (T1) in Ludlow to the top of Okemo Mountain for splendid views of the Connecticut Valley. In winter, skiers will love Okemo Mountain Resort for its unique terrain featuring glades and superpipe, ice skating, snow tubing and snowshoeing.
From here, the road passes a number of lakes along Black River. In the town of Plymouth Notch, consider a side trip on VT-100A to the Calvin Coolidge State Historic Site (A2) which preserves the homestead of the 30th President of the United States. A small museum honors the man known for small business laws and never saying too much. Visit the one-room schoolhouse, general store which have all been carefully preserved with original furnishings. The Plymouth Cheese Factory, built by his father, is restored and still produces and sells artisan cheese. Calvin Coolidge is buried in the town cemetery. Some of the buildings have an admission fee.
Continuing in the Black River Valley, you soon arrive in West Bridge along the Otauquechee River. To the west stands Killington Peak (A3), once believed to be the tallest mountain in Vermont (Mount Mansfield is taller). The 4,235-foot Killington Peak is a year-round favorite. The Beast, as it's affectionately called, offers outstanding skiing and winter recreation. In summer, enjoy hiking, biking in the Kona "Groove Approved" Mountain Bike Park, golf, alpine slides, horseback riding and more.
The town of Killington is home to Gifford Woods State Park (H4) which preserves a virgin, old growth forest. Take the Old-Growth Interpretive Trail which explores the northern hardwood forest. Sitting at the base of Killington and Pico Peaks, the park features over 30 miles of hiking trails, tent camping, rental cabins and lean-to shelters. Enjoy shorefishing for largemouth bass, pumpkinseed sunfish and more from the platform at Kent Pond — just across the road. In winter, the trails are superb for snowshoeing, cross-country skiing and snowmobiling.
In Killington, the US-4 and VT-100 divide; bear right to stay on the VT-100 following dense forest and rolling hills.
After Pittsfield, bear left to continue on VT-100 passing more quaint New England towns. Approaching Rochester, consider a side-trip to Brandon Gap, one of Vermont's major Mountain Passes. Here, you can access a 19-mile section of the Long Trail at Brandon Gap (H5) passing the sheer rock face at Great Cliffs to the summit of Mount Horrid. This is a difficult hike with over 7,000 feet of elevation gain.
Back on VT-100, after Rochester, the road travels by cornfields and pastures through the White River Valley. Texas Falls (H6) is a worthy detour on VT-125. Only a short walk from the parking area, the two chutes are a delight but it is the surrounding rock formations that make this a great place to explore and picnic. The Texas Falls Nature Trail is a 1.2-mile loop from the falls and back. There is no swimming here.
Continuing on VT-100, you head through a 6-mile stretch known as the Granville Gulf Reservation, which protects a forested gorge. Lining the road are vast expanses of grassy undulating hills, farmland, wooden barns and quaint homes. Highly recommended is a short detour to Moss Glen Falls (V1) . Turn right at Randolph Road and another right on Moss Glen Falls Road to the trailhead parking. The path is an easy 1/4 mile to the base of the falls or you can continue up to the top. The best views are from in the creek, so bring your bathing suit and join the locals in a refreshing swim.
Part of the Mad River Valley, the town of Warren offers down-home hospitality, historic buildings and outdoor activities. Walk or bike The Warren Path Nature Trail through hardwood forest which you can access from Brooks Field Road, or enjoy one of the many swimming holes. Warren Falls and Lareau Swim Hole are both local favorites featuring clear pools surrounded by colossal boulders great for diving from or lounging on. Here you will also find another access point to the Long Trail at Lincoln Gap (H7), a 5.2-mile hike to the summit of the 4,006-foot Mount Abraham, where rewarding views of the Champlain Valley, Lake Champlain and the Adirondacks await. Mad River Valley is home to eight covered bridges, each with their own unique charm and beautiful setting — you'll want to see them all. They are: Lincoln Gap Bridge, Great Eddy Bridge, Pine Brook Covered Bridge, Upper Cox Brook Covered Bridge, Newell Bridge, Northfield, Falls Bridge, Slaughterhouse Bridge, and Tiny Moseley Bridge.
As the dense forest opens up, you enter Ski Country. Waitsfield offers some of the best skiing in the East at Sugarbush and Mad River Glen Ski Areas. Enjoy miles of trail, or strap on snowshoes and explore the beautiful woods and hills that surround the valley. Après-ski? Take a moonlit sleigh ride or dance the night away in one of the many nightspots. Summer offers tennis, golf, zipline, hiking biking and more.
Continuing north, you will see the fourth largest mountain in Vermont. At 4,083 feet, Camel's Hump is a premier hiking destination. A 7.4-mile round trip hike takes you above the tree line for exceptional views of Mount Mansfield, to Owl's head in Canada, Mounts Ethan and Ira Allen and Killington to the south and Mount Washington, the Presidential and Franconia Ranges to the east, Champlain Valley and Adirondacks to the west.
The road the passes under I-89 and over the Winooski River to the town of Waterbury. If you have a sweet tooth, the next section of the drive will be one of your favorites. Visit Ben and Jerry's Ice Cream Factory (A4) for a tour, taste free samples, explore the Flavor Graveyard, playground and more! There is a small fee for the tour.
Shortly afterwards, enjoy the flavors of Vermont at Cold Hollow Cider Mill (A5). Savor apple cider donuts, a variety of apple products, locally crafted Vermont cheese and maple syrup. Peruse the adorable gift shop while sipping free samples of apple cider.
Craving more Vermont specialties? Stop in at the Green Mountain Coffee Roaster Visitor Center (A10). Located inside a working train station restored to its 1875 Victorian splendor, you'll find hands-on multi-media exhibits about coffee, enjoy the café and discover gifts from coffee-growing communities. Cabot Creamery (A11) is known for its famed cheddar cheese. Visit the Waterbury annex to sample and buy award-winning cheeses, shop for Vermont-made crafts and Vermont microbrews and wines. Want to see how cheese is made? Tour the factory in Cabot, Vermont. A small fee is charged. In early spring, experiencing the traditional making of Vermont maple syrup at a local sugarhouse is a must.
Work all that off at Waterbury Center State Park (H11) on the half-mile Peninsula Nature Trail highlighting the natural and cultural history and geology along the shore of Waterbury Reservoir. Rent a canoe or kayak, and keep your eyes out for evidence of beavers. Or visit Little River State Park (H8). Also along the Waterbury Reservoir, enjoy sandy beaches, swimming, and kayaking. Walk through the dense forests, picnic or stay overnight camping, lean-to's or cabins.
In 10-miles, you enter the picturesque town of Stowe. Easily a whole day can be spent here. Turn left on VT-108 also known as Mountain Road where you will find an unending array of inns, B&B's, art galleries and artist studios, antiques, cozy restaurants and bars all designed to blend in with the landscape. Don't miss a walk (or bike ride) on the 5.5-mile paved Stowe Recreation Path (H12). Park at one of the many access points and breathe the fresh mountain air while meandering the rock-strewn creek, passing expansive views, weathered barns, cows, wildflowers, dip your toes in the creek or practice your rock skipping.
The hills are alive with the sound of music at the Von Trapp Family Lodge (A6). The Von Trapp Family moved to Vermont to escape persecution from the Nazis and is the true story behind the Sound of Music. Today, the lodge offers Austrian inspired accommodations, fine dining, bakery, brewery and colorful gardens.
Smugglers Notch (T4) is another treasure. A narrow pass through Mount Mansfield and Spruce Peak, it is replete with gargantuan boulders and caves which are great for exploring and scrambling. Many hikes leave from here, including one to Bingham Falls, an easy 1.6-mile round trip hike through wildflowers and forest culminating with a dip in the swimming holes above and below the falls. The Notch Road is closed in winter.
Mount Mansfield is the tallest mountain in Vermont at 4,393 feet of elevation. Year-round activity awaits at the full-service Stowe Mountain Resort (A12). Drive the Mount Mansfield Auto Toll Road as it winds its way to the summit and stunning views. Or take the Gondola SkyRide for uninterrupted birds-eye views. They are both open from June through October and charge a fee. Mount Mansfield is one of two areas in Vermont where Arctic Tundra can be found. Please be mindful of that when hiking on the summit and protect fragile plants by staying on designated paths. Enjoy the Alpine Slide, ZipTour, climbing wall, golf, hiking, and then indulge at the Spa and Wellness Center. Dine mountainside or mountaintop at one of the many restaurants featuring fresh, local produce. In winter, enjoy fabulous skiing and snowboarding, cross country ski and snowshoe trails, ice-skating and more. Accommodations include townhouse, condo and cottage rentals, or stay at the Lodge. To continue this scenic drive, retrace back on VT-108 to VT-100.
Back on VT-100 heading north, you arrive in Morristown where you can take a short side-trip on VT-12 to visit Elmore State Park (H9). Mount Elmore virtually rises from Lake Elmore from which a hike to its summit affords grand views, especially in fall when the hills are ablaze with color. Swimming, boating picnicking and camping round out the activities.
As you approach the town of Hyde Park, revel in fabulous views of Mount Mansfield and Mount Elmore. The road becomes wilder and some say that the further north you go, the better chance of seeing a moose or a deer than a car. Please be vigilant though, as a collision can be extremely dangerous.
After passing the town of Lowell, you'll see the 3,861-foot Jay Peak, the northern-most Green Mountain. Jay Peak (A7) is another impressive ski mecca and along with the usual array of winter sports, enjoy their newest feature, the Pump House, an indoor waterpark with slides, pools and surfing. In summer, take the 60-passenger aerial tram to the summit.
As you arrive in the town of Newport, our scenic drive comes to an end. From here, consider heading south on I-91 and either the Victory Basin Drive (T3) or connecting onto the I-93 towards New Hampshire's White Mountains.

Share