Horseshoe Highway on Orcas Island
Meander through Orcas Island and the highest point of the San Juan Islands, Mount Constitution
Mileage
18 miles (29 km)
Duration

The duration is an estimate of a one-way drive and does not include any stops or side-trips.

1 hour
Seasons

The seasons listed are the best seasons for this scenic drive. If Winter is not mentioned, the road may be closed during the winter.

All Seasons
Roadways
Mount Constitution Road, and Orcas to Olga Road
Ferry
Yes
Services

The cities or towns listed have either Food or Services such as gas, hotels, pharmacies, etc.

Eastsound, WA

▼

Rating

4.3

average from

23

votes

My Drives

Track your favorite scenic drives by selecting those which you want to take and those that you have taken. Using your free account, simply sign in and select My Drives.
Our free Road Trip Planner will reverse the route and include the places of interests. Click the "Add to Road Trip" above to start planning your next road trip.
Send this link to your phone. Standard text messaging rates apply.
() -
Get directions from your start address to the beginning of and including this scenic drive. Choose either an alternate ending or same as start.
Have more destinations? Use our free Road Trip Planner to completely plan your adventure. Click the "Add to Road Trip" above to start planning your next road trip.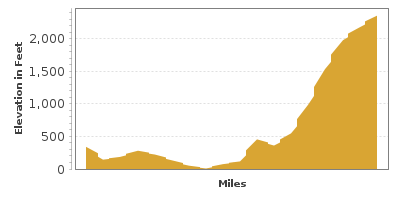 Hotel Finder
Great deals on hotels!
No booking fees.
Safe and secure.
Reserve online or call 1-866-358-9134 anytime.
Orcas Island is the largest of the San Juan Islands. The drive runs from Orcas to Mount Constitution, which for most, requires a ferry ride from Anacortes. To get to the drive from I-5, take Exit 230 for Burlington and head west on WA-20 for about 16 minutes. Once you get near Anacortes, signs will lead you to the ferry. The ferry is invariably busy during peak times and seasons, so allow a little extra time for it just in case. The ferry ride is about an hour and twenty minutes long and during it, you can visit the ships upper decks for a better view, a quick snack, and travel brochures. The ferry will make two stops before reaching our destination (Upright Head on Lopez Island and Shaw Island).
Orcas Island
The ferry will leave you in the village of Orcas Landing, which has some nice cafes in case you are in need of a caffeine boost. Once on your way, take your first left on Orcas to Olga Road, also known as the Horseshoe Highway as the road is shaped like a horseshoe on its way to Eastsound and Mount Constitution.
Eastsound is the middle of the highway and is the commercial center of the island. It has a long history and some buildings from the late 1870s still stand here. You can enjoy some of this history by visiting the Orcas Island Museum (M1).
Eastsound Waterfront Park (H3) is just outside Eastsound's business district and a great place to enjoy a picnic. When the tide is out, you can also walk to Indian Island. Madrona Point (H7) is very close to it and has trails through its forest of mostly madrona trees.
Returning to Horseshoe Highway, Crescent Beach (W1) is on the right and another great place to enjoy nature.
About a half of mile before Moran State Park, take a side trip to see the Moran Mansion Museum (M2). The Mansion was built in 1906 by Robert Moran who eventually donated the Moran State Park land to the state and the park is now Washington's fourth largest state park. One of the mansion highlights is a 100-year old Steinway grand piano.
As you enter the Moran State Park, be sure to register at the park's registration booth just after the North End Campground. Mount Constitution Road is about 1 mile from here on the left, and it's about five miles to the top. The road parallels the largest of the five lakes, Cascade Lake (W2), where swimming and fishing are permitted. Between Cascade Lake and Mountain Lake (W3), there is a 75-foot Cascade Falls (H6).
Mountain Lake (W3) is a reservoir lake, so there is no swimming allowed, but boating and fishing are permitted. There is a beautiful 3.9 loop trail around the lake.
Driving further is a constant climb up Mount Constitution until you reach the parking lot. From the Mount Constitution Lookout (H5) and the surrounding areas, you can see Mount Baker, Vancouver, British Columbia, Mount Rainier, the Olympic Mountain Range, and more, assuming, of course, that it's a clear day. Once you are here, there is a 1-mile hike to the Twin Lakes (H4).
To head back home, you have the pleasure of enjoying the drive and ferry all over again. From Anacortes, you can either continue the trip to Whidbey Island or heading over to the North Cascades Highway.

Share