Whidbey Island
Drive through Whidbey Island to Deception Pass
Mileage
47 miles (76 km)
Duration

The duration is an estimate of a one-way drive and does not include any stops or side-trips.

1 hour
Seasons

The seasons listed are the best seasons for this scenic drive. If Winter is not mentioned, the road may be closed during the winter.

All Seasons
Roadways
Washington Highways 20 and 525
Ferry
Yes
Services

The cities or towns listed have either Food or Services such as gas, hotels, pharmacies, etc.

Oak Harbor, WA

▼

Rating

2.8

average from

81

votes

My Drives

Track your favorite scenic drives by selecting those which you want to take and those that you have taken. Using your free account, simply sign in and select My Drives.
Experience this Scenic Drive right from your web browser now with RoadPreview.
Our free Road Trip Planner will reverse the route and include the places of interests. Click the "Add to Road Trip" above to start planning your next road trip.
Send this link to your phone. Standard text messaging rates apply.
() -
Get directions from your start address to the beginning of and including this scenic drive. Choose either an alternate ending or same as start.
Have more destinations? Use our free Road Trip Planner to completely plan your adventure. Click the "Add to Road Trip" above to start planning your next road trip.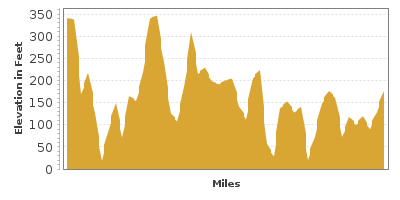 Hotel Finder
Great deals on hotels!
No booking fees.
Safe and secure.
Reserve online or call 1-866-358-9134 anytime.
This drive is part of the Cascade Loop and starts in Clinton on Whidbey Island, which requires a twenty-minute ferry ride from Mukilteo. To get to Mukilteo, you can either use exit 182 from I-5 for I-405 South/WA-525 North, and follow the signs towards WA-525, or if you are coming from the northern part of Washington, take exit 189 from I-5 for WA-526 which eventually merges into WA-525.
Deception Pass Bridge
Heading west on WA-526, Seawall Park (H1) is a great place to have a picnic and watch bald eagles, great blue herons, sea lions, otters, and occasionally orca whales. Turn right onto Coles Road and follow it to the end. Just down Saratoga Road, Lookout Park (H11) is also nearby.
South Whidbey State Park (W1) is situated one mile after Freeland and features two miles of beach and a loop trails through old-growth trees, some more than 250 years old.
About two miles from South Whidbey State Park is Resort Road which leads to Meerkerk Rhododendron Gardens (A1), a botanical garden maintained by the Seattle Rhododendron Society with displaying over a thousand different plant species.
Five miles after Greenbank, WA-525 turns into WA-20. Around the name change, there is a turn off to Fort Casey State Park (H3). It was built in the 1890s and was part of the Triangle of Fire, protecting Puget Sound from attacks. Today, some historic artillery is on display. The park features a two mile spit separating Crockett Lake from Admiralty Inlet. The west side of the park is great for exploring and walking on the beach. There is also a four mile trail along the beach to Fort Ebey State Park (H8).
The ferry to Port Townsend leaves from Fort Casey State Park. This is a great way to expand your trip to include the Olympic Peninsula Loop and the Hood Canal.
The Ebey's Landing National Historical Reserve (A2) is a 22 square mile district including farmlands, historical buildings, parks, beaches, and the town of Coupeville preserves the community as a living museum of how the land was used since Captain George Vancouver first arrived here in 1792. Coupeville is definitely a cute town to stop in for a stroll, dining, visiting art galleries and local shops.
At the intersection of Coupeville's Main Street and WA-20, consider taking a side trip to Ebey's Landing (H5). Taking Main Street for just under 2 miles, turn right onto Hill Road for another mile. There is a sandy beach here and a nice bluff trail. The beach trail goes for about 3 miles up to Fort Ebey State Park.
After Coupeville, the next town is Penn Cove, famous for its mussels. Many of the local restaurants serve this fresh delicacy.
Fort Ebey State Park (H8) about a mile west of Penn Cove is a great place for a picnic and some hiking. This park also has some old gun batteries and bunkers from when the park was a military base.
Instead of taking WA-20 to get to Oak Harbor, consider taking West Beach Road for a coastal island scenic drive. To reach it, turn left onto Libbey Road and West Beach Road is on the right and leads to the Joseph Whidbey State Park (W3), another great place for picnics, romantic beach walks, hiking and is well known for viewing wildlife. To get to Oak Harbor from here, take Swantown Road to WA-20.
In Oak Harbor's Smith Park (H10), you will see some preserved white oaks over five hundred years old, for which Oak Harbor is well known for. The park has picnic tables and a playground.
Continuing north on WA-20, you will pass Whidbey Island Naval Air Station and notice that the drive becomes more hilly and wooded. Towards the end of Whidbey Island is Deception Pass State Park (H7) which is on both sides of the beautiful Deception Pass Bridge (B1).
Deception Pass State Park has sandy beaches, old-growth forests, and eight islands. Visit Rosario Beach to swim, play in the sand and explore tide pools. Hike the short path to rugged cliffs which overlook Bowman Bay. The pristine water is dotted with rocky islands - home to oystercatchers and other birds. Kayak rentals are available on site and are a great way to observe the wildlife and take in extraordinary views. Don't miss the interesting interpretive center depicting the early days of the Civilian Conservation Corps and their incredible impact on the parks we continue to enjoy today. Make it an overnight with camping or cabin rentals. Nearby Cranberry Lake features a designated swimming area and concession stand. An entrance fee is charged to use all Washington State Parks or purchase an annual Discovery Pass.
Stop at the parking lot either before or after the Deception Pass Bridge and take a walk under and over the bridge to the other side, featuring outstanding views of the pass and surroundings.
Our drive officially ends at the Deception Pass, but you can continue the Cascade Loop by continuing on the WA-20 and onto the North Cascades Highway. The Cascade Loop will then continues onto Winthrop to Wenatchee and then onto Stevens Pass Greenway. The full loop makes for a lot of driving for one day, especially if you want to savor the experience.
Share