Oak Creek Canyon
From Flagstaff to Sedona
Mileage
26 miles (42 km)
Duration

The duration is an estimate of a one-way drive and does not include any stops or side-trips.

34 minutes
Seasons

The seasons listed are the best seasons for this scenic drive. If Winter is not mentioned, the road may be closed during the winter.

All Seasons
Roadways
US Highway 89A
Passes

Some of the adventures on this scenic drive require an admission fee that these passes cover. Please read the drive description for more information.

Coconino National Forest Passes for Red Rock
Services

The cities or towns listed have either Food or Services such as gas, hotels, pharmacies, etc.

Bellemont, AZ

▼

, Flagstaff, AZ

▼

, Munds Park, AZ

▼

, and Sedona, AZ

▼

Rating

3.8

average from

32

votes

My Drives

Track your favorite scenic drives by selecting those which you want to take and those that you have taken. Using your free account, simply sign in and select My Drives.
Our free Road Trip Planner will reverse the route and include the places of interests. Click the "Add to Road Trip" above to start planning your next road trip.
Send this link to your phone. Standard text messaging rates apply.
() -
Get directions from your start address to the beginning of and including this scenic drive. Choose either an alternate ending or same as start.
Have more destinations? Use our free Road Trip Planner to completely plan your adventure. Click the "Add to Road Trip" above to start planning your next road trip.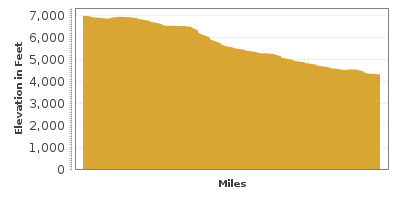 Hotel Finder
Great deals on hotels!
No booking fees.
Safe and secure.
Reserve online or call 1-866-358-9134 anytime.
Get a Park Pass
Natural areas along this route require an entrance fee used to protect and maintain our most scenic treasures. Save time by purchasing your forest passes before you go.
The 2,000-foot deep Oak Creek Canyon stretches for over 12-miles along a fault line. This drop in elevation is fully explored on this scenic drive which travels through the lush forests of Flagstaff and explores the glorious red-rock deserts, unique rock formations and rainbow-colored sandstone-cliffs on the way to Sedona.
Slide Rock State Park
Leaving the San Francisco Peaks behind in Flagstaff, travel towards Sedona via the US-89A. To begin, from S. Milton Road, turn right on W Forest Meadows Street, and turn left onto Arizona 89A.
Driving south on US-89A, you enter the Coconino National Forest. Take advantage of the many picnic areas, such as the Lindbergh Spring Roadside Park (H1), where you can lunch by one of the world's largest ponderosa pine forests. Note that throughout the drive, all parked vehicles along the highway or at trailheads are required to display a Red Rock Pass or an America the Beautiful Pass.
In a few miles, you arrive at the Oak Creek Canyon Overlook (V1) where you will be rewarded with spectacular views of the Mogollon Rim (the southern border of the Colorado Plateau), the magnificent shades of reds and whites that color the canyon, and the vast firs that populate the surrounding forests. For a better view, a short loop trail leads to where the canyon just drops down some 2,000 feet. From here, it's easy to observe the geology and witness the climate change as towards to south, you begin to see the dry, cactus-filled deserts.
The road descends a series of switchbacks until you arrive at the Pumphouse Wash Bridge. Sandstone cliffs, reflective pools and small cascades await. Shortly afterward, one the area's most popular hikes leaves from the Cave Springs Campground's Call of the Canyons Day Use Area. The 3-mile West Fork Trail (H2) passes wildflower meadows frequented by hummingbirds and butterflies as it winds deep into the maze of canyons. Portions of the hike require you to walk through ankle-deep streams, so be prepared. Many other hikes leave from this area. This day-use area charges an entrance fee not covered by either pass.
The road continues along Oak Creek with many pullouts for picnics and views. One recommended stop is Slide Rock State Park (W1). A popular escape from Arizona's summer heat, slide down the slippery algae-covered sandstone chute that leads to the cool, Oak Creek. Listed as one of America's ten best swimming holes, arrive early if you want a parking spot.
Along the route are lodging opportunities, quaint cafes and open air stands selling Native American jewelry and crafts. Enjoy warmer temperatures and observe the geology as heading south, you begin to see the dry, cactus-filled deserts.
Consider a side trip to the Palatki Ruins, a designated World Heritage Site. Visit cliff dwellings, pictographs and petroglyphs created by the Southern Sinagua people. Reservations are required to visit: (928) 282-4119. Take the unpaved Forest Road 525 heading north to get there.
Grasshopper Point Swimming Hole (W2) is another great spot without the crowds of Slide Rock Park. After a slight trek from the parking lot, stunning scenery, amazing rock formations and several pools of Oak Creek's refreshingly cool water await. The brave can scale the cliffs and take the 25 foot jump into the deep waters.
Stop on the north side of the Midgely Bridge, for an amazing view of Sedona and the Wilson Canyon. The Wilson Mountain Trail (H4) leaves from here and explores the Red Rocks-Secret Mountain Wilderness via a strenuous 5.6-mile trail with high-elevation gain, but the views are well worth the hike.
The scenic drive comes to an end about two miles after the bridge when you arrive in Sedona. The town of Sedona is bustling and geared for tourists featuring many unique shops and restaurants amid spectacular setting. From here, don't miss a short drive along the incredible Red Rock Scenic Byway on AZ-179. Other options are to drive on Schnebly Hill Road (T1) to wind through Bear Wallow Canyon, continue down US-89A until Prescott, or to head north towards the Grand Canyon.

Share