Peshastin to Ellensburg
Through Blewett Pass and the Wenatchee Mountains
Mileage
48 miles (77 km)
Duration

The duration is an estimate of a one-way drive and does not include any stops or side-trips.

48 minutes
Seasons

The seasons listed are the best seasons for this scenic drive. If Winter is not mentioned, the road may be closed during the winter.

All Seasons
Roadways
US Highway 97
Services

The cities or towns listed have either Food or Services such as gas, hotels, pharmacies, etc.

Leavenworth, WA

▼

, and Ellensburg, WA

▼

Rating

3.1

average from

23

votes

My Drives

Track your favorite scenic drives by selecting those which you want to take and those that you have taken. Using your free account, simply sign in and select My Drives.
Our free Road Trip Planner will reverse the route and include the places of interests. Click the "Add to Road Trip" above to start planning your next road trip.
Send this link to your phone. Standard text messaging rates apply.
() -
Get directions from your start address to the beginning of and including this scenic drive. Choose either an alternate ending or same as start.
Have more destinations? Use our free Road Trip Planner to completely plan your adventure. Click the "Add to Road Trip" above to start planning your next road trip.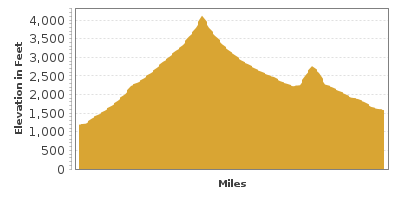 Hotel Finder
Great deals on hotels!
No booking fees.
Safe and secure.
Reserve online or call 1-866-358-9134 anytime.
This mountain scenic drive goes through the Wenatchee Mountains, through Blewett Pass, and ends with rolling farming hills. We describe the drive starting in Peshastin, but you can go in either direction. To reach Peshastin, use US-2 such as a continuation from our Stevens Pass Greenway drive. To do the drive in reverse from Ellensburg, take exit 106 from I-90 and merge onto US-97 North. In the winter, you may need traction tires.
Nine miles on the drive heading South on US-97 from Peshastin, Ingalls Creek Road leads to a 4-mile hike to Lake Ingalls (H2). The spring flowers and the changing fall colors are two great times to visit this area.
There are a few opportunities to take the Old Blewett Pass Road. One opportunity is to take Forest Road 7320 through a series as switch backs until you finally reach US-97, about four miles from east of Blewett Pass. Forest Road 7320 goes over the Old Blewett Pass at 4,064 feet, but note that this road is closed during the winter.
Continuing south on US-97 around mile marker 166, the drive starts ascending as it enters Blewett Pass. This area is heavily forested and is one of the most beautiful mountain scenic drives in Washington. Between mile markers 164 and 163, you will be at 4,100 feet of elevation and there are parking areas here, and several trails in this area, including the two and half mile Swauk Forest Discovery Trail (H1).
From this point, the road starts descending and parallels the Teanaway Ridge and follows the Swauk Creek. While you are driving, keep an eye for elk in the fields during feeding times.
As you come out of the Wenatchee Mountains, the drive continues to descend and you will be driving through the farmlands. Mount Rainier can be seen on a clear day towards the east.
Our drive finishes in Ellensburg, where the Clymer Museum and Gallery (M2) focuses on western art. From here, you can continue south on US-97 towards our Yakima Valley drive or head east towards Seattle on the Mountains to Sound Greenway.

Share