Yakima Valley
Following the Yakima River through Umtanum Canyon
Mileage
58 miles (94 km)
Duration

The duration is an estimate of a one-way drive and does not include any stops or side-trips.

1 hour, 45 minutes
Seasons

The seasons listed are the best seasons for this scenic drive. If Winter is not mentioned, the road may be closed during the winter.

All Seasons
Roadways
Interstate 82, US Highway 97, Washington Highways 22, 223, and 821, and Us Highway 12
Services

The cities or towns listed have either Food or Services such as gas, hotels, pharmacies, etc.

Ellensburg, WA

▼

, Yakima, WA

▼

, and Naches, WA

▼

Rating

3.5

average from

33

votes

My Drives

Track your favorite scenic drives by selecting those which you want to take and those that you have taken. Using your free account, simply sign in and select My Drives.
Our free Road Trip Planner will reverse the route and include the places of interests. Click the "Add to Road Trip" above to start planning your next road trip.
Send this link to your phone. Standard text messaging rates apply.
() -
Get directions from your start address to the beginning of and including this scenic drive. Choose either an alternate ending or same as start.
Have more destinations? Use our free Road Trip Planner to completely plan your adventure. Click the "Add to Road Trip" above to start planning your next road trip.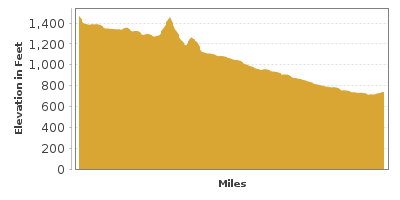 Hotel Finder
Great deals on hotels!
No booking fees.
Safe and secure.
Reserve online or call 1-866-358-9134 anytime.
This scenic drive goes through the Umtanum Canyon, taking advantage of each twist and turn of the Yakima River and the hilly landscape.
The Yakima River in Autumn
The Yakima Valley is well known for producing high-quality wines. Many vineyards welcome visitors and offer tasting, and a chance to meet the winemakers. Learn more about the Yakima wine community wineyakimavalley.org.
Like many of our drives, this drive can be done in either direction, but we describe it as starting in Ellensburg. You can reach Ellensburg from exit 110 off of I-90 for I-82/US-97 South, within a third of a mile, take exit 3 for WA-821/South, Canyon Road.
In eight miles, the Umtanum Creek Recreation Area (H1) offers a chance to ride a raft down the river, go fishing, or kayaking. As one of the best wildflower areas around, a hike through the canyon is exceptional especially in May. The trail begins by crossing a suspension footbridge over the water where you can observe the rafts beneath you.
About nine miles of curves from Umtanum Creek is the Roza Recreation Area (H2). There are a few hikes, swimming and rafting opportunities and boat launches. A mile up the road from here is the Roza Dam which is responsible for providing water to all of the farms in this area.
Shortly after the dam, the road and river straighten out and the road merges onto I-82/US-97 South towards Yakima. In about four miles, the road will pass US-12 West where you could extend the trip a bit by heading to the Chinook Scenic Byway and coming back via the White Pass Scenic Byway.
Continuing South on I-82, merge onto US-97 South, and just after this merge, consider heading over to Fullbright Park (H3) for a picnic, enjoy the creek, or just have a nice, romantic walk. Right next to this park is the Central Washington Agricultural Museum (M1) which proudly displays the agricultural tools used throughout the years that made the Yakima Valley what it is today.
As the drive continues south on US-97, you are now on the Yakama Indian Reservation. The fields are planted with fruit, vines, and vegetables, and there are farm stands along the road to purchase fresh produce. From various places, you will see Mount Adams towards the west.
In Toppenish, there are several buildings with murals painted on them. The nearby Yakama Nation Museum and Cultural Center (M2) displays the practices of the Yakama Nation, many of whom continue to live in these ways. Beside this building is the Yakama Nation Resort RV Park which is notable for its fourteen full-sized tepees for guests.
The American Hop Museum (M3) is also in Toppenish and celebrates this region being the second largest producer of hops in the world, second only to Hallertan, Germany. Originally cultivated by Native Americans, hops have been an important role in this area for centuries.
The drive continues down WA-22 for about five miles, then head onto WA-223 for three miles, and finally turn onto I-82 where our drive ends. From here, consider heading south on I-82 towards the Lewis and Clark Memorial Highway or the Ice Caves Route, or head north on I-82 and reversing the Peshastin to Ellensburg or Mountains to Sound Greenway drives.

Share