Stevens Pass Greenway
Follow the Wenatchee River through the Cascade Mountain peaks and Stevens Pass
Mileage
119 miles (193 km)
Duration

The duration is an estimate of a one-way drive and does not include any stops or side-trips.

2 hours, 30 minutes
Seasons

The seasons listed are the best seasons for this scenic drive. If Winter is not mentioned, the road may be closed during the winter.

All Seasons
Roadways
US Highway 2, and Washington Highway 285
Forest Passes

Some of the adventures on this scenic drive require an admission fee that these passes cover. Please read the drive description for more information.

Pacific Northwest Forest Pass
Services

The cities or towns listed have either Food or Services such as gas, hotels, pharmacies, etc.

Monroe, WA

▼

, Leavenworth, WA

▼

, Wenatchee, WA

▼

, and Skykomish, WA

▼

Rating

3.3

average from

90

votes

My Drives

Track your favorite scenic drives by selecting those which you want to take and those that you have taken. Using your free account, simply sign in and select My Drives.
Experience this Scenic Drive right from your web browser now with RoadPreview.
Our free Road Trip Planner will reverse the route and include the places of interests. Click the "Add to Road Trip" above to start planning your next road trip.
Send this link to your phone. Standard text messaging rates apply.
() -
Get directions from your start address to the beginning of and including this scenic drive. Choose either an alternate ending or same as start.
Have more destinations? Use our free Road Trip Planner to completely plan your adventure. Click the "Add to Road Trip" above to start planning your next road trip.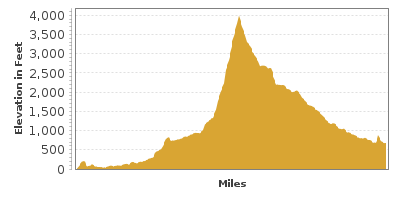 Hotel Finder
Great deals on hotels!
No booking fees.
Safe and secure.
Reserve online or call 1-866-358-9134 anytime.
Get a Forest Pass
Natural areas along this route require an entrance fee used to protect and maintain our most scenic treasures. Save time by purchasing your forest passes before you go.
While this drive can be done in either direction, we describe it as starting in Wenatchee going west towards I-5 and Whidbey Island. This drive is one part of the Cascade Loop, and whichever direction you choose to travel, it will definitely be a great experience. To reach Wenatchee from the northern part of Washington, you can travel US-97 until it merges with US-2. To reach Wenatchee from I-90, take exit 136 and follow the signs for WA-281. In about 28 miles, turn left for WA-28 and stay on here for 30 miles until you turn left onto WA-285.
Wallace Falls
The area surrounding Wenatchee is apple country, and the free Washington State Apple Commission Visitor Information (A4) is the best place to learn about our state's largest agricultural industry. While you are here, the Ohme Gardens County Park (H4) features trails winding through acres of flowers, waterfalls, ponds, and trees and is one of the most popular gardens in the northwest.
Heading north on WA-285, turn for US-2/East in about 3 miles and in about 8 miles, you will be in Cashmere. The Cashmere Pioneer Village and Museum (M1) is an open air museum with more than 20 authentically furnished, original pioneer structures as well as Native American artifacts dating back 9,000 years.
7 miles from Cashmere, you will reach Peshastin and have the opportunity to head south on US-97 for our Peshastin to Ellensburg drive through Blewett Pass. If you are doing the drive in reverse and heading east, you should consider this alternative route.
Continuing east on US-2 for 4 miles, Leavenworth is a famous Bavarian village which has festivals and events all year long, many of which start in City Park (A5). European-style architecture, dining, shopping, arts and theatre await but if you are looking for the quiet life, Leavenworth is surrounded by the Wenatchee National Forest and there are numerous trails and glacial lakes in this area. Waterfront Park (H7) features trails that wind along the Wenatchee River. There are benches and interpretive signs making it a great stop for a short walk or picnic.
Leaving Leavenworth, drive through the Tumwater Canyon. The canyon is well known by rafters for its rapids, but the area's beauty is breathtaking, particularly during the fall.
In 15 miles from Leavenworth, Lake Wenatchee State Park (H6) is 5 miles north on WA-207. The Lake Wenatchee State Park is a natural wildlife area surrounding Lake Wenatchee, a glacier fed lake. The lake is perfect for swimming and there are many hikes nearby.
Stevens Pass is 24 miles from here. Primarily a ski resort, Stevens Pass is at 4,061 feet of elevation. Historically, this was a railroad town, and the Bygone Byways Interpretive Trail (H3) tells the story of its history. The US-2 Highway marks the northern most railroad path through the Cascade Range. There are many trails in this area.
Just after Stevens Pass, Deception Falls (H2) is a nice place to take a break and stretch your legs as you walk through an interpretive loop trail with a great view of the Cascades at an elevation of about 2,200.
About 8 miles from Deception Falls, Skykomish is a historic railroad town. The Skykomish Ranger Station (I1) has information on nearby trails and picnic areas. Hikes in this are require the Pacific Northwest Forest Pass which you can purchase from us. If you are planning to stay overnight in this area, you might consider Skykomish lodging for its proximity to Stevens Pass.
As you approach Index, Mount Index is directly to the south and dominates the skyline. Descending towards Gold Bar, the forests will start becoming less dense and civilization will come into view.
In Gold Bar, Wallace Falls State Park (H5) is a great place for hikes and views of its massive waterfalls. If you take the 7-mile loop trail above the falls, you will have a great panoramic view of the valley. To get there, take 1st Street, turn right onto May Creek Road, and follow the signs.
With more than 400 antique dealers, Snohomish calls itself the "antique capital of the northwest". Most of the Snohomish Antiques Stores (A3) are downtown, making it fun and easy to shop.
A great way to end the drive is a visit to the Future of Flight Aviation Center and Boeing Tour (A2). It features the only public tour of a commercial jet assembly plant, but you also get to see the world's largest building. The Future of Flight features hands-on exhibits, videos, graphics and interactive stations for the whole family.
From Monroe, you can catch the I-5 or continue the Cascade Loop by going to Whidbey Island. The Cascade Loop continues to North Cascades Highway and onto Winthrop to Wenatchee. It's a lot of driving for one day, especially if you want to enjoy the experience.
Share