June Newsletter
Welcome
Welcome to summer! There's no better time to hit the open road and we have some great new scenic routes for you to try. We are also excited about our brand new Road Trip Planner. Plan the perfect adventure with directions that include all your stops, points of interest, hotel reservations, ability to edit, save, export, share, and much, much more. Try it today!
Heading to the mountains? Record snowfall this year has delayed the opening of many mountain passes. While some have just opened, there are several (especially in the Rockies) that will only open in early July. Check out road conditions beforehand.
Keep those comments and suggestions coming! We love hearing from you.
Introducing our Road Trip Planner
We are thrilled to release our biggest feature yet — our fully-integrated road trip planner. Just in time for this summer's road trips, our free planner allows travelers to easily create personalized and detailed itineraries for day trips, weekend getaways or cross-country adventures.
Customize trips with an unlimited number of destinations using interactive maps and integrated search and myscenicdrives.com's ever-growing list of scenic drives and recommended stops.
Edit, save and share trips with an easy-to-use interface. Print or export your plan to a wide variety of GPS devices. For multi-day trips, the planner automatically divides your excursion into comfortable daily itineraries and offers the ability to search and book nearby accommodations all through myscenicdrives.com.
Sign up for a free account and start using our road trip planner today. Hitting the road has never been this easy. Happy Travels.
Scenic Adventures in Colorado
Lucky Colorado, the 13th state in our growing roster. And 13 reasons to visit:
more than 1,000 peaks over 10,000-feet high
54 peaks over 14,000-feet high
gold rush and mining history
the Wild West
the cliff-dwellings of the Ancestral Puebloans
cliff-hugging roads
glacier-carved valleys
wildflowers blooming in alpine tundra
chile peppers
Four Corners
dinosaur fossils
the world's largest mesa
virtually limitless recreation opportunities
And as a special bonus, the 13th step of the state capitol building in Denver is exactly 1 mile above sea level.
Here is our first group of Colorado Scenic Drives:
Have a favorite that we should explore next? Let us know in the comments or send an e-mail.
Other Site Updates
In addition to bringing you the best scenic routes, we also bring you the tools to make hitting the road a cinch. Our latest round of features fall right into this category and we hope you enjoy them. Each feature is available by selecting the tab in the yellow bar before the Description of each drive.
Have GPS, Will Travel
One of the nice things about myscenicdrives.com is that we provide you with free, GPS files for your phone and GPS devices. Simply download a file for your favorite device and go!
If you own a Garmin GPS, we've just made this process even easier by integrating with the free Garmin Communicator Plugin. When you have this plugin installed, simply connect your GPS to your computer, select Garmin Communicator Plugin from the GPS selection on any of our drives, and download the route directly to your device.
Depending on the Garmin GPS that you own, you will either receive the entire pre-planned route or you can reconstruct the route with the waypoints using the Trip Planner on the GPS itself.
Printable Directions
No matter how high-tech the world becomes, sometimes it is just easier to print out the directions on a piece of good old-fashioned paper and we are happy to provide this feature for you.
Under the Print Directions menu, enter in your current address (or use your browser's GPS technology if available) and where you want to end up after the scenic drive and we'll provide you with a full overview map, drive overview, and turn-by-turn directions, from which you can decide what you'd like to have printed from the print options at the top of the page.
To New Heights: Scenic Drive Elevation Information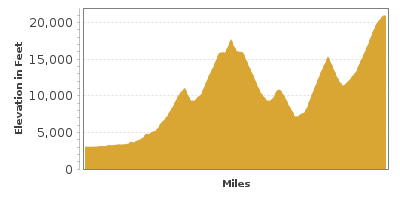 Now included with each of our scenic drives is a graph that shows the elevation of each mile during the drive as described. Find out how high the scenic drive climbs, how high you will reach and how close to sea level you will get.
Try them now
So what are you waiting for? Find the perfect scenic drive now! There are several more features and services that we are planning, but of course, we want to hear from you about what tools you'd like to see and how we can improve our tools to make it easier for you to hit the road. Please let us know in the comments or e-mail us.